We built GeForce Experience to help gamers get the most from PC gaming by keeping their PCs up to date with the latest drivers and Optimal Settings. As we look to the first half of 2017, we want to advance two big things: helping gamers capture and share their experiences in new ways, and providing awesome giveaways to the community to better enjoy gaming on GeForce.
Let's talk about some of latest news for GeForce Experience happening at GDC this year.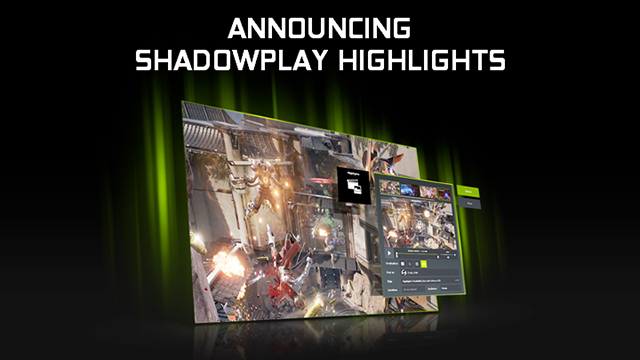 ShadowPlay Highlights: Never Miss Your Best Gaming Moments
Three years ago we introduced ShadowPlay, a DVR-style video recorder for games. It's since become the gold standard for game capture on PC, providing always-on, 4K 60 FPS video capture with virtually no impact to performance. As of today, over 200 million videos have been captured using ShadowPlay technology over the last year, with twice as many gamers using the technology today than a year ago.
Looking forward, we want to make video capture even easier. So at GDC we're announcing ShadowPlay Highlights, a way for developers to integrate ShadowPlay technology directly into their games.
Remember that kill-shot or epic moment that you wished you had recorded? With ShadowPlay Highlights that moment is automatically detected and captured for you by the game, allowing you to focus on your game and never worry about missing or having to manually capture those epic kills or tragic deaths again.
When the game session is over, GeForce Experience presents your highlights so you can relive your victories, or share them with friends via Facebook, YouTube or Imgur. To demonstrate, we've worked with Boss Key Productions to integrate ShadowPlay Highlights into LawBreakers, an upcoming gravity-defying first person shooter. Learn more here.
NVIDIA Ansel Comes to More Games
We released the first NVIDIA Ansel game implementation for Mirror's Edge Catalyst half a year ago, giving gamers a way to capture amazing HDR, ultra resolution, and 360-degree photographs of the stunningly-beautiful game. Since then Ansel has reached more games, with support for over a dozen titles, including our latest release, For Honor, and the highly anticipated Mass Effect: Andromeda.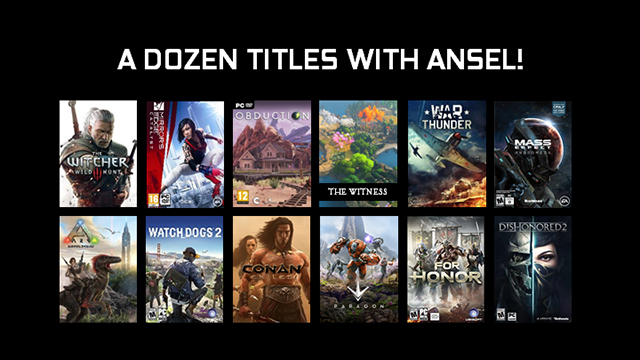 With Ansel the community is capturing some amazing photographs, as you can see from War Thunder and ARK: Survival Evolved Ansel contests. In fact, over 200,000 Ansel works of art have been captured from The Witcher 3 alone.
Today, we announced Ansel support for Tom Clancy's Ghost Recon Wildlands, which lets players discover and explore 11 different ecosystems and their stunning vistas. Developers like Beniot Martinez, the lead artist and technical art director for Tom Clancy's Ghost Recon Wildlands, are excited about what Ansel brings to their game: "From amazing 360-degree vistas to epic fight captures, we can't wait to see players' creativity express itself and deliver high-quality, professionals creations with Ansel!"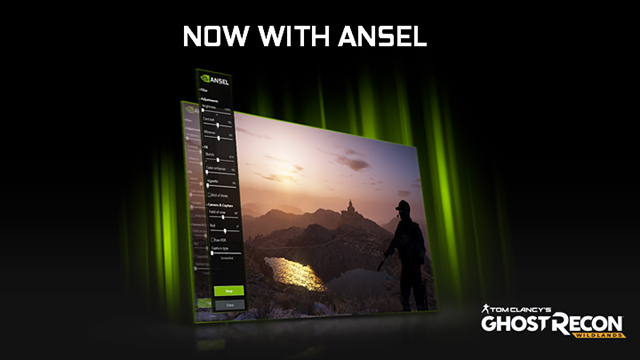 With Unreal Engine and Unity plug-ins available today, Ansel can be easily be added to games based on these engines. But we also want to bring Ansel to more games and more engines, so we are working with Amazon to bring Ansel to the Lumberyard game engine. In addition, we're also releasing today our first public Ansel SDK, which enables any developer, regardless of game engine used, to quickly add Ansel into their games.
GeForce Experience Giveaways
Being a member of the GeForce Experience community means you can receive a ton of great giveaways, from game codes to graphics cards, and access exclusive closed betas. Over the past few months we've delivered over 150,000 game codes to GeForce Experience users for popular titles such as Tom Clancy's Ghost Recon Wildlands and Watch Dogs 2, and hardware giveaways for NVIDIA SHIELDs, GeForce GTX 1080s and MSI GTX Notebooks.
In the coming months we are making redemption of giveaways even easier by providing game codes directly to you through GeForce Experience, and launching bigger, better giveaways for our community.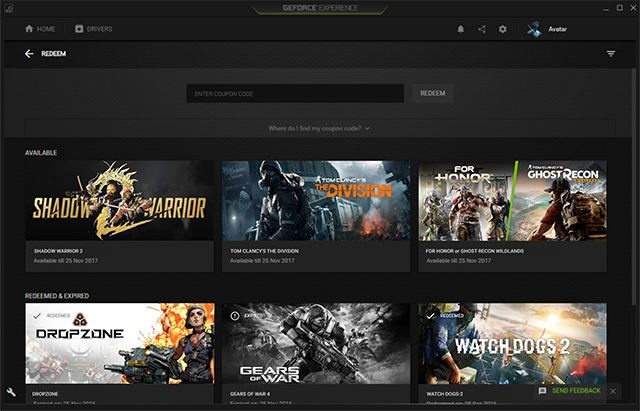 Speaking of bigger and better, to celebrate the launch of the GeForce GTX 1080 Ti we're giving away 108 of these amazing graphics card to our GeForce Experience community.
On behalf of the GeForce Experience team, we look forward to sharing more of what we are working on as the year progresses. Stay tuned to GeForce.com for more info on what we're working on as the year progresses. Happy gaming!