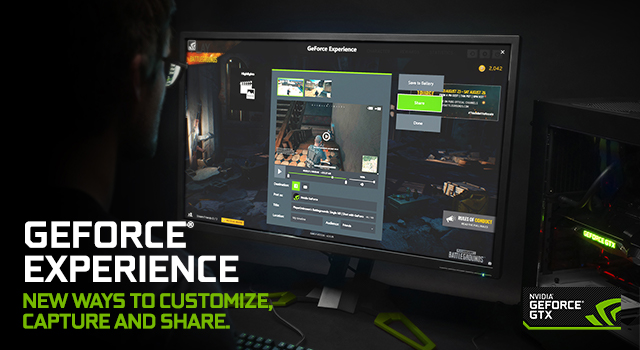 Over 90 million PCs have GeForce Experience, a free application that empowers gamers to optimize game settings, update their drivers with Game Ready support for the newest titles, stream and capture gameplay, and play games on their big-screen TVs with GameStream. Last year, we added the critically-acclaimed NVIDIA Ansel game photography tool to GeForce Experience's suite of features, and earlier this month we launched ShadowPlay Highlights, so you never miss a magic moment in supported games ever again.
Today, at a special NVIDIA event at Gamescom in Cologne, Germany, we announced new integrations of ShadowPlay Highlights, new integrations of NVIDIA Ansel, a new feature for NVIDIA Ansel, and a new way to stream and share your gameplay on Facebook. For all the details, keep on reading.
ShadowPlay Highlights, Now Capturing Your Best PlayerUnknown's Battlegrounds Moments
Just two weeks ago we added ShadowPlay Highlights to GeForce Experience's vast array of features, giving ShadowPlay the capability to automatically capture video clips and screenshots when players pull off kill streaks and other share-worthy moments. Today, we announced that ShadowPlay Highlights is now available in PlayerUnknown's Battlegrounds (PUBG), and that we're running a contest to find the best Highlights, with the top 3 each winning a GeForce GTX 1080 Ti.
Currently the world's most popular multiplayer action game, PUBG has sold over 8 million copies in 5 months, and lends itself perfectly to ShadowPlay Highlights, with hundreds of thousands of astonishing and amusing kills occurring each and every day in its 100-person matches. Simply enable ShadowPlay Highlights and your best moments will be automatically recorded and saved. To discover how, head here.
"PlayerUnknown's Battlegrounds is known for delivering intense, fast-paced action, and for not taking things too seriously," said C.H. Kim, VP & Executive Producer of PUBG developer Bluehole Inc. "Giving our players the ability to automatically capture that fun and easily share it with friends will increase our presence on social media and introduce PlayerUnknown's Battlegrounds to even more gamers."
In addition, a surprise on-stage announcement unveiled FINAL FANTASY XV WINDOWS EDITION, a stunning PC release of the much-loved action-RPG from Square Enix. Over half a dozen NVIDIA technologies are being integrated into the release, including ShadowPlay Highlights, ensuring achievements and other key moments are captured for posterity. For further details check out our announcement article, and stay tuned to GeForce.com in the run up to FINAL FANTASY XV WINDOWS EDITION's Early 2018 release.
And finally, we announced that ShadowPlay Highlights will be available in MercurySteam's Raiders of the Broken Planet, a four-versus-one shooter that launches September 22nd via a free download.
NVIDIA Ansel Readies For Launch In New Games, And Unveils "AI Style Transfer"
Since its release last year, over 2 million NVIDIA Ansel photographs have been captured in 22 games. Each shot is personally-framed, and many are modified with filters, field of view tweaks, and other adjustments. Today, developers from Square Enix, Monolith Productions and KONAMI Entertainment took to our stage to announce that the list of compatible NVIDIA Ansel games will grow in the coming months to include FINAL FANTASY XV WINDOWS EDITION, Middle-earth: Shadow of War, and Pro Evolution Soccer 2018. For further news about each integration, stay tuned to GeForce.com.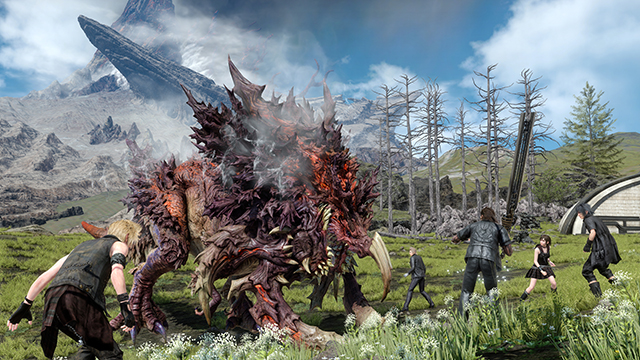 Ansel's filters and numerous options enable gamers to make unique works of art that adorn desktops and draw praise on Reddit, Imgur and other sites. Soon, you'll be able to transfer the style of your favorite artist to your game photographs with AI Style Transfer.
Ansel's latest feature is incredibly fun, and powerful. Find a painting with the style of your choosing and launch your favorite Ansel game. Using Ansel's free camera, frame your shot and apply AI Style Transfer - it uses neural networks trained to recognize thousands of classes of objects, and applies the unique style of the painting you've selected. It's built for speed so you can quickly see the final stylized image as you make final camera adjustments.
In this ARK: Survival Evolved photo, we simply selected the style we want, and applied it in Ansel mode, using the painting shown in the middle as the 'style'.
We'll have further details about AI Style Transfer soon, so stay tuned to GeForce.com for all the latest on this exciting new feature.
Capture And Share To Facebook
Earlier this year GeForce Experience added support for Facebook streaming and uploading, letting you share your content directly to your Timeline. Based on your feedback, the newest version of GeForce Experience adds support for Facebook Groups, enabling you to share content with your friends on your Timeline, with your subscribers on your Page, and with your community on your Groups.
Additionally, streamers can now view comments and reactions from their viewers directly from the in-game overlay, allowing for real-time feedback and better audience engagement, making for better streams.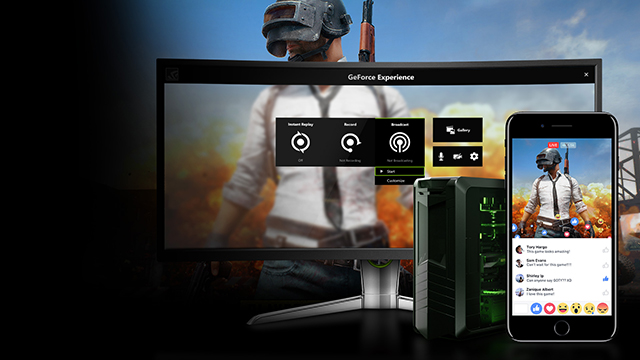 Get Early Access To The Destiny 2 PC Beta With Our GeForce Experience Giveaway
In addition to gaining access to tons of useful and game-improving features, registered GeForce Experience users are also able to receive giveaways for free GeForce GTX GPUs, free games, and other fantastic goodies.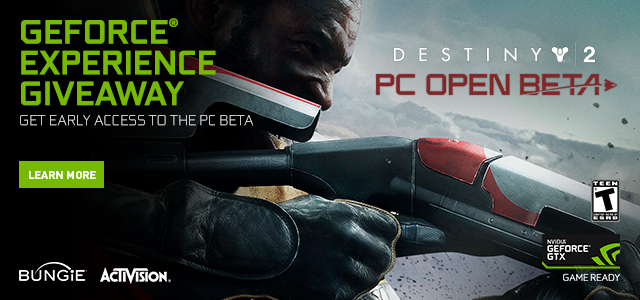 Today, we announced that registered GeForce Experience users will have a chance to receive Early Access Destiny 2 beta keys courtesy of our latest giveaway. If you're selected you'll be sent an in-app notification on August 25th. Follow the instructions to redeem and play once the beta begins later this month.
GeForce Experience, Now Better Than Ever
With the addition of new ways for players to capture, customize and share their experiences, GeForce Experience is the perfect companion for your GeForce GTX graphics card. If you don't already have it, download GeForce Experience today.