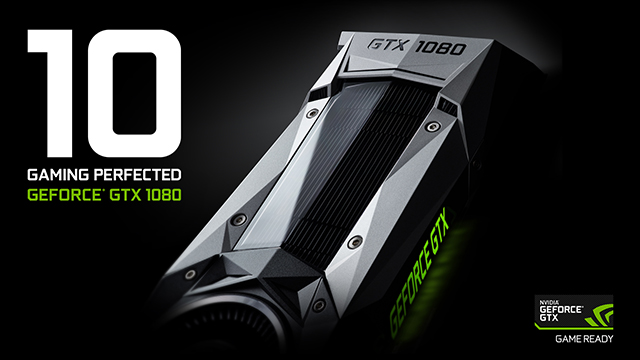 Earlier this month we unveiled the GeForce GTX 1080, the fastest and most advanced graphics card we've ever made. During the card's worldwide livestream reveal we demonstrated examples of the GTX 1080's raw power, and several new technologies, and promised more information was to come. Well, today is the day for that info – we're going to show you gaming benchmarks, new features, and much, much more.
Based on the new NVIDIA Pascal architecture, the GeForce GTX 1080 is the world's most advanced graphics card. At its core is the GP104 GPU, built using a new 16nm FinFET manufacturing process that enables the addition of more transistors, which in turn allows us to crank up the clock speed, whilst simultaneously improving power efficiency.
Surrounding the GeForce GTX 1080's 16nm GPU is 8GB of GDDR5X (G5X) video memory (VRAM). This brand new, never before-used G5X VRAM runs at a blistering data rate of 10Gbps, which when combined with the 256-bit memory interface provides 43% more memory bandwidth than on the previous-generation GeForce GTX 980.
Bolstering this unprecedented level of bandwidth is the new, fourth-generation Pascal Memory Compression Engine, which is able to compress components of a scene to significantly reduce the number of bytes that have to be fetched from memory per frame. In the images below you can see a Project CARS scene on the left, the same scene when compressed on previous-generation NVIDIA GeForce GTX Maxwell GPUs in the middle, and on the right the same scene again when compressed with the new Pascal Memory Compression Engine.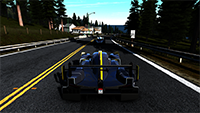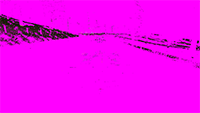 Original game screenshot (left), with Maxwell Compression (middle), and with Pascal Compression (right)
By reducing the amount of data written out to memory, the amount of data transferred from memory to L2 cache (which also increases the effective capacity of the L2 cache, as compressed data is smaller), and the amount of data transferred between Texture Units, the frame buffer and other parts of the GPU, we increase effective bandwidth by an additional 20%. Collectively, these improvements and the G5X memory's 10Gbps data rate provide the GeForce GTX 1080 with a 1.7x effective memory bandwidth increase over the previous-generation GeForce GTX 980.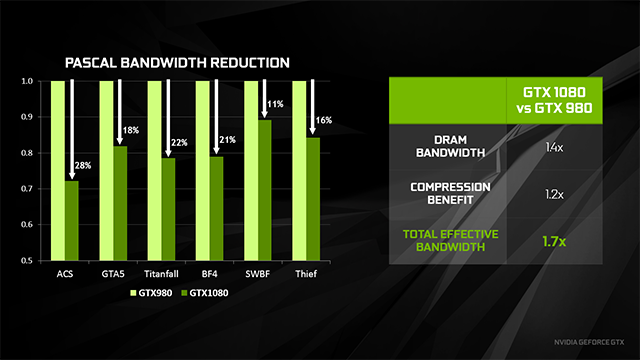 GeForce GTX 1080's Memory Compression Engine Compared to the GeForce GTX 980's
In unison, these and many other advancements and enhancements make the GeForce GTX 1080's Pascal architecture the most efficient GPU design ever built. Comprised of 7.2 billion transistors, and including 2560 single-precision CUDA Cores, the GeForce GTX 1080 is the world's fastest graphics card, capable of powering next-generation experiences, and today's demanding Virtual Reality games at a rock-solid 90 frames per second.
Specifications
GeForce GTX 1080 (Pascal)
GeForce GTX 980 (Maxwell)
GPU
GM104

GM204

SMs
20
16
CUDA Cores
2560
2048
Transistors
7.2 billion
5.2 billion
Base Clock
1607 MHz
1126 MHz
Boost Clock
1733 MHz
1216 MHz
Framebuffer
8 GB
4 GB
Memory Speed
10 GHz
7 GHz
Memory Bandwidth
320 GB/s
224 GB/s
Texture Units
160
128
Texel Fill-Rate
277.3 Gigatexels/s1
155.6 Gigatexels/s1
ROPs
64
64
L2 Cache
2048 KB
2048 KB
Power Connectors
1 x 8-pin

2 x 6-pin
TDP
180 W
165 W
Display Connectors
3x DisplayPort 1.3/1.4
HDMI 2.0b, Dual Link DVI-I
3x DisplayPort 1.2
HDMI 2.0, Dual Link DVI-I
Manufacturing Process
16nm FinFET
28nm
1 Texel Fill-Rates based on the GPU Boost Clock speed
If your eyes glazed over looking at all those numbers, this is all you need to know: the GeForce GTX 1080 is unbelievably fast, increasing framerates by up to 88% in our benchmarks (69% faster on average). This however is only at the default GPU Boost Clock speed of 1.7GHz, which all GeForce GTX 1080 Founders Edition buyers are guaranteed to get.
The GeForce GTX 1080 and the Pascal Architecture also support DirectX 12 and Vulkan, two new graphics APIs that can lead to improved performance in the hands of skilled developers. To demonstrate, we teamed up with id Software to show the GeForce GTX 1080 running at up to 200 frames per second in the Vulkan version of DOOM, which will be released in the not too distant future.

For a better look at DOOM running on Vulkan, take a look out our 6-minute direct feed gameplay video here
In Virtual Reality, the GeForce GTX 1080 is up to 3X faster than the GeForce GTX 980, and 2X faster than the GeForce GTX TITAN X. This huge improvement in performance is enabled by the GeForce GTX 1080's raw power, and Pascal's new Simultaneous Multi-Projection's "Lens Matched Shading" and "Single Pass Stereo" techniques, which you can learn about here.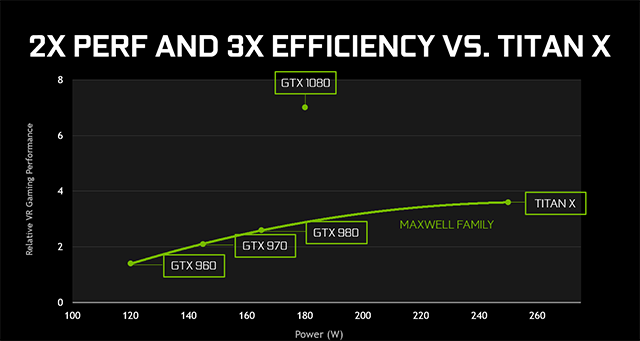 As we mentioned earlier, the GeForce GTX 1080 is an excellent overclocker. Core clocks can be increased by 20% with ease, and the G5X VRAM can go up another 1GHz (10%) without breaking a sweat. To reach these and even higher speeds the GeForce GTX 1080 relies on its cutting edge hardware, its excellent Founders Edition vapor chamber and fan, and the latest version of our groundbreaking GPU Boost technology.
With regards to the hardware, the new 16nm FinFET manufacturing process enables the creation of a more powerful and more efficient GPU. With efficiency comes greatly decreased power usage, which in turn results in significantly reduced heat output. And by reducing power usage and heat output you can markedly increase clock speeds.
With the launch of the Kepler generation of graphics cards NVIDIA debuted GPU Boost, enabling GPUs to dynamically adjust their clock speed in real-time, until they reached a predetermined temperature limit. Before GPU Boost, GPUs were held back by synthetic benchmarks that pushed power usage to the limit, far beyond the levels typically seen when playing games. This 'worst case scenario' forced us to throttle GPUs, which left oodles of performance unused in games.
GPU Boost
solved that problem, and with previous-generation Maxwell GPUs delivered even-better performance via
GPU Boost 2.0
. Now we're introducing GPU Boost 3.0, which is able to extract even more performance from your GPU.
Here's how: GPU Boost 2.0 applied a single clock speed offset of say +200MHz, leaving untapped performance on the table. In comparison, GPU Boost 3.0 can apply separate offsets for each voltage point, making greater use of your GPU. Confused? Take a look at the two images below.
As with GPU Boost 2.0, owners of the GeForce GTX 1080 can apply a Temperature Target, meaning the GPU will use spare performance until it reaches 83℃, for example, at which point it will throttle back performance to cool off. But as good as this feature is it can't account for the performance and characteristics of each GPU, which may vary from card to card. For instance, while all GeForce GTX 1080s are guaranteed to reach 1733MHz, one might hit 2300MHz under air-cooled overclocking, and another 'only' 2200MHz.
Therefore, to tap all available performance from each graphics card sold, our partners are developing new overclocking tools that incorporate the voltage offset functionality of GPU Boost 3.0. One tool that's already available for press, and will be available tomorrow for buyers of the GeForce GTX 1080, is EVGA Precision XOC. Included in this new version of Precision is a built-in benchmark that puts your GPU through its paces to generate a custom-frequency GPU Boost 3.0 offset curve, which can be further tweaked by the end user.
If you're concerned about overclocking, don't be - it's covered by the guarantee, and you simply have to press a few buttons to find and apply an overclock.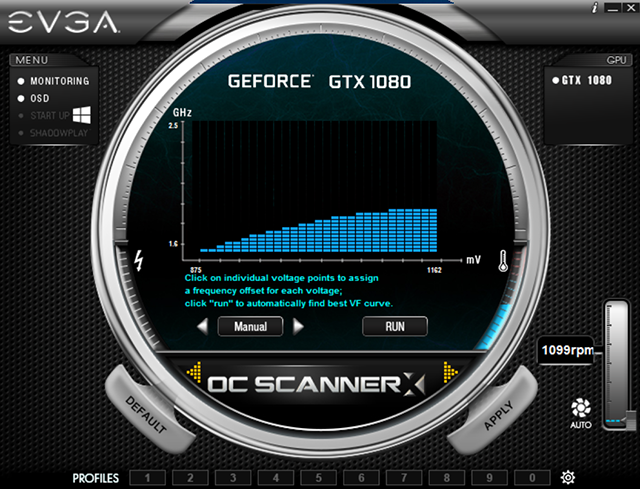 If you've maxed out your overclock, the next step for increasing performance is to gear up with a second graphics card for SLI. To further improve performance and smoothness in SLI the GeForce GTX 1080 will utilize both SLI interface connectors, commonly referred to as "SLI fingers", using a new High Bandwidth SLI Bridge (SLI HB Bridge).

Dual SLI Interface Connectors on the GeForce GTX 1080 (left), and the new SLI HB Bridges (right)
This combined SLI interface runs at 650MHz when the new SLI HB Bridge is utilized, compared to 400MHz on previous generation NVIDIA GeForce GTX GPUs and bridges. This additional bandwidth helps drive super high resolutions experiences on the latest monitors, and can also deliver a smoother gaming experience, as shown below in a Shadow of Mordor benchmark.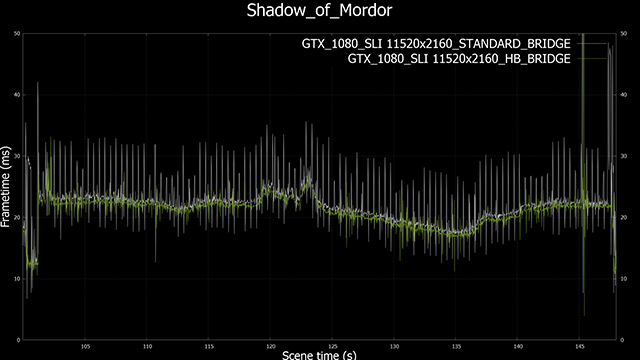 Frame Times from a GeForce GTX 1080 2-Way SLI system running Shadow of Mordor at 11520x2160 with the new High Bandwidth SLI Bridge (green), versus the old SLI bridge (white). Note the large frametime spikes on the white line, which are indicative of noticeable, frequent stuttering.
If you have a previous-generation SLI bridge you can still use it with the GeForce GTX 1080, though the reduced bandwidth may impact performance and smoothness. See below for a helpful graphic detailing our engineers' SLI Bridge recommendations.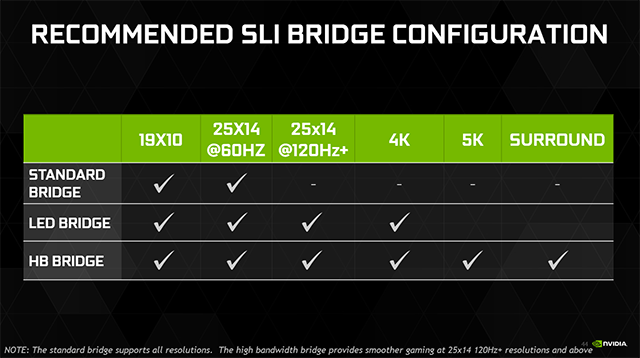 By default the GeForce GTX 1080 supports two GPUs in SLI – as games have evolved, it has become increasingly difficult to provide beneficial performance scaling with 3 or 4 GPUs, and as such 3-Way and 4-Way SLI configurations are no longer recommended.
Not impossible mind you, simply not recommended. To unlock 3-Way and 4-Way SLI functionality, enthusiasts will need to acquire a free "Enthusiast Key" from a NVIDIA website. Simply run the key software on your PC, follow the steps, and you'll unlock 3-Way and 4-Way SLI functionality.
With the transition away from 3-Way and 4-Way SLI, our recommendation for enthusiasts is to now use 2 GPUs in SLI for graphics, and offload other tasks to 1 or 2 additional GPUs, maximizing performance and smoothness, and minimizing latency, in particular in VR.
Alternatively, use Multi Display Adapter (MDA) or Linked Display Adapter (LDA) modes in compatible DirectX 12 games, which can be developed to support up to 4 graphics cards.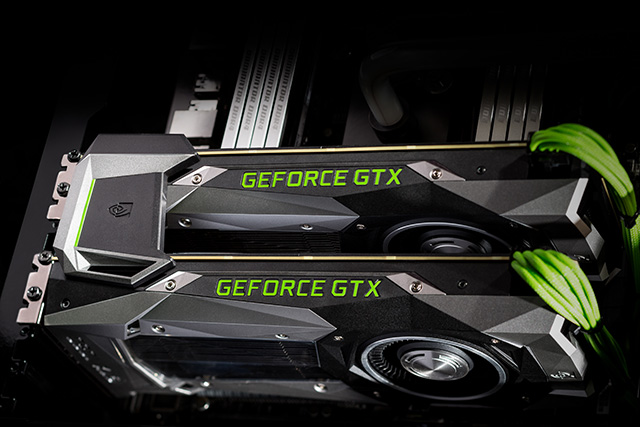 A 2-Way SLI configuration with the new SLI HB Bridge.
In addition to its unprecedented performance and efficiency, the Pascal architecture also enables us to develop new, cutting-edge technologies and techniques that make your games faster, better-looking, and more responsive.
Ansel, our revolutionary new screenshot capture software, enables you take to take incredible, previously impossible shots. Compose from any angle, adjust with post-process filters, capture HDR images in high fidelity formats at unbelievable resolutions, and share your screenshots in 360?via your smartphone, PC or VR headset. Take the shots you always wanted to snap but couldn't, show your creative side with unique shots, print and frame your best works, or wow others with your keen eye and professional skills.
VRWorks bundles several new Virtual Reality enhancing technologies and techniques: VR Audio brings game-changing, real-time, physically-accurate audio to games; VR Graphics introduces detail and performance enhancing Lens Matched Shading and Single Pass Stereo techniques; VR Touch detects when a hand controller interacts with an object, enabling physically-accurate visual and haptic responses; and VR PhysX models the physical behavior of the virtual world around you so that all interactions are accurate and realistic.
Simultaneous Multi-Projection enables Pascal architecture graphics cards to render more efficiently on modern displays, improving performance, image quality, and your view of the world. View games in triple-screen Surround setups with an accurate perspective for the very first time, adjust game views to fit accurately on your curved screen, increase pixel throughput by up to 1.5X in Virtual Reality, and geometry throughput by up to 2X, also in Virtual Reality.
Fast Sync is a new technology designed for cases where game frame rates far exceed the refresh rate of monitors. It is especially useful for eSports titles that have high frame rates, and require low latency and fast response times. With V-Sync On there's no tearing, but input latency is high, and with V-Sync Off there's highly distracting tearing. By enabling Fast Sync we eliminate tearing but only increase latency by around 8ms, compared to V-Sync Off, delivering a far smoother experience than V-Sync On in high-framerate DirectX 9 games.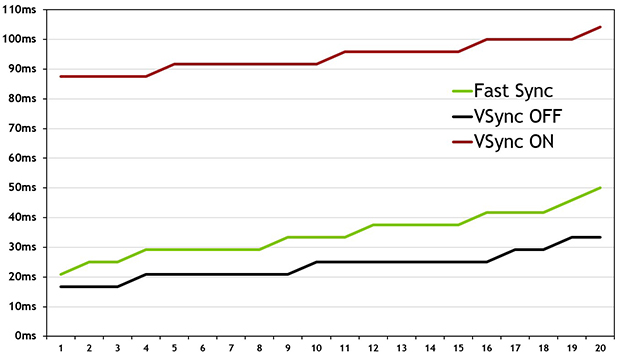 Data acquired by filming Counter-Strike: Global Offensive with a high-speed camera.
High Dynamic Range (HDR) is an exciting new display technology that provides one of the biggest advances in display pixel quality in the last 20 years. The BT.2020 color gamut used by HDR covers up to 75% of visible colors, up from 33% on commonly used sRGB monitors; peak brightness is higher for dazzling scenes; and a contrast ratio of >10:000 to 1 enables deeper blacks, brighter whites, and more granularity between the two extremes.
With these improvements HDR content can more closely mimic what we see on a day by day basis in the real world, improving immersion and image quality. Already games are being upgraded with HDR display support, and leading video providers are streaming TV shows and films in HDR in select territories.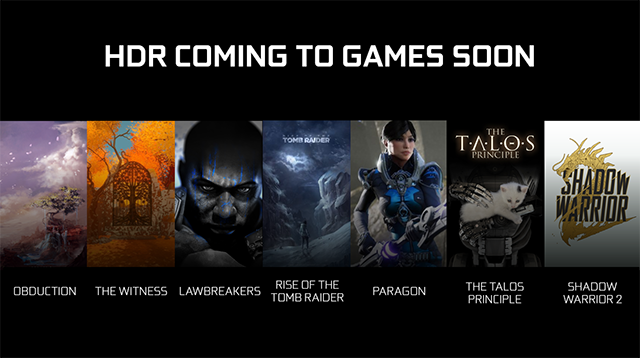 With the Pascal architecture HDR is fully supported, ensuring you can watch and experience HDR content the second you grab a HDR-compatible monitor or TV.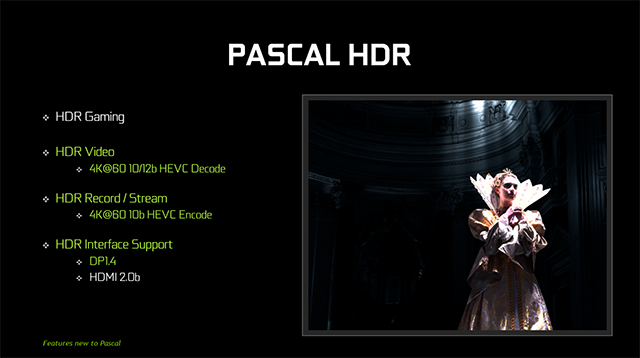 Furthermore, NVIDIA SHIELD Android TV owners will soon be able to GameStream HDR-enabled titles from their Pascal-powered PCs to their HDR TVs, thanks to the HEVC 10b encoding and decoding features built into the hardware.
The addition of HEVC hardware decoding on Pascal graphics will also enable Pascal-powered PCs to watch 4K premium video from Netflix, and other providers, for the very first time. Learn more here.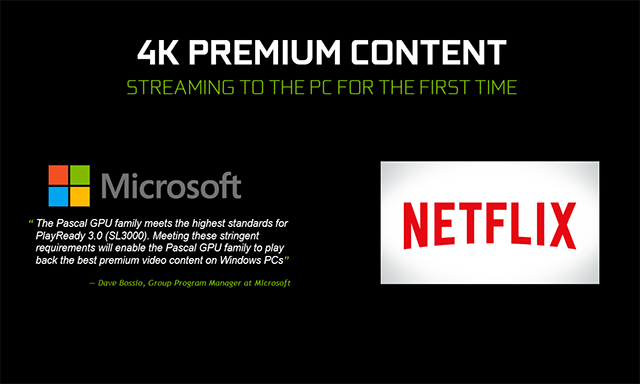 The Pascal architecture is the first to receive PlayReady 3.0 (SL3000) certification, enabling secure streaming of premium content on PC
To display this next-generation content the GeForce GTX 1080 is DisplayPort 1.2 certified and DisplayPort 1.3/1.4 Ready, enabling support for 4K HDR displays running at 60Hz, 4K displays running at 120Hz, 5K displays at 60Hz, and 8K displays at 60Hz (using two cables). The GeForce GTX 1080 Founder's Edition includes three DisplayPort connectors, one HDMI 2.0b connector, and one dual-link DVI connector; up to four display heads can be driven simultaneously from one card.
The World's Fastest & Most Advanced Graphics Card Arrives May 27th
With every generation of GPUs and graphics cards we raise the bar for performance and efficiency. With Pascal, we raised the bar, jumped a World Record, and then raised it a few more times for good measure - never before has there been such an increase to performance and efficiency, nor has there been a breathtaking leap in GPU and Memory clock speeds.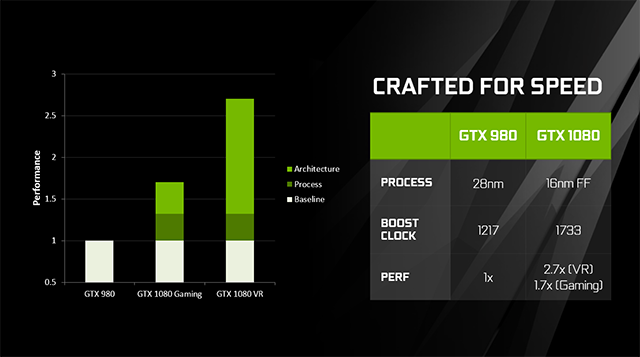 This incredibly powerful, efficient and overclockable technology debuts on the GeForce GTX 1080, which launches May 27th. If you want to play games at exceptional framerates at high resolutions with detail levels cranked up, the GeForce GTX 1080 is the card to get. If you want to play Virtual Reality games with rock-solid framerates, low latency, and high responsiveness, the GTX 1080 is the card to get. If you want to hear physically-accurate audio in games for the very first time, the GTX 1080 is the card to get. If you want to watch HDR TV and movies, or play HDR-enhanced games, the GTX 1080 is the card to get. If you want to watch 4K Netflix on your PC or PC-powered media center, the GTX 1080 is the card to get. And if you want to take unique screenshots, record and share gameplay, and easily optimize your games, the GTX 1080 is the card to get.
No other graphics card or architecture can offer so much in one package. And that's not counting the innovations our engineers at NVIDIA have created over the past 23 years.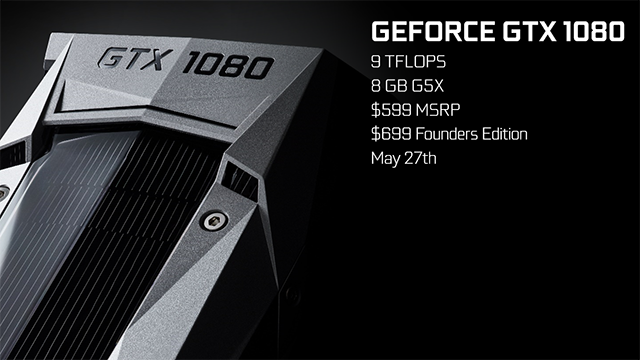 GeForce GTX 1080 retail availability from the world's leading add-in card suppliers, including ASUS, Colorful, EVGA, Gainward, Galaxy, Gigabyte, Innovision 3D, MSI, Palit, PNY and Zotac, will begin at the end of May. Partner boards will vary by region, and pricing is expected to start at $599.
Register your interest on the GeForce GTX 1080 product page to be notified when the GeForce GTX 1080 goes on sale. For further details about the NVIDIA-made GeForce GTX 1080 Founders Edition, check out this article, and if you wish to learn more about any of the technologies discussed in this piece, download the NVIDIA GeForce GTX 1080 Whitepaper.