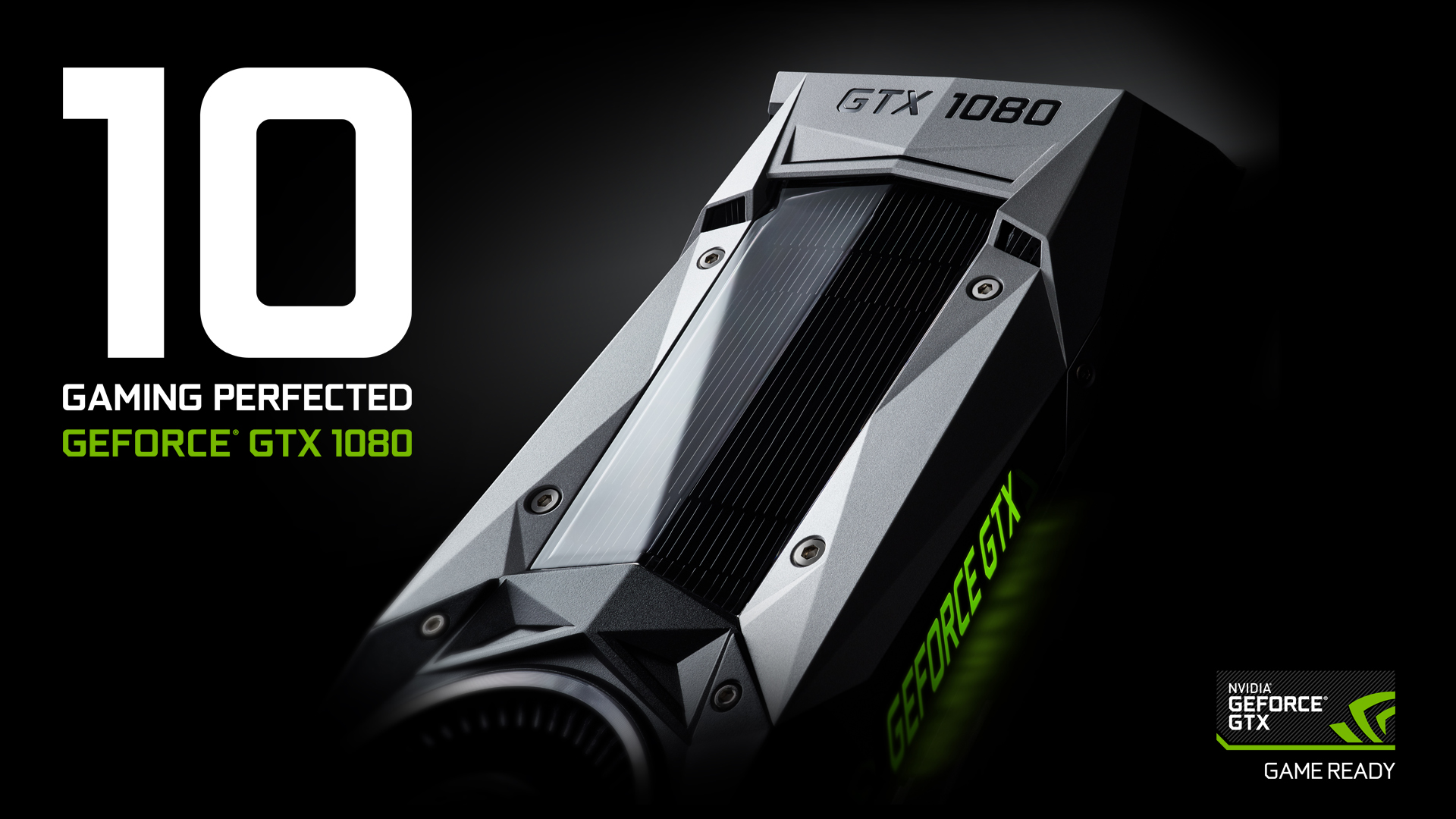 Today, NVIDIA CEO Jen-Hsun Huang revealed our highly-anticipated Pascal architecture and our new flagship GPU, the GeForce GTX 1080, the most advanced graphics card ever created. With game-changing performance, innovative technologies, and immersive, next-gen VR experiences, the GeForce GTX 1080 is gaming perfected.
The GeForce GTX 1080 is a quantum leap in performance. Faster than both the GeForce GTX 980 Ti and GeForce GTX TITAN X, the GeForce GTX 1080 is built with the very latest technology to deliver unprecedented performance and efficiency, giving gamers the horsepower to play the newest games with settings maxed out. Whether they're on your monitor or in Virtual Reality.
These gains in performance and power efficiency are enabled by the marvels of the Pascal architecture. The first of these marvels is the introduction of cutting-edge 16nm FinFET chip construction. This new, smaller chip design uses fewer Watts of power and emits less heat, enabling us to crank up the core clock speed of the GPU, which is key for increasing a graphics card's performance.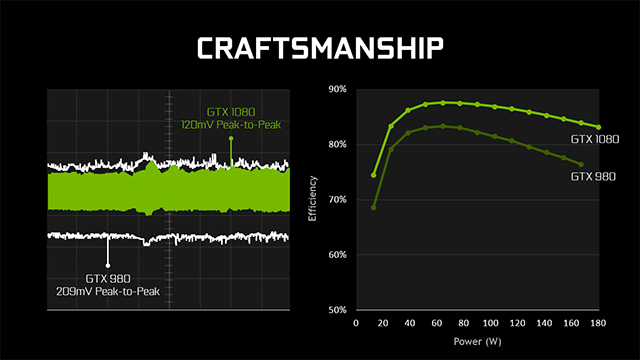 Alongside the GeForce GTX 1080's powerful 16nm FinFET chip is 8GB of GDDR5X memory, a new, faster type of video card memory. This cutting-edge and blazing fast, High Bandwidth memory ensures performance won't be bottlenecked by memory-related operations in the most demanding games.
Surrounding the GeForce GTX 1080's powerful hardware is a redesigned vapor chamber and fan for cool, quiet operation; a polygonal shroud, and a backplate for the dissipation of heat from the rear of the graphics card. This premium design enables excellent overclocking and whisper-quiet operation, a trend we began with previous-generation NVIDIA GeForce GTX GPUs.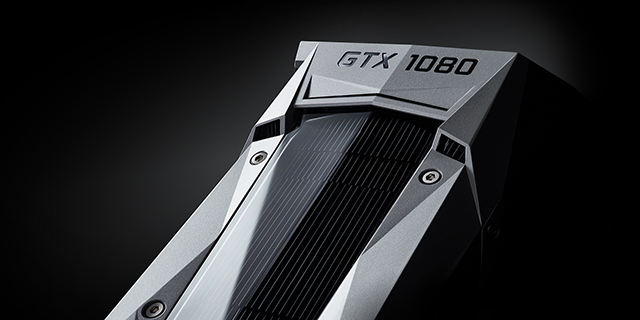 Under the hood, the new Pascal architecture is loaded with technologies that will make your games and experiences better, faster, and more beautiful. Previous-generation architectures have brought advances such as DSR, G-SYNC and HairWorks to life, and with Pascal we're introducing gamers to Ansel, Simultaneous Multi-Projection, VRWorks Audio, VR PhysX, and VR Touch.
NVIDIA Ansel: Revolutionizing Game Capture For GeForce GTX Gamers
Game photography is undeniably a new art form - screenshots can be posed and framed, and those with a great eye will select the best scenes and most beautiful vistas, just as a real world photographer would. But unlike the real world where anyone with a good eye and a camera can start to snap stunning shots, high-quality game photography requires specialist tools, inside access to confidential game builds, and top notch hardware.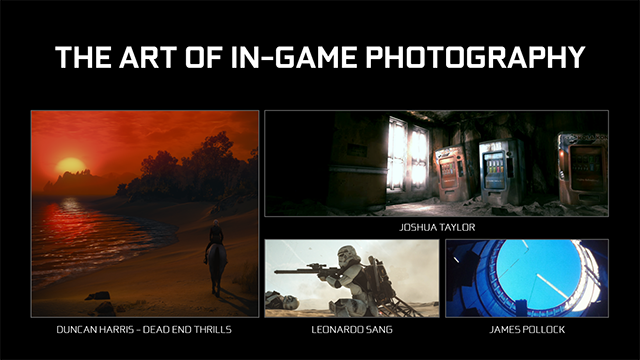 With NVIDIA Ansel we have overcome these barriers to enable GeForce GTX gamers to capture jaw-dropping screenshots from any angle using timestop and freecam controls. Apply filters, customize the framing and look of your shot, and snap in super high resolutions 32 times larger than your computer's display. Alternatively, capture 360-degree screens for Virtual Reality headsets, Google Cardboard, and desktop photospheres.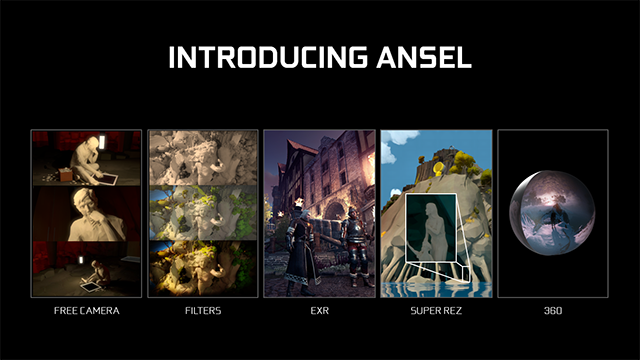 Learn more about NVIDIA Ansel and see Super Resolution, Virtual Reality, and 360-degree photosphere screenshots in our NVIDIA Ansel article and on our NVIDIA Ansel technology page.
Simultaneous Multi-Projection: Adapting The Image For Today's Displays
For decades PC gamers enthusiastically enjoyed their games on flat 4:3, 16:9 and 16:10 monitors. Thankfully technology has advanced, and we can now play with three monitors in NVIDIA Surround, on curved monitors, and even in Virtual Reality. With Simultaneous Multi-Projection we can improve your experience on these new displays, and in Virtual Reality improve performance too.
In a 3-monitor Surround configuration, gamers typically angle the left and right monitors towards them, so that they can see more in their peripheral vision and fit the monitors on their desk. But because games can't account for this perspective shift, the in-game scene is rendered incorrectly, and the image is rendered incorrectly.
With Perspective Surround, enabled by Simultaneous Multi-Projection, GeForce GTX delivers a proper view of the world. By creating multiple view ports of the game world you're playing in, we can project accurate views of the world onto each monitor, improving the view of the world and the level of immersion.
Simultaneous Multi-Projection also benefits Virtual Reality users through the creation of two new performance-enhancing and image quality-improving techniques. The first is Lens Matched Shading, which improves pixel shading performance by rendering more natively to the unique dimensions of VR display output. This avoids rendering many pixels that would otherwise be discarded before the image is output to the VR headset.
The second technique is Single Pass Stereo, which increases geometry performance by allowing the headset's left and right display to share a single geometry pass. We're effectively halving the workload of traditional VR rendering, which requires the GPU to draw geometry twice—once for the left eye, and once for the right eye.
To learn more about the VRWorks aspects of Simultaneous Multi-Projection, and how they improve VR experiences, check out our VRWorks article.
VRWorks: New Technologies To Improve Presence In Virtual Reality
The key to an immersive Virtual Reality experience is the feeling of being present in the game. Great graphics and realistic-looking worlds are particularly important for achieving this feeling of presence, and so to help developers add the required level of detail we've created the aforementioned Simultaneous Multi-Projection technologies.
But unlike a traditional game played on a monitor, Virtual Reality games allow players to reach and touch objects and surfaces, which adds a considerable amount of complexity for developers. To assist with challenges like this, we've brought our PhysX technology to VR.
With this technology embedded in a game, NVIDIA PhysX for VR detects when a hand controller interacts with a virtual object, and enables the game engine to provide a physically accurate visual and haptic response. It also models the physical behavior of the virtual world around the user so that all interactions - whether an explosion or a hand splashing through water - behave as if in the real world.
As well as enhancing your visual and physical experiences with PhysX for VR, we're transforming the aural experience too, as audio can have a huge impact on presence in VR. Traditional VR audio provides an accurate 3D position of the sound source within a virtual environment. However, sound in the real world reflects more than just the location of the source. It's changed by the physical environment as the waves move through walls and bounce off objects, creating echoes, reverberations, or muffled sound. We expect these subtle changes in real life, so their absence in virtual environments subtracts from the realism.
To solve this, NVIDIA has developed VRWorks Audio, our new path traced audio technology. Using, NVIDIA's OptiX ray tracing technology, we simulate the movement, or propagation, of sound within an environment, changing the sound in real-time based on the size, shape, and material properties of your virtual world--just as you'd experience in the real life.
Together, these VRWorks technologies enable us to better simulate reality across sight, sound, touch, and behavior, creating a more realistic and entertaining experience.
See for yourself in "NVIDIA VR Funhouse", our upcoming VR experience that incorporates VRWorks and NVIDIA GameWorks technologies.
The GeForce GTX 1080: The World's Fastest & Most Advanced Graphics Card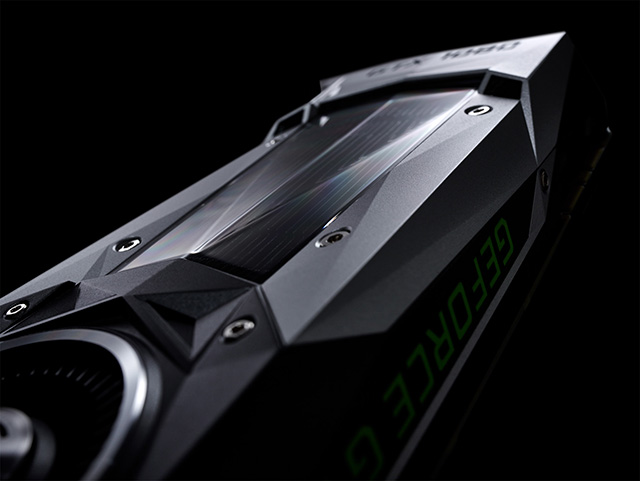 With the power of the Pascal architecture, the efficiency and performance of the 16nm FinFET GPU, the blistering speed of the GDDR5X VRAM, and the craftsmanship of the fan, vapor chamber, backplate, and shroud, the GeForce GTX 1080 is the world's fastest and most advanced graphics card.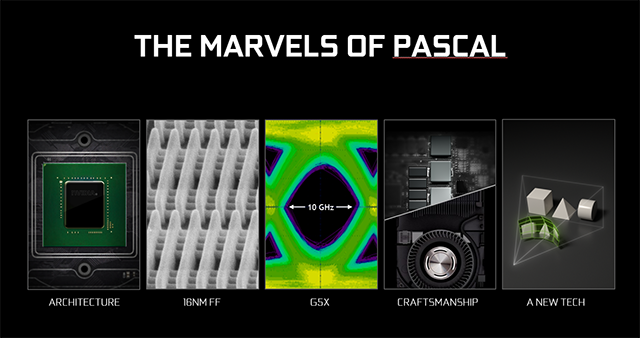 If you want the best experiences, the fastest speeds, access to the new Simultaneous Multi-Projection and VRWorks technologies, Game Ready drivers, super smooth G-SYNC gaming, innovative software like Ansel and GeForce Experience, and access to all of the other advancements we've created over the past 23 years, the GeForce GTX 1080 is the graphics card to get.
No other game in town can deliver the performance or feature set of the GeForce GTX 1080, the world's first 16nm FinFET, GDDR5X, Pascal-powered graphics card. Register your interest now to be notified about GeForce GTX 1080 availability.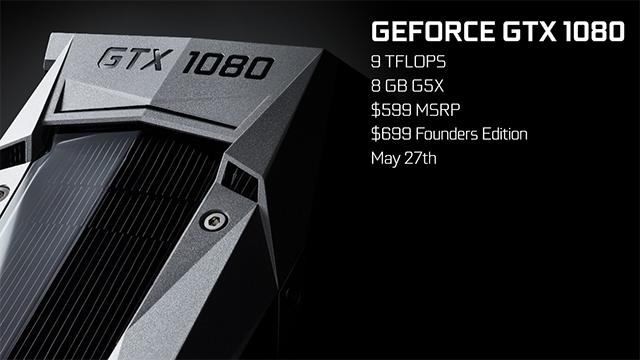 GeForce GTX 1080 retail availability from the world's leading add-in card suppliers, including ASUS, Colorful, EVGA, Gainward, Galaxy, Gigabyte, Innovision 3D, MSI, Palit, PNY and Zotac, will begin at the end of May. Partner boards will vary by region, and pricing is expected to start at $599. If you want to try your hand at winning a GeForce GTX 1080, or even a custom gaming rig, test your puzzle-solving skills in our Order of 10 Challenge.
One more thing: the NVIDIA GeForce GTX 1070 is coming June 10th. Stay tuned to GeForce.com for further details.