The NVIDIA driver and tech team is constantly improving performance in the games you play, and developing new features that make PC gaming better for millions of GeForce GPU users. Today, we're introducing three fantastic new features in our latest Game Ready Driver, in addition to support for 7 new G-SYNC Compatible gaming monitors, and support for the newly-released GeForce GTX 1660 SUPER graphics card.
For all the details, read on.
GeForce GTX 1660 SUPER Available Now
If you're in the market for an upgrade or new build that delivers excellent 1080p gaming performance, the new GeForce GTX 1660 SUPER might be the card for you. With 6GB of high-speed GDDR6 VRAM, the power and features of the GTX Turing architecture, and support for the ecosystem of advanced GeForce tech, it delivers fast, smooth frame rates at maximum detail levels.
For further details, check out our GeForce GTX 1660 SUPER article.
GeForce Experience's Capabilities Expand With The Introduction Of ReShade Filters
In over 650 games, you can press Alt+F3 to load NVIDIA Freestyle, a GeForce Experience feature that enables you to adjust the look and feel of your gameplay in real-time using post-process filters. And in any game with NVIDIA Ansel support, you can press Alt+F2 to frame and snap in-game photos with an incredible level of visual customization.
With the launch of the new Game Ready Driver and a new GeForce Experience update, you can now import hundreds of new customization filters from ReShade.
If you're unfamiliar with ReShade, it's a free tool that enables you to "inject" post-processing customization into games. These sharpen detail, add improved ambient occlusion shadowing, depth of field, advanced depth-edge-detection-driven SMAA antialiasing, dynamic film grain, automatic saturation, color correction, cross processing, multi-pass blurring, and much more, completely transforming a game's look and feel. Default filters are included, though many more amazing additions have been hand-crafted by ReShade's vibrant modding community.
Now, you can quickly and easily use Reshade filters in Ansel and Freestyle games, using GeForce Experience's streamlined UI, that greatly simplifies the customization process. Add filters once, click a few buttons in-game, and your gameplay or photo will be instantly modified.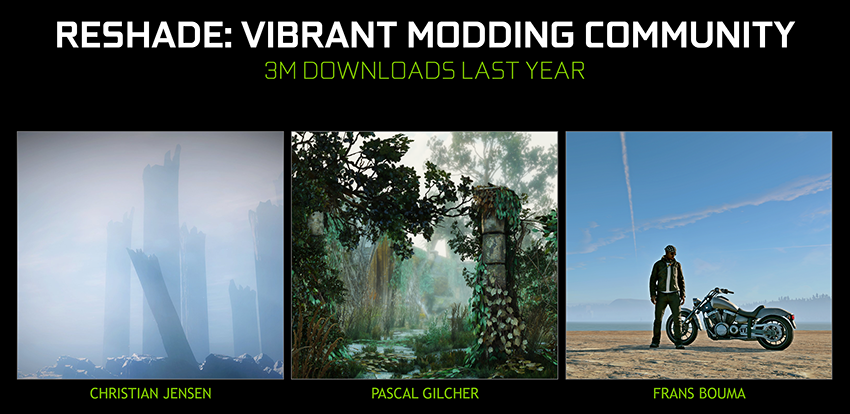 To add ReShade support to your Freestyle and Ansel games, download our collection of curated ReShade filters, and extract into "Program FilesNVIDIA CorporationAnsel" (typically on your C: drive). If you install DCH drivers, instead of the standard Game Ready Driver, you may have to create this folder yourself. A larger selection of 'custom' filters can also be downloaded directly from ReShade's Github repository.
Next, activate either the Ansel (Alt+F2) or FreeStyle (Alt+F3) overlays in a supported game, and apply a filter from the dropdown menu. Note: at the time of writing, users must "enable experimental features" in GeForce Experience's settings to download version 3.20.1.57, or later, which will activate ReShade support.
Included in our collection of curated ReShade filters are two exciting new filters we jointly worked on with ReShade author Pascal Gilcher. Posterize adds a pop-art effect and reduces the image to 4 colors, and Retro Neon uses the game's depth to create a cool sci-fi effect. Additionally, we are contributing our Image Sharpening filter to the ReShade community via our ReShade Github repository.
The new Posterize filter
Please note, Freestyle supports fewer ReShade filters for competitive games. The full breakdown of support is as follows:
NVIDIA Freestyle

Competitive Games

Non-Competitive Games

NVIDIA-Made Freestyle Filters

Supported
(14 filters)

Supported
(16 filters)

Curated ReShade Filters

Supported
(30+ filters)

Supported
(70+ filters)

Custom ReShade Filters

-

Supported
(Any Filters, 160 titles)
In NVIDIA Ansel titles with developer-made integrations, in which the game is paused when Ansel is loaded via Alt+F2, any of the ReShade filters can be selected. In other Ansel titles, support is as follows:
NVIDIA Ansel

>650 Games
(No SDK)

>80 Games
(With SDK)

NVIDIA-Made Ansel Filters

Supported
(14 filters)

Supported
(16 filters)

Curated ReShade Filters

Supported
(30+ filters)

Supported
(70+ filters)

Custom ReShade Filters

-

Supported
(Any Filters)
Once you're gaming with Freestyle filters enabled, you can record your gameplay with ease using Alt+F9, and upload using the GeForce Experience Gallery (Alt+Z). As for your custom Ansel photos, you can upload directly from the Gallery to Shot With GeForce, our specially-designed Ansel photo sharing website that supports Super Res, 360 Shots, and all the other Ansel features.
And if you're especially proud of your new photo, share the shot with us on social media, using #shotwithgeforce, and we may highlight your work.
Improve Sharpness In All DirectX Games Via The NVIDIA Control Panel, with Optional Upscaling Feature
Not long ago, we introduced an updated image sharpening filter for NVIDIA Freestyle. Now, we've also made this filter a standalone feature built into the NVIDIA Control Panel, enabling you to improve image clarity in all DirectX 9, 10, 11 and 12 games with just a few clicks (Vulkan and OpenGL is coming soon in a future driver).
Like the GeForce Experience Freestyle filter, sharpness can be adjusted on a per-game basis, or you can apply it globally for all supported titles.
In addition, you can use your GPU to render at a lower resolution and scale to your monitor's native resolution to improve performance. For instance, if you have a 2560x1440 display, but set your game resolution to 1920x1080 because the game is too demanding for your current GPU, we'll upscale the game's graphics to 2560x1440 using a high-quality scaler, and then add a dose of sharpening to improve clarity of upscaled images.
Note, on GeForce RTX and GeForce GTX 16-Series Turing architecture GPUs, scaling will leverage Turing's new 5-tap scaling tech
To use image sharpening on your system, open the NVIDIA Control Panel and navigate to 3D Settings > Manage 3D Settings, select Image Sharpening, configure your options, hit OK, then click Apply on the bottom right of the Control Panel window.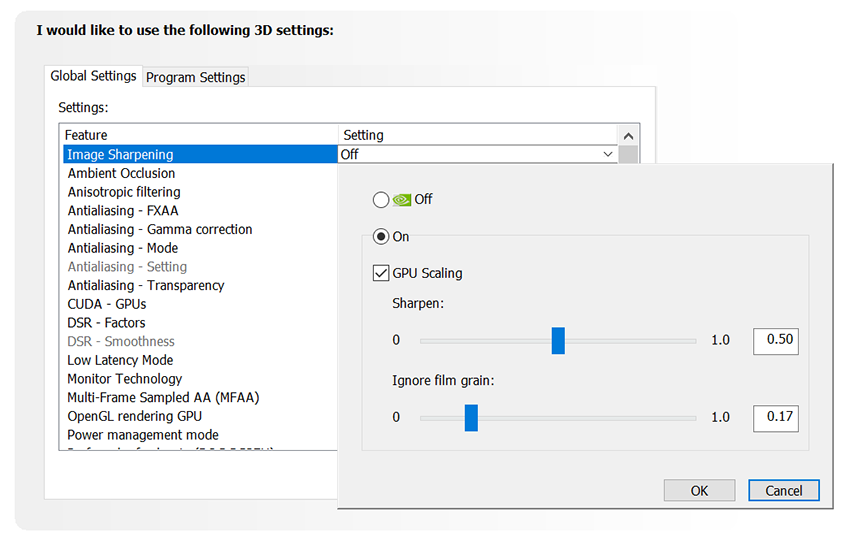 To selectively apply Sharpening and Scaling to specific games and apps on your system, select the Program Settings tab instead, navigate to the .exe in the dropdown, and apply Image Sharpening.
With the options enabled, textures will be clearer and game detail will be sharper, giving you an improved experience with just a few clicks.
NVIDIA Ultra Low Latency Mode Adds G-SYNC Support
Lower latency makes your games feel more responsive and snappy, and can give you an extra edge in multiplayer. To further reduce latency for our users, we introduced a new Ultra Low Latency Mode (NULL) in a recent driver that reduced graphics pipeline latency and accelerated response times.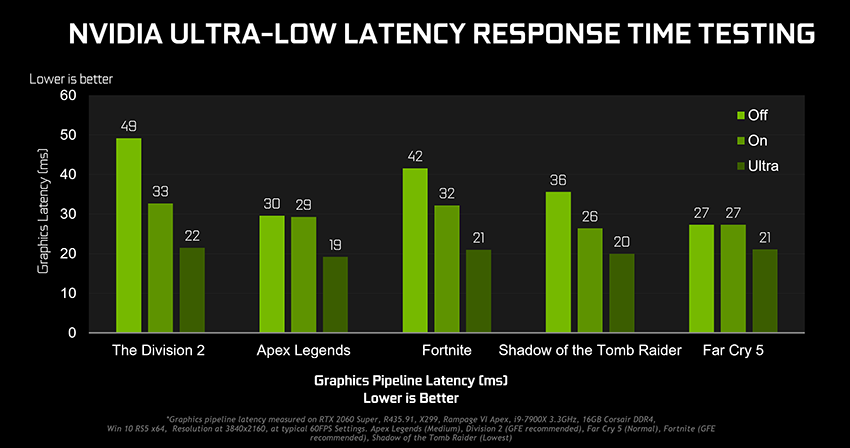 Now, we've updated NULL to enable it to work in concert with G-SYNC and G-SYNC Compatible gaming monitors, for a superior tear-free, extra-responsive variable refresh rate experience, so you no longer need to choose between V-SYNC or low response times:
The above chart shows how when VSYNC is ON, NULL is set to ULTRA, and G-SYNC is ON, end to end system latency is reduced by up to 20%. This means 20% faster reaction time from when you click the button on your mouse to when you see the result on your screen.
To enable NULL on a global or per-game basis, head to the NVIDIA Control Panel and navigate to 3D Settings > Low Latency Mode. Select On or Ultra, and click apply on the bottom right of the Control Panel.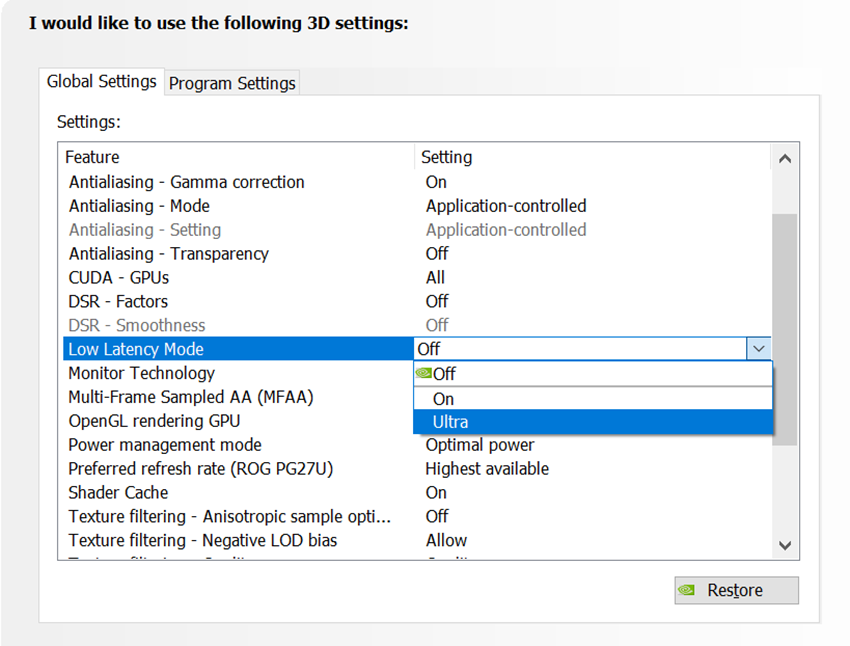 To use NULL in concert with G-SYNC:
Enable Ultra Low Latency Mode
Scroll down to Vertical Sync and select On, either on a global or per game basis, and apply changes
Navigate to "Set up G-SYNC" on the left nav of the NVIDIA Control Panel
Enable G-SYNC and apply changes (note, if your monitor supports G-SYNC and ULMB, ensure "G-SYNC" is selected under the Monitor Technology dropdown in Manage 3D settings)
In-game, disable V-SYNC, so the NVIDIA Control Panel can correctly apply your settings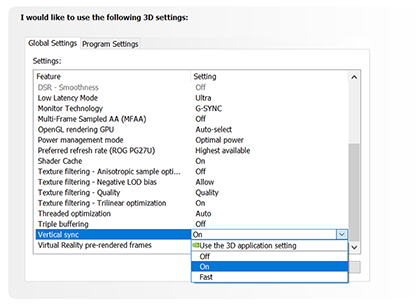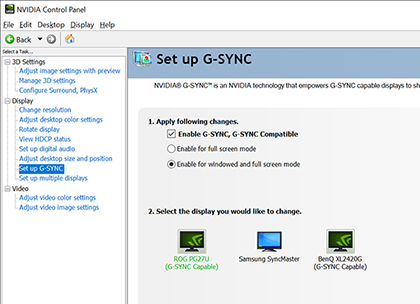 In the past, gamers have had to choose between a tear free experience with VSYNC ON, and a lower latency experience with VSYNC OFF. With the release of our new Game Ready Driver, gamers now get the best of both worlds, ensuring they can enjoy a low latency, tear-free experience when gaming on G-SYNC and G-SYNC Compatible gaming monitors.
Support for Newly Validated G-SYNC Compatible Displays
Our newest Game Ready Driver driver is adding support for an additional seven G-SYNC Compatible displays - gaming monitors that deliver a baseline Variable Refresh Rate (VRR) experience that makes your gaming smoother, clearer, and more enjoyable. Learn more here.
Today's newly-validated models are the Acer CG437K P, Acer VG272U P, Acer VG272X, AOC 27G2G4, ASUS XG279Q, Dell AW2720HF, and Lenovo Y27Q-20, giving gamers even more choices when searching for a great gaming monitor.
For a complete list of all G-SYNC, G-SYNC ULTIMATE, and G-SYNC Compatible gaming monitors, check out our handy and frequently updated G-SYNC page.
Optimal Playable Settings For More Games
As part of our Game Ready program, NVIDIA has recently added Optimal Playable Settings (OPS) for even more games, giving you one click setting recommendations for the latest and greatest releases.
Newly support titles include, Age of Wonders: Planetfall, Ancestors: The Humankind Odyssey, Blair Witch, Borderlands 3, Chernobylite, Children of Morta, Code Vein, Control, Cube World, Deliver Us The Moon, eFootball PES 2020, FIFA 20, Final Fantasy VIII Remastered, Gears 5, Greedfall, GRID, Hunt Showdown, Madden NFL 20, Ni no Kuni Wrath of the White Witch Remastered, ONINAKI, Planetside Arena, Plants vs. Zombies: Battle for Neighborville, Remnant: From the Ashes, SCP: Secret Laboratory, Silver Chains, Spyro Reignited Trilogy, The Dark Pictures Anthology: Man of Medan, The Isle, The Surge 2, Tom Clancy's Ghost Recon Breakpoint, Trine 4: The Nightmare Prince, UBOAT, and Wolfenstein: Cyberpilot.
To optimize your game, open GeForce Experience, click on the game tile in the Games Tab, and hit "Optimize".
GeForce Game Ready Driver - Download Now
Game Ready Drivers are the gold standard for the gaming industry, delivering unprecedented game support, frequent performance optimizations, and beneficial new features that make your experience even better.
You can download the new GeForce Game Ready 441.08 WHQL drivers through GeForce Experience, or via our website, and a list of fixes in this driver for previously-reported issues can be found here.
If you experience any technical issues with the new Game Ready drivers please post a detailed report on the GeForce.com Driver Feedback Forum, where our Customer Care team can better assist you. And if you have feedback on the new game and experience-enhancing features, please share it here.