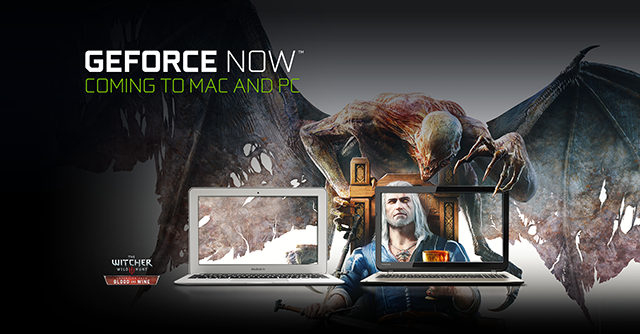 For several years NVIDIA has been building the world's best cloud gaming technology with the ability to stream at a crystal-clear 1080p 60FPS, with low latency. Today, we're announcing GeForce NOW for Mac and PC, a new cloud gaming service that transforms your Mac or PC into a high-performance gaming PC by connecting them to blazing-fast GeForce GTX 1080 gaming PCs hosted in the cloud.
Using our unparalleled cloud gaming technology, and the performance of the world's fastest consumer GPUs, you'll be able to play the latest PC games at exceptional detail levels, with super smooth framerates, for an unrivaled experience that can otherwise only be obtained through a PC system upgrade.
To use GeForce NOW for Mac and PC, simply load the GeForce NOW app and install your favorite Steam, Origin, Uplay, GOG or Battle.net games, that you own, onto your virtual GeForce NOW GeForce GTX 1080 PC. Once loaded, enjoy your games with high-quality visual effects, high framerates, and NVIDIA GameWorks effects courtesy of the cloud-based GeForce GTX 1080 GeForce NOW PCs.
Alternatively, install games that use a dedicated launcher, such as World of Tanks and Warframe, and play with and against other gamers, all via the cloud.
GeForce NOW also makes things easy – all patching, game configuring and driver updating is handled automatically by the GeForce NOW infrastructure. Even save games, achievements and other settings are automatically synchronized with digital game platforms, enabling you to instantly pick up from where you stopped.
Experience The Witcher 3: Wild Hunt with HairWorks and other game-enhancing visual effects on your Mac or PC with GeForce NOW
Sign up now for the Early Access waitlist to be among the first to experience GeForce NOW on your Mac or PC. The only requirement is a 25 Mbps or faster internet connection and a Mac or Windows PC. Stay tuned to GeForce.com and the GeForce NOW website for more information in the coming months.