Our latest bundle is a big one, giving a copy of both AnthemTM* and BattlefieldTM V* with eligible GeForce RTX 2080 Ti and 2080 GPUs, desktops and laptops. Or, if you buy a GeForce RTX 2070 or 2060 GPU, desktop or laptop, you can pick one of the two games to take home and enjoy at high detail levels and framerates.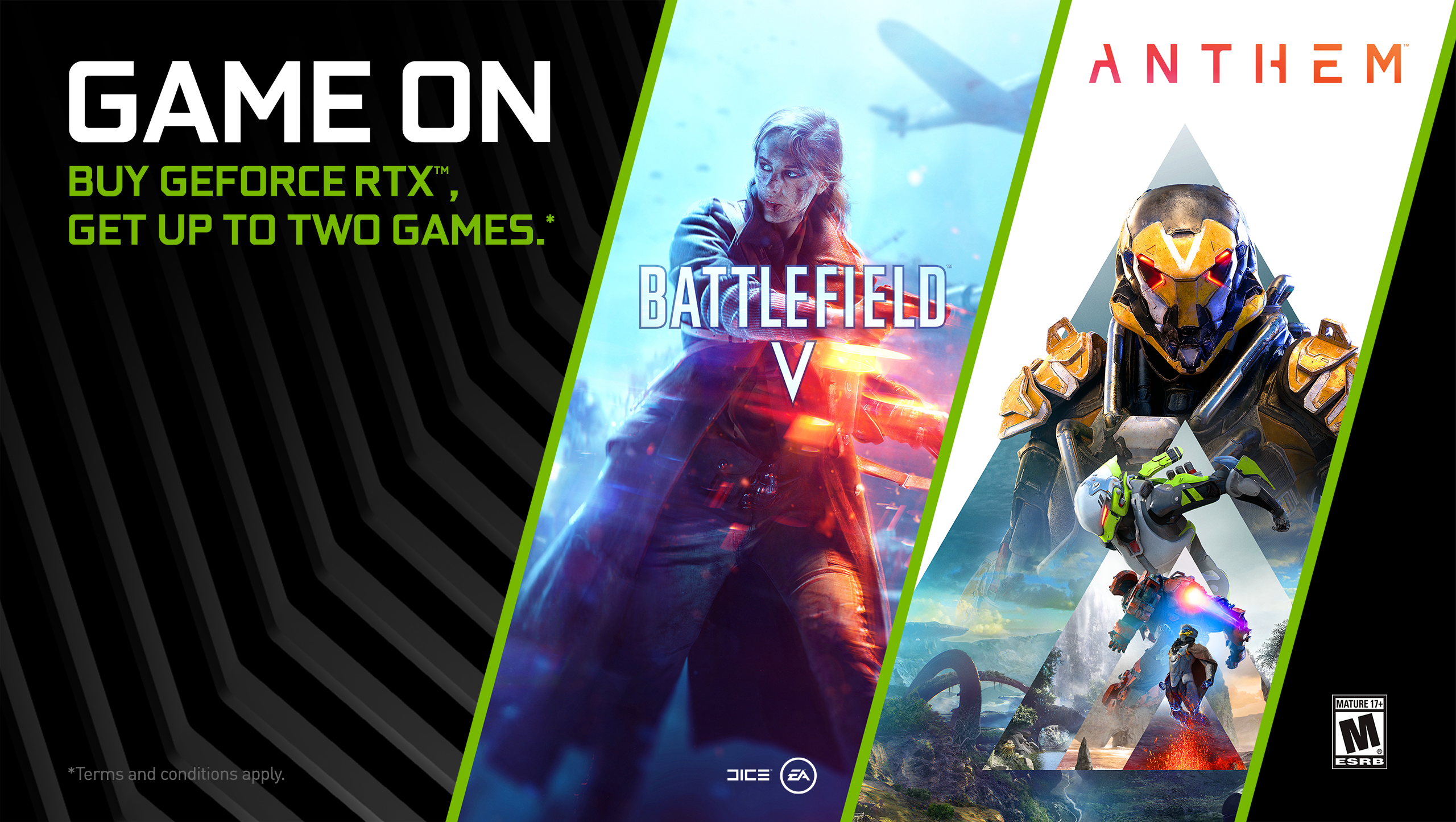 Battlefield V was the first game to debut real-time ray tracing, adding immersive, high-fidelity, dynamic reflections to all areas of the game. And soon, it will feature DLSS, too, enabling significantly faster performance.
Anthem, launching February 22nd, is BioWare's upcoming online action shooter, that puts players on a world left unfinished by the gods, where a shadowy faction threatens all of humankind. The only thing that stands between these villains and the ancient technology they covet are the Freelancers.
Join with up to three other players and assemble high-tech, hand-crafted, uniquely powerful suits of armor called Javelins. Explore vast ruins, battle deadly enemies, and claim otherworldly artifacts. With every mission, you and your Javelin grow in power. Fight the dangers of an ever-changing world. Rise united to defeat evil. Triumph as one.
As you can see from the trailer below, Anthem looks spectacular, and with the help of DLSS, which we've just confirmed is coming to Anthem, you'll be able to experience its gorgeous world at 4K at faster frame rates for the definitive experience.
So how does our new GeForce RTX bundle work? Simple: check our bundle page for retailers and etailers offering the bundle in your country, and buy a GPU, PC or laptop from them that is listed as participating in the offer.
If you buy a qualifying GeForce RTX 2080 Ti or RTX 2080 GPU, PC or laptop you'll get both Anthem and Battlefield V. Or if you buy a qualifying RTX 2070 or RTX 2060 GPU, PC or laptop you'll get to choose which game you want when you redeem the bundle key included with your purchase.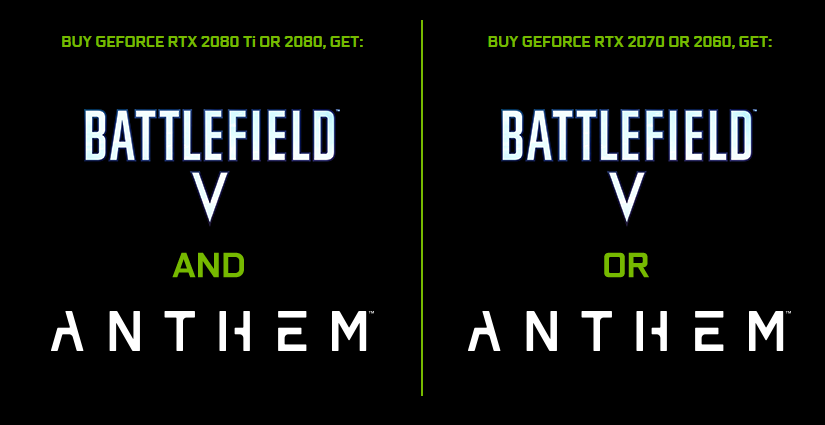 *Battlefield V Standard Edition; Anthem Standard Edition