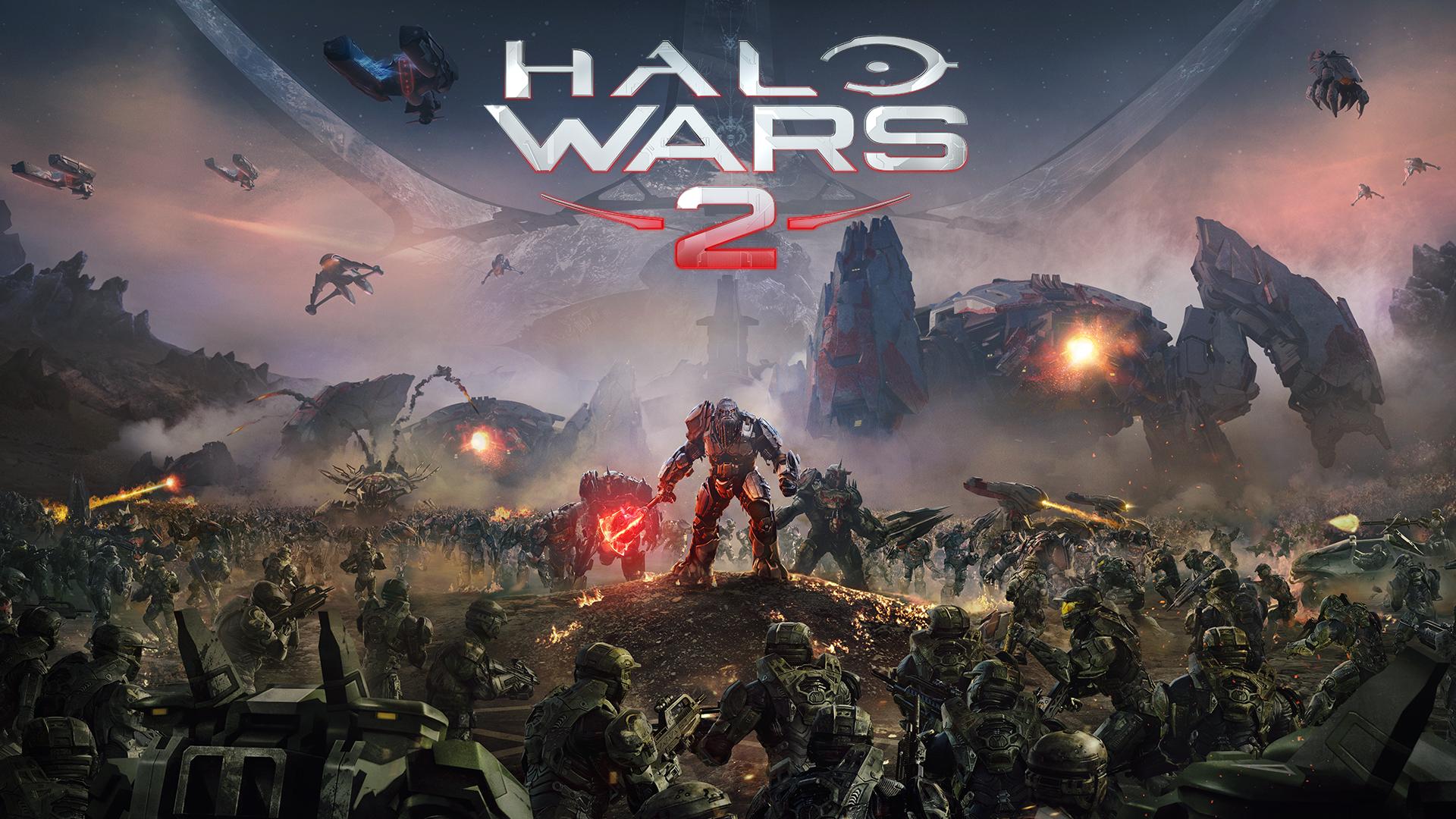 Halo Wars 2—the highly anticipated follow-up to 2009's Halo Wars—goes live on PC starting February 21st. Just like the first adventure, you'll build up bases, create units, and take control of them all in real-time strategy gameplay. And with a full single-player campaign containing a brand-new enemy, The Banished, as well as five specific multiplayer modes, you'll have plenty of different ways to stay glued to the screen.
The original Halo Wars took place in the year 2531, 20 years prior to Halo: Combat Evolved, the game that began the Halo franchise. Halo Wars 2 picks up shortly after the events of Halo 5: Guardians, however, for reasons we won't spoil. In this sequel, the cast of characters find themselves at a Forerunner installation called the Ark, which created Halo rings: gigantic megastructures that the Forerunners once used to examine and contain the Flood. On the surface of the Ark, the UNSC forces come face-to-face with the Banished, a mercenary faction who splintered away from the Covenant.
Halo Wars 2 builds off and elaborates on many of the concepts from Halo Wars 1, including a rock-paper-scissors kind of unit balancing. For example, ground vehicles can be used to neutralize infantry, while infantry are powerful against aircraft. At the same time, aircraft are potent countermeasures against ground vehicles. This kind of approach makes it easy for RTS newcomers to get into the game, but still retains a lot of tactical depth for strategy veterans. The game was developed by Microsoft Studios' 343 Industries and the highly praised Creative Assembly, who made critically praised RTS games such as Medieval: Total War 1 and 2, Total War: Shogun 2, Total War: Warhammer, and many others.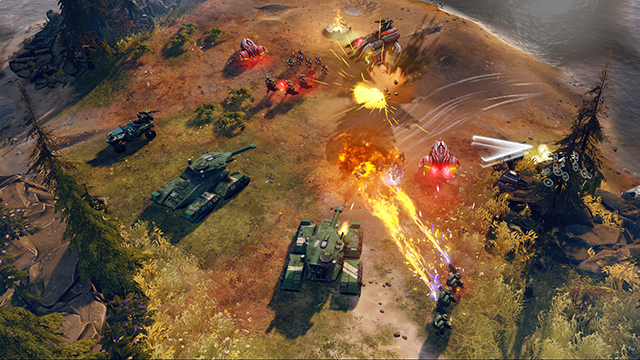 From a top-down perspective, you're in charge of base-building, resource management, creating units, defending objectives, and conquering enemy bases. The gameplay unfolds through non-stop action, and you'll need to combine quick reflexes, multitasking, and tactical expertise to complete your missions. For those already familiar with the Halo series, many of the units will look familiar. You'll have access to M12 Force Application Vehicle Warthogs, M808 Main Battle Tank Scorpions, G77S Pelican Gunships, and lots of others. There are also new Halo Wars units too, such as the Jackrabbit, Kodiak, and EV-44 Support VTOL.
There are plenty of multiplayer options too. In Skirmish mode, you're pitted against numerous AI difficulty levels on any other multiplayer mode or environment desired. While there, you can team up with AI partners or your pals (through co-op) to conquer the opposition. Stronghold mode focuses on fast-paced gaming where you must control more bases than anyone else when the timer hits zero. Then there's Domination, which uses the traditional RTS elements from Halo Wars (base building, army creation, etc.), but with with all the new units, leaders, and special abilities from Halo Wars 2. There's also Deathmatch, where it's 1v1 or 3v3 and players fight it out until only one person or one team remains.
Blitz mode is one of the most unique new multiplayer options. In Blitz, you'll create a deck of digital cards, composed of a leader that represents your faction, hand-picked individual units (or groups of units), and abilities. Blitz is completely playable in co-op too, so one player can hone in on one type of gameplay—such as healing—while another can focus on a separate play style, such as defense or offense. You then spend energy (found randomly on the in-game map) to play a card from your deck. Since some cards cost more than others to activate, creating a balanced set of cards can be pivotal. To earn card types, you'll simply need to play through the single-player campaign. You can also purchase card-packs, though Creative Assembly reassures that doing so won't be a pay-to-win kind of deal.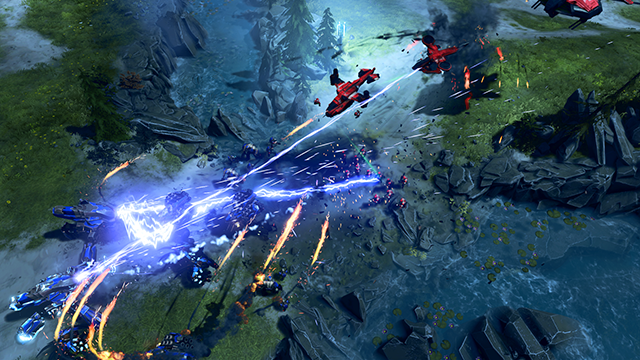 Playing Halo Wars 2 on the PC brings some awesome benefits, including higher resolution support, increased graphical fidelity, and of course mouse and keyboard support for superior RTS control (though Halo Wars 2 is perfectly playable with a gamepad too, if you prefer). The PC version also unlocks a whole host of video settings to tweak, including level of detail, texture filtering, texture quality, anti-aliasing, shadow map resolution, foliage and terrain quality, ambient occlusion, and more. Halo Wars 2 is already a gorgeous game at default settings, but with many of the options increased, it looks stunning.
Halo Wars 2 is published by Microsoft, and it's an Xbox Play Anywhere title. That means you can buy a copy digitally, and then play the game on both your Windows 10 PC and your Xbox One. There's also Halo Wars 2 Ultimate Edition, which includes a Season Pass (which grants access to future DLC in the form of an eventual campaign addition, extra units, new leaders, and new Blitz cards), the ability to play the game four days early, and an extra game in the form of Halo Wars: Definitive Edition—an enhanced copy of Halo Wars 1 for Windows and Xbox One with all the DLC and new achievements.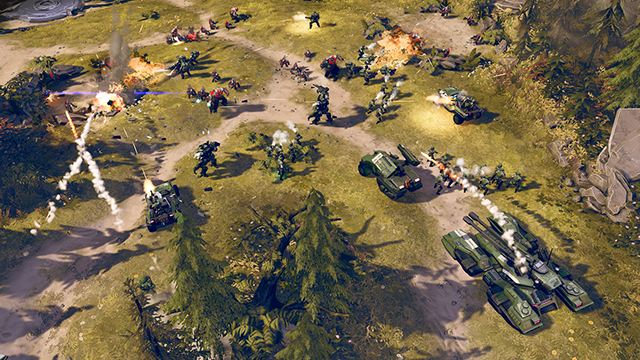 To get the best possible experience at 1920 x 1080 resolution, the developers recommend the GeForce GTX 1060. If you decide to turn up the video settings and run your games at higher resolutions, such as 2160 x 1440, a GeForce GTX 1070 is your best bet. Halo Wars 2 natively supports 4K resolution as well, in which case a GTX 1080 is the card to use.
A GTX graphics card also brings GeForce Experience, which unlocks day-one Game Ready drivers, and lots of cool features in GeForce Experience Share, such as on-the-fly video capture, screenshot support up to 4K quality that you can upload to Facebook, Google, or Imgur, and live streaming directly to Facebook Live, Twitch and YouTube Live. NVIDIA GPU's also boast a wealth of amazing technologies in supported games, such as NVIDIA G-SYNC, DSR, and plenty of others.
For those wondering if their PC can run Halo Wars 2 without a hitch, a list of the game's full system requirements are below.
Minimum Requirements
OS:64-bit Windows 10
DirectX version:DirectX 12 (feature level 11)
CPU: Intel Core i5-2500
GPU:GeForce GTX 650 Ti
Memory: 6GB
HD space:25 GB
Recommended Requirements
OS:64-bit Windows 10
DirectX version:DirectX 12 (feature level 11)
CPU: Intel Core i5-4690K
GPU:GeForce GTX 1060
Memory: 8GB
HD space:25 GB
You can download or order a physical copy of Halo Wars 2 from the Microsoft Store. For more info on Halo Wars 2, have a look at some of the detailed previews from such sites as PC Gamer, PCGamesN, IGN, ShackNews, and Eurogamer. Reviews should be out soon from those same sites as well.