NVIDIA is working together with EA and BioWare to ensure that Mass Effect™: Andromeda is an amazing gaming experience when it hits PC on March 21, 2017. NVIDIA & EA have revealed that the massively anticipated Mass Effect game will launch with support for NVIDIA Ansel, High-Dynamic Range (HDR) and gameplay broadcasting to Facebook Live with GeForce Experience. They also dropped an exclusive combat trailer that showcases never-before-seen environments and gameplay from Mass Effect: Andromeda, which you can watch below.
When Mass Effect: Andromeda launches it will include built-in support for NVIDIA Ansel. NVIDIA Ansel is a revolutionary set of tools that enables PC gamers to capture gorgeous, professional-grade 2D, 360-degree and virtual reality 360-degree screenshots on gaming machines powered by GeForce GTX graphics cards.
"We've already taken some amazing screenshots of the beautiful Mass Effect: Andromeda galaxy using NVIDIA Ansel, and look forward to sharing them," explains Aaryn Flynn, BioWare General Manager.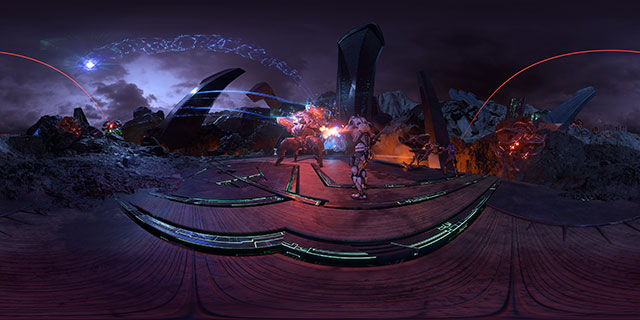 View 360° photosphere screenshots here
Mass Effect: Andromeda also features High-Dynamic Range (HDR), a dramatic evolution in display quality that delivers twice as many visible colors, a broader range of brightness and luminosity and an overall superior visual experience. With NVIDIA's newly announced High Dynamic Range (HDR) PC gaming monitors featuring 4K G-Sync, Mass Effect Andromeda will look amazingly realistic, mesmerizing you with dazzling displays of color, brightness and contrast that were previously impossible.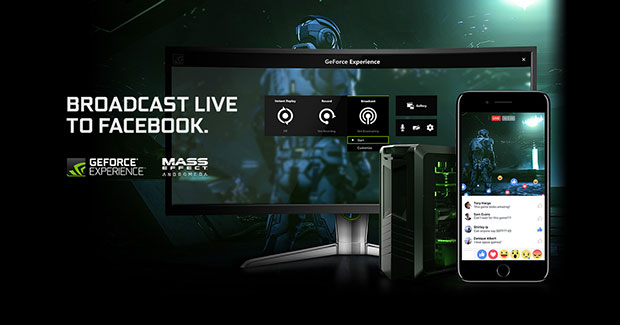 Gamers will also be able to broadcast their live Mass Effect: Andromeda gameplay sessions directly to Facebook Live with the new GeForce Experience. By pressing Alt+Z, you can launch the GeForce Experience Overlay and share live gameplay, in-game screenshots and recordings right to your Facebook timeline, which other Facebook users can react to and comment on.
"Every player's Mass Effect: Andromeda experience will be unique," says Aaryn Flynn," and GeForce Experience makes it simple to share those incredible moments with friends on Facebook."
Mass Effect: Andromeda arrives for PC on March 21, 2017.