The long-awaited Mass Effect: Andromeda is out now! Featuring an entirely new setting and story, Mass Effect: Andromeda is an ideal entry-point for franchise newcomers, presenting fresh story-led, action-RPG gameplay set hundreds of years after the events of the original Mass Effect Trilogy.
Below you can check out the graphics settings for the PC version, view four 4K screenshots captured at max detail levels using NVIDIA Ansel, and watch an exclusive 4K HDR video. And over here you can download the Mass Effect: Andromeda Game Ready driver, which optimizes performance and enables Ansel and SLI in the game.
If you've played other Frostbite Engine games, such as Battlefield 1 and Mirror's Edge Catalyst, you'll know that titles built on DICE and EA's engine run well and feature a good range of graphics options. Unsurprisingly then Mass Effect: Andromeda continues the trend, enabling you to scale image quality and performance to suit systems old and new.
As you can see below in screen captures of the graphics menu, Mass Effect: Andromeda gives you options for Ambient Occlusion, Anti-Aliasing, Chromatic Aberration, Effects Quality, Film Grain, Lighting Quality, Mesh Quality, Post-Process Effect Quality, Resolution Scaling, Shader Quality, Shadow Quality, Terrain Quality, Texture Filtering Quality, Texture Quality, and Vegetation Quality.
In total there are 16 options that affect image quality, most of which have several detail levels. Additionally, Mass Effect: Andromeda players with a HDR television, or a G-SYNC HDR monitor, can enable the best implementation of HDR seen to date on PC with one flick of a switch in the Video menu. Check out an exclusive first look at HDR in our 4K HDR video below:
For playing Mass Effect: Andromeda on PC, here's what BioWare and Electronic Arts recommend for Minimum settings at 1280x720, and High settings at 1920x1080:
Mass Effect: Andromeda Minimum System Requirements For 1280x720
CPU: Intel Core i5-3570 or AMD FX 6350
GPU: GeForce GTX 660
RAM: 8GB
OS: Windows 7, Windows 8.1 or Windows 10 (64-bit versions)
HDD: 55GB free space
DirectX: Version 11
Mass Effect: Andromeda Recommended System Requirements For 1920x1080
CPU: Intel Core i7-4790 or AMD FX 8350
GPU: GeForce GTX 1060 3GB, or GeForce GTX 970
RAM: 16GB
OS: Windows 7, Windows 8.1 or Windows 10 (64-bit versions)
HDD: 55GB free space
DirectX: Version 11
If you wish to crank those 16 options to their maximum levels, or run at higher resolutions with higher framerates, you'll want to equip your system with a faster GPU, such as the GeForce GTX 1070, GeForce GTX 1080, or newly-released GeForce GTX 1080 Ti.
With enough horsepower you'll be able to run Mass Effect: Andromeda at 4K with maximum settings, an experience exemplified by the exclusive PC screenshots below. Each is captured at max settings at 4K using NVIDIA Ansel, with no additional post-processing or Photoshopping.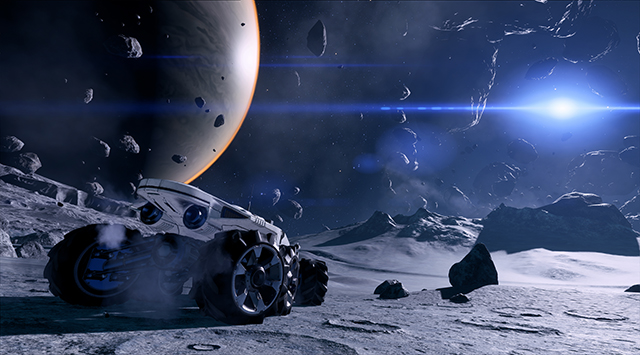 If you've not heard of NVIDIA Ansel before now, it's a powerful screenshot tool that enables you to capture unique, professional-grade 2D, 360° and Virtual Reality 360° screenshots on GeForce GTX graphics cards. During gameplay simply press Alt+F2 and you'll be able to frame and capture your own screenshots, and render them to your PC at resolutions up to 63,360 x 35,640, 33 times higher than 1920 x 1080.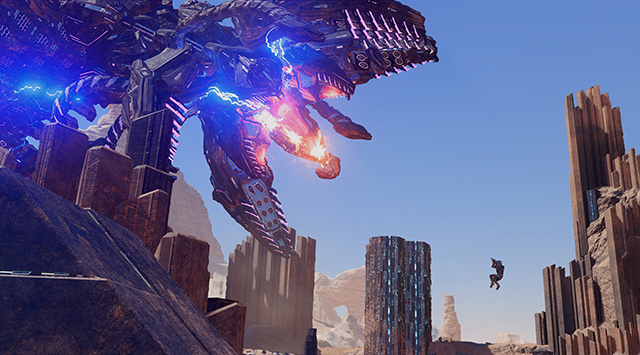 If you're not geeking-out about all these graphics settings and features, and just want to play the game with a good framerate on your available hardware, load GeForce Experience and apply its one-click Optimal Playable Settings for the best possible experience from the second you load Mass Effect: Andromeda. GeForce Experience will automatically determine and apply the best settings for your CPU and GPU, whilst targeting a smooth 60 FPS.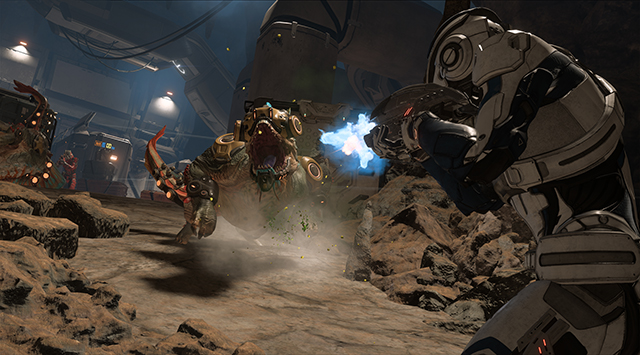 With GeForce Experience you'll also be able to update your Game Ready drivers for improved performance, capture and share gameplay videos and screenshots, share NVIDIA Ansel screenshots, stream to Facebook Live, Twitch and YouTube, and play Mass Effect: Andromeda on your big-screen TV at up to 4K 60 FPS, with HDR, via GameStream.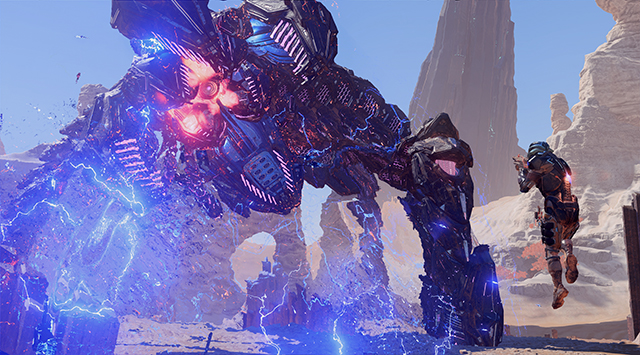 If you want to know more about Mass Effect: Andromeda's single-player and multiplayer modes be sure to check out the game's official website. And before you start playing be sure to update to the Mass Effect: Andromeda Game Ready driver.