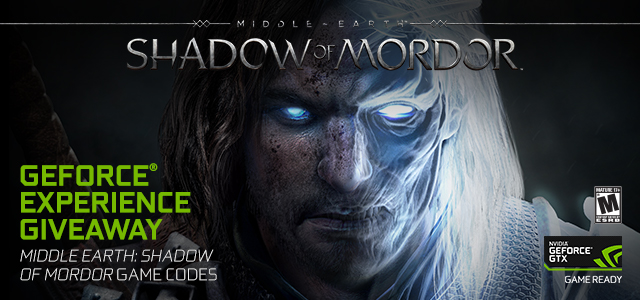 On October 10th Warner Bros. Interactive Entertainment will release Middle-earth: Shadow of War, the much-anticipated sequel to 2014's critically-acclaimed Middle-earth: Shadow of Mordor. To celebrate, we've partnered with Warner Bros. to randomly give 50,000 GeForce Experience community members a free Steam copy of Middle-earth: Shadow of Mordor - Game of the Year Edition, getting them up to speed with the franchise's story ahead of the sequel's release.
To be eligible for the giveaway make sure you're signed in to the latest version of GeForce Experience before September 25th, and shortly thereafter we'll let you know via an in-app notification if you've been selected for 1 of the 50,000 Shadow of Mordor game codes.
If you're a lucky recipient, simply follow the instructions in the notification and you'll soon be downloading Shadow of Mordor and its PC High Definition textures, which are designed for GPUs with 6GB or more of VRAM.
If you're not selected, stay tuned for future giveaways, which may include free hardware, free games, or free beta keys for our community.