EA and Ghost Games' high-octane Need For Speed takes to the streets on March 15th, boasting a bevy of updates and upgrades for its PC debut. Those with a GeForce GTX GPU, our Game Ready driver, and GeForce Experience will receive the definitive gaming experience the second the light goes green thanks to class-leading hardware, driver optimizations, and GeForce Experience Optimal Playable Settings.
If you've yet to gear up for the high-fidelity racer, which uses the lauded Frostbite engine for the rendering of some spectacular graphics, we've put Need For Speed through its paces to determine the GeForce GTX GPU that'll deliver an experience The Way It's Meant To Be Played.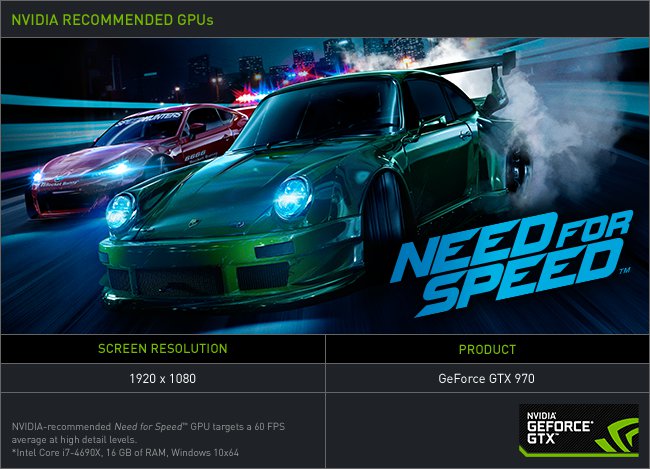 Our partners at Electronic Arts and Ghost Games also come to the same conclusion, officially recommending the GeForce GTX 970 for 1920x1080, 60 FPS, High-detail Need For Speed racing. For further details check out their announcement.
To decide upon the recommended NVIDIA graphics card, our experienced team of testers took to the streets of the fictional Ventura Bay to find the races that push systems to the limit. With massive burnouts, real-time reflections, exquisitely detailed cars, realistic shadows, and dozens of other high-end visual effects, Need For Speed uses all available PC power to render some amazing sights.
In addition to giving you the performance to play Need For Speed at 60 FPS, the recommended GeForce GTX 970 graphics card supports our vast array of critically acclaimed technologies, giving you the definitive gaming experience, unmatched by any other platform. And with GeForce Experience's ShadowPlay you can capture and share breathtaking, high-fidelity moments with your friends with ease.
Also courtesy of GeForce Experience, all NVIDIA GPU users will automatically receive Optimal Playable Settings for Need For Speed, instantly giving gamers optimized settings that ensure a smooth experience on their system.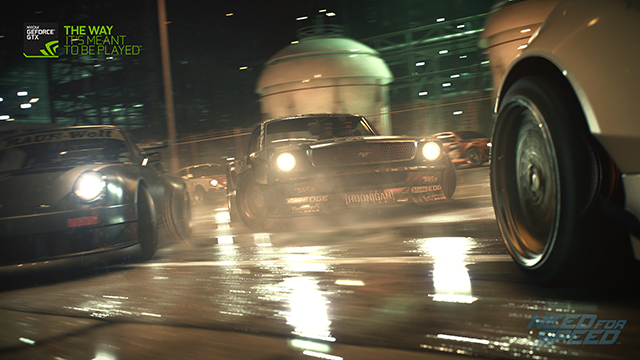 With our Optimal Playable Settings, Game Ready drivers, and technologies like G-SYNC, the definitive Need For Speed experience will be on GeForce GTX PCs. For the complete lowdown on Need For Speed be sure to visit GeForce.com on March 15th for our Need For Speed Graphics & Performance Guide.