Back in the early 1990's, arcade shooters were at the peak of their popularity. Some of the best ones, including the legendary Smash TV, required lightning quick reflexes, dual-hand dexterity, and a small bit of luck. Getting a high score in these games was a legitimate accomplishment, and by the end, your heart was pounding from the experience. Nex Machina, out June 20th, aims to replicate all of those dynamics, but to do so with 2017 graphics, smooth stutter-free framerates, and a wealth of competitive and cooperative gameplay options.
Developed by Housemarque, as well as veteran arcade game-designer Eugene Jarvis, Nex Machina takes place in a future where people stare endlessly at their mobile devices, thanks to a literal dependency on them. Not only that, machines have grown into sentient beings, and their intellectual and physical capacities reach far above their squishy human creators. It doesn't take the bots long to figure this dynamic out, and they begin systematically exterminating any human they come across. It's up to you to stop the machines' treachery, and get the humans back on the map as dominant lifeforms.
As you might suspect though, the mechanized enemies are anything but push-overs—and because of that, Nex Machina will absolutely challenge your top-down, twitch-based shooter skills. You'll use both gamepad sticks equally—one to move and one to aim and fire (though mouse and keyboard is perfectly viable too, as Housemarque understands the advantages of that). Right from the start, you'll be bombarded by waves upon waves of nefarious robots and screen-filling projectiles, with beat-heavy techno music accentuating your kills.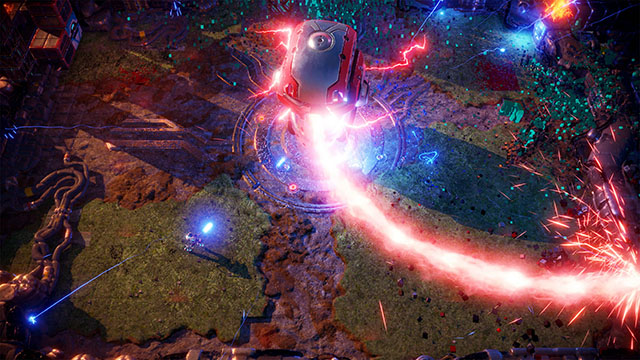 Despite the overwhelming numbers of enemies, you're well equipped to deal with them. You can activate invincibility frames to phase through incoming beams, and you'll collect beefed-up weapons and upgrades, including shields, swords, power shots, smart bombs, and rocket launchers, and many others. These upgrades, as you might suspect, are quite useful. Regardless of your armaments though, mobility is key; you've got to keep your character nimble and alert at all times if you want to stay alive. It's constant, frantic action, with only the briefest interludes of safety. Due to the hectic nature of the game and the various decisions you'll make on the fly, you'll have the opportunity to develop your own play-style, and its likely your approach will differ from someone else's.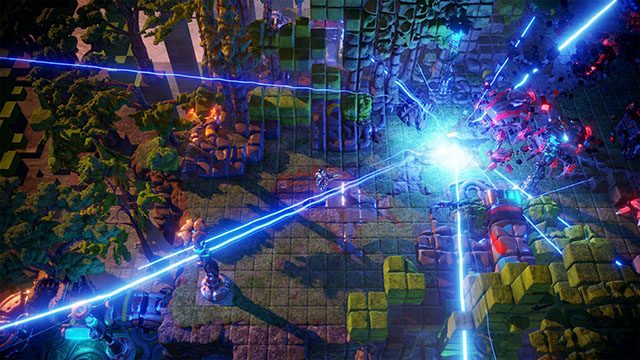 You don't have to battle against machines alone all the time though. Nex Machina supports multiplayer through local co-op, letting you experience the game just like having a pal next you in the old-fashioned arcades. Not feeling the cooperative pull? Would you rather go head-to-head against your fellow gamers? Try out the game's competitive modes and see how your skills stack up. There's an in-depth scoring system to accompany the gameplay, and you can get bonus points through tasks like stacking up combos, rescuing all the humans in a given area, or performing a deathless run, to name just some of them.
You can always check out how you're doing via the leaderboards, which break down into world, country, city, and even friend-based formats. Add in Nex Machina's online challenges, feats, official ranks, monthly tournaments, and fully featured spectator mode, and you've got a game ready to break into the e-sports scene. Plus, there are over 100 levels based unique, varied worlds (such as technologically-infused jungles and floating metal constructs), complete with secret areas, tucked away bonus humans, and hidden stages. The more you jump into the game, the more player profiles and items you'll unlock, adding loads of replayability.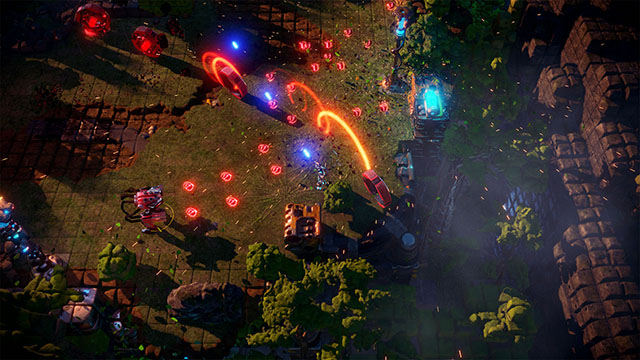 Before the studio teamed up with Eugene Jarvis to create Nex Machina, Housemarque already had a long and rich history in making games. Established in 1995 by Harri Tikkanen and Ilari Kuittinen, the developers put together such hits as Super Stardust HD, Resogun, Dead Nation, Outland, and Alienation. And then of course there's Jarvis himself, who's been in the gaming business since its infancy. Jarvis is responsible for some of the most beloved arcade titles, including Defender, Robotron, Blaster, the ultra-violent and popular Narc, and naturally, Smash TV—a huge inspiration behind the cable-punk-themed Nex Machina.
All of Nex Machina's action is best experienced at a smooth, consistent, stutter-free 60 FPS, so we've ran our range of graphics cards through a battery of tests to find the best cards for the three most popular resolutions. For 1920x1080, the GeForce GTX 1060 came out on top, blitzing the 60 FPS benchmark with ease, even with advanced options like Particle Shadows and Screen Space Reflections enabled and maxed out. At 2560x1440, a GeForce GTX 1070 is recommended, and for 3840x2160 (4K), a GeForce GTX 1080 is the card to get for jaw-dropping shmup gameplay.
Whichever GPU you choose for Nex Machina, GeForce Experience can provide one-click Optimal Playable Settings to instantly get you into the game with the best possible graphics for your system. In addition, you can use GeForce Experience to record and upload all your best runs and high scores, and to capture and share screenshots. And from within GeForce Experience you can also download the Nex Machina Game Ready driver for an optimized experience in the arcade shooter, and other top titles.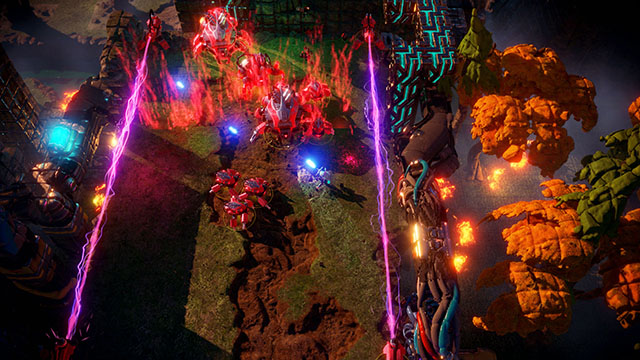 You can pre-order Nex Machina on Steam now, ahead of its release on June 20th. With its voxel-driven Housemarque engine, next generation signed distance field (SDF) ray-tracing and morphing technology, full 4K support, and maximized detail levels, Nex Machina on the PC is a visual feast, especially with a GeForce GTX 10-Series graphics card running it. Reviews should be available soon from most publications, such as PC Gamer, IGN, Eurogamer, Kotaku, and others. There's also 20 minutes of in-game footage on YouTube from IGN and Arekkz Gaming, and an in-depth documentary by New Dawn that covers the making of the game, with loads of behind-the-scenes footage and fascinating insights into the development process.