The GeForce GTX 1080, 1070 and 1060 have won countless awards, broken every performance and efficiency record, and powered faster, better experiences in the latest PC and Virtual Reality games. Now, these award-winning Pascal-architecture GPUs are available in laptops of all shapes and sizes, delivering unprecedented performance in form factors you can carry anywhere in the world.
Gaming laptops are the fastest growing platform, giving gamers better performance than any console, the ability to work and play on the go on high-resolution screens larger than those found on any other mobile device, and the option of plugging-in to desktop monitors, entertainment systems and big-screen TVs back at home. For gamers with work, school, or other away-from-home responsibilities, gaming laptops are the ultimate platform, handing them the keys to a world of high-fidelity gaming and high-resolution entertainment whenever and wherever.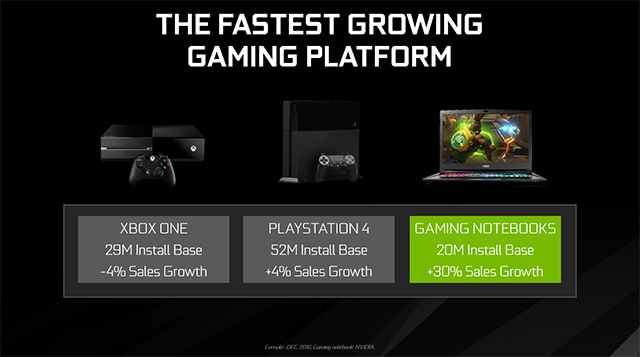 Now, with Pascal-architecture GPUs inside every gaming laptop, performance is up to 75% faster, offering gamers a massive leap in generation-to-generation performance, higher than any other in the history of gaming laptops.
With these levels of performance the fastest, smoothest, most detailed experiences are now also available in a portable form factor. Gone are the days of being limited to 1080p at 60 FPS – with Pascal-architecture laptops you can enjoy the frenetic action of Overwatch and the stunning environments of Rise of the Tomb Raider at a blindingly fast 120 FPS, or higher. And if you're the type of gamer who prefers incredible graphics over blistering speed, 25x14 and 4K super high-resolution experiences are just as achievable with Pascal-powered GTX 10-Series laptops.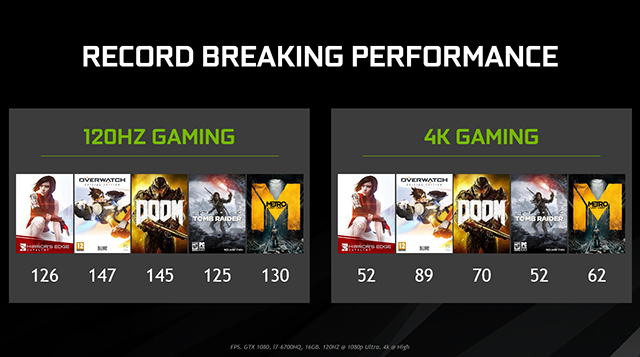 This unprecedented performance also means that GTX 10-Series laptops are VR Ready, even for performance intensive VR games and experiences like EVE: Valkyrie and The Gallery. In addition, GTX 10-Series laptops utilize our exclusive VRWorks technologies, accelerating performance, increasing image quality, and enhancing immersion in supported titles, such as Everest VR, NVIDIA VR Funhouse, and Raw Data.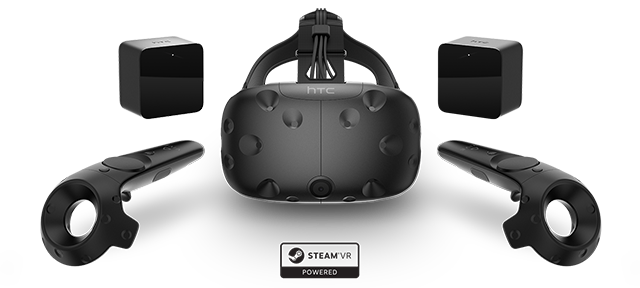 GeForce GTX 10-Series laptops have been built with more attention and craftsmanship than ever before. For example, a number of enhancements have been made to the overall engineering of many models, including the addition of Dual-FET power supplies, Multi Phased Power Controllers, and more. This attention to detail enables GTX 10-Series gaming laptops to achieve higher peak currents more efficiently, with less power noise, further improving performance and giving many models great overclocking potential.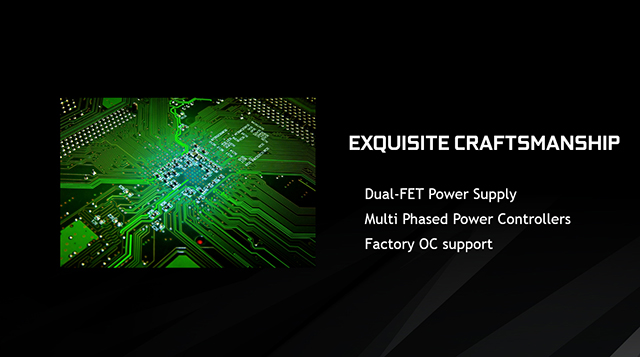 In fact, the improvements delivered by this exquisite craftsmanship are so substantial that gamers will discover additional overclocking headroom, up to 3x higher than could be achieved on Maxwell-powered laptops. Also for the first time, GTX 10-Series laptops can ship overclocked from the factory, boosting out of the box performance.
As a demonstration at the press unveiling of the new GeForce GTX 10-Series laptops, we overclocked MSI's GT73 to a sustained 2GHz in id Software's DOOM, just as we did on a desktop GeForce GTX 1080 at its unveiling.
In addition to improving laptop performance and overclocking, we're also improving laptop displays with the launch of the world's first 120Hz G-SYNC laptop displays, in addition to the world's first 2560x1440 G-SYNC displays. Now, across the vast range of GTX 10-Series laptops, you'll be able to choose between 1920x1080, 2560x1440, and 3840x2160 G-SYNC displays, operating at up to 120Hz.
With faster refresh rates and higher resolutions you'll receive a clearer, smoother, more detailed experience, while G-SYNC will free you from screen tearing, stuttering, and VSync-induced input lag. And with the new, faster GTX 10-Series GPUs, you'll be able to take full advantage of a 120Hz display, with frame rates of up to 120 frames per second in the latest AAA titles, at the highest possible settings.
While achieving all of this unbeatable performance, the ultra-efficient Pascal architecture delivers up to 30% more battery life compared to Maxwell laptops, allowing you to game for longer in trains, planes and automobiles, and at any time you're away from a power outlet.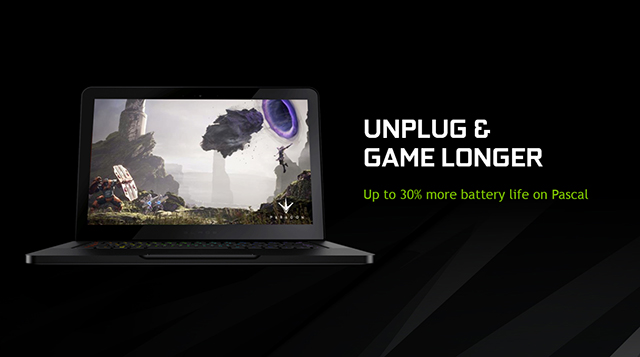 When gaming on the go, running at full speed with all of Pascal's power will drain your battery faster than necessary – if you're playing at 120 FPS, why not run at 60 FPS instead to extend the length of time you can play? To do this without fuss, GeForce Experience includes a user-configurable option called "BatteryBoost". Simply select the framerate and graphics settings you desire when running on battery power, and GeForce Experience will do the rest.
To further harness the efficiency of the Pascal architecture, we've refined our BatteryBoost power-saving technology for the release of the new GTX 10-Series laptops. This new iteration of BatteryBoost better-controls framerates to prevent hitching and stuttering, whilst also optimizing CPU-GPU communication to reduce power usage and deliver a great unplugged gaming experience.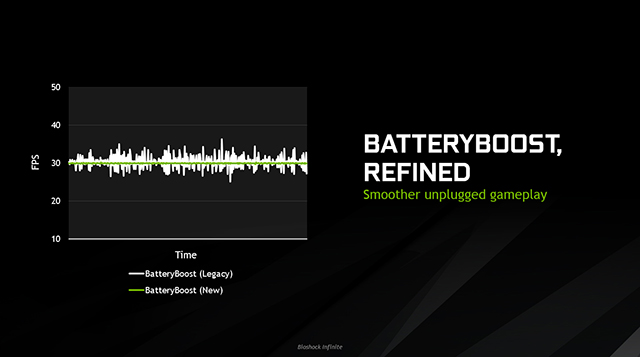 GTX 10-Series Pascal laptops also include support for every feature and innovation announced alongside the desktop Pascal GPUs earlier this year. As such, you'll be able to capture incredible screenshots with NVIDIA Ansel, accelerate and enhance Virtual Reality experiences with VRWorks, watch and play HDR content via a connected external HDR display, push the limits of your GPU with GPU Boost 3.0, and correctly display games across multiple external monitors with Simultaneous Multi-Projection. In short, everything desktop GPUs can do, Pascal notebooks can do too.
GeForce GTX 10-Series laptops are the ultimate gaming platform, starring the world's fastest GPUs and cutting-edge G-SYNC displays. They've got the raw power for 4K gaming, can be used anywhere in the world, can run HDR games, TV shows and movies on connected displays, and have the outputs and inputs necessary for Virtual Reality games and experiences. And they slip with ease into a backpack.
If you're looking for a PC for LANs and other events, seriously consider a GeForce GTX 10-Series laptop instead. You can skip the queues at pick-up and drop-off points, play anywhere inside a convention or the surrounding area, and outperform all single-GPU previous-generation PCs. Plus, many models are small and light enough to use for work or school during the week.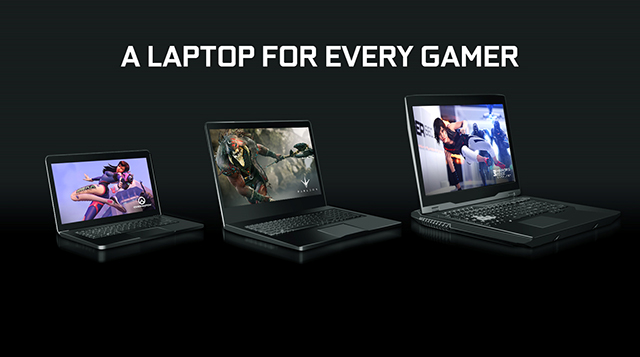 If what you've seen has you itching for a GeForce GTX 10-Series laptop, they're available now; whether you want thin and light, a beastly desktop replacement, or something in between, there's a model for every gamer. Click here to see the manufacturers and retailers selling GTX 10-Series laptops today, and click their logos to see more information about the available models.