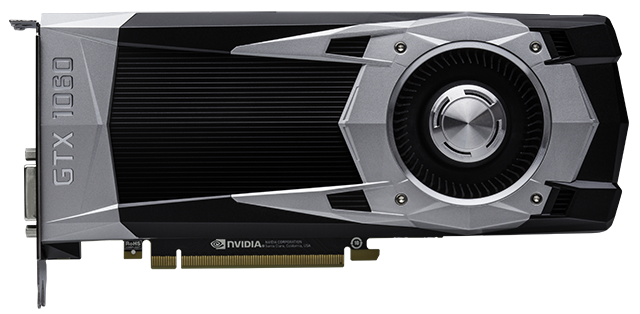 The new, much-anticipated NVIDIA GeForce GTX 1060 is available now! Starting at just $249, the GeForce GTX 1060 delivers GeForce GTX 980-class performance on a single 6-pin PCIE connector, and features the same Pascal-architecture technology found on the record-breaking GeForce GTX 1080 and 1070.
Built on the same 16nm FinFET process as the aforementioned GeForce GTX 1080 and 1070, the GeForce GTX 1060 offers a generational leap in performance-per-Watt efficiency, requiring only 120 Watts to power the latest games and experiences on desktops and in Virtual Reality. Onboard there are 1,280 CUDA Cores, 6 Gigabytes of 8Gbps GDDR5 memory, and a Pascal-architecture GPU with a 1.7GHz boost clock. And with a quick bit of overclocking through easy-to-use tools, the GeForce GTX 1060's GPU can be taken with ease to 2GHz.
Specifications
GTX 1060 (Pascal)
GTX 960 (Maxwell)
GPU
GP106

GM206

SMs
10
8
CUDA Cores
1280
1024
Transistors
4.4 billion
2.94 billion
Base Clock
1506 MHz
1126 MHz
Boost Clock
1708 MHz
1178 MHz
Framebuffer
6 GB
2 GB
Memory Speed
8 GHz
7 GHz
Memory Bandwidth
192 GB/s
112 GB/s
Texture Units
80
64
Texel Fill-Rate
120.5 Gigatexels/s1
72 Gigatexels/s1
ROPs
48
32
L2 Cache
1536 KB
1024 KB
Power Connectors
1 x 6-pin

1 x 6-pin
TDP
120 W
120 W
Display Connectors
3x DisplayPort 1.3/1.4
HDMI 2.0b, Dual Link DVI-I
3x DisplayPort 1.2
HDMI 2.0, Dual Link DVI-I
Die Size
200 mm2
227 mm2
Manufacturing Process
16nm FinFET
28nm
1 Texel Fill-Rates based on the GPU Boost Clock speed
The GeForce GTX 1060's performance enables high-fidelity gaming in the latest titles, as you'd receive on the previous-generation flagship, the GeForce GTX 980. But now, the same experience can be had for a fraction of the cost, giving gamers everywhere excellent performance and excellent graphical fidelity in the newest triple-A titles.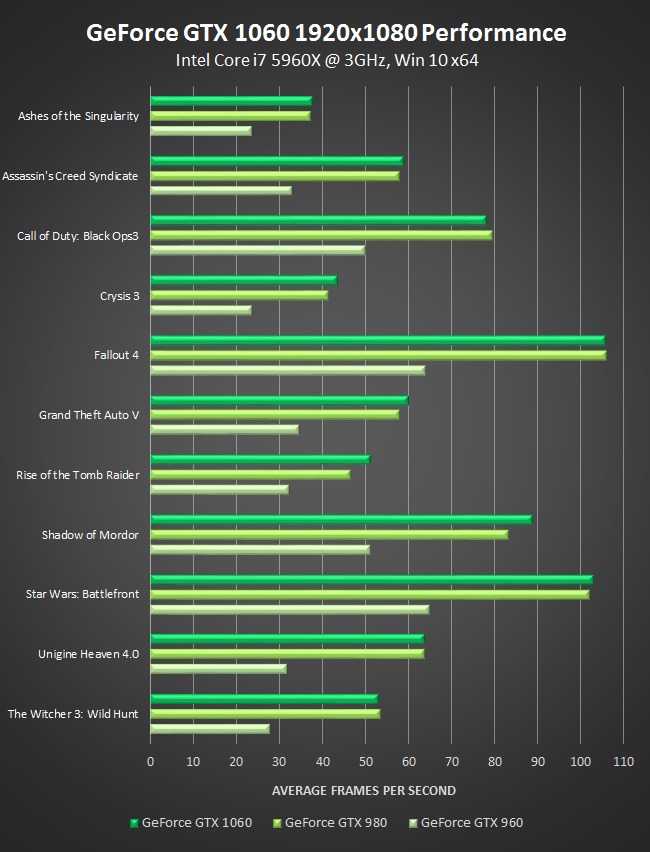 The GeForce GTX 1060 is on average 2.4% faster than the GeForce GTX 980 at 1920x1080, and 73.1% faster than the GeForce GTX 960.
In Virtual Reality, Pascal-architecture GPUs like the GeForce GTX 1060 have an extra weapon, which we call VRWorks. This VR Software Development Kit contains a multitude of NVIDIA-developed technologies that boost performance by up to 3x, enabling developers to crank up visual fidelity and supersampling factors without sacrificing performance. Doing so enables a more realistic and immersive experience that's sharper and clearer, improving detail levels and your sense of presence in virtual worlds.
Of the many VRWorks technologies, Simultaneous Multi-Projection is one of the most important, enabling the implementation of several performance and detail-enhancing techniques. Today, we can announce that Simultaneous Multi-Projection is being integrated into the Unity and Unreal game development engines, and over 30 games, including Adr1ft, Everest VR, Obduction, Pool Nation VR, Raw Data, and Unreal Tournament.
VRWorks also stars in NVIDIA VR Funhouse, a free VR carnival game developed by NVIDIA Lightspeed Studios, which you can download right this second from Steam. Developed on Epic Games' Unreal Engine 4, VR Funhouse is compatible with the GeForce GTX 1080, 1070 and 1060, and HTC Vive VR headsets. It will also be open sourced to developers and enthusiasts so they can create their own VR Funhouse attractions, and use our work in their own games and experiences. Download and play now.
The GTX 1060 also supports NVIDIA Ansel, a powerful game-capture tool that allows gamers to explore, capture and share the artistry of gaming in ways never before possible. With Ansel, users can compose the gameplay shots they want, pointing the camera in any direction, from any vantage point within a gaming world, and then capture 2D, Stereo, 360° Virtual Reality, 360° Stereo and super resolution screenshots. Try it out now in Mirror's Edge Catalyst.
Gamers can already use Ansel in Mirror's Edge: Catalyst to capture stunning screenshots, and in the future will be able to capture shots in CDP Projekt RED's Witcher 3; Epic Games' Fortnite, Paragon and Unreal Tournament; Cyan Worlds' Obduction; Thekla's The Witness; Boss Key Productions' Lawbreakers; Ubisoft's Tom Clancy's The Division; and Hello Games' highly anticipated No Man's Sky.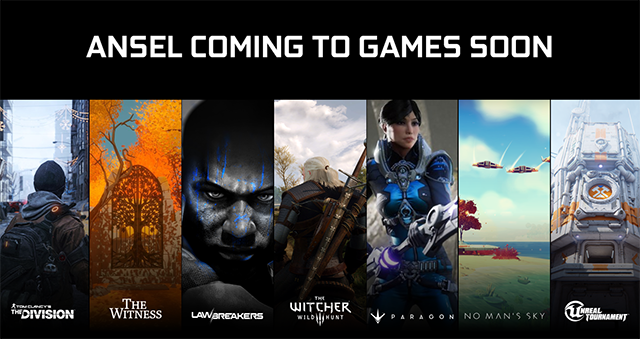 With GeForce GTX 980-class desktop gaming performance that previously cost $549, unprecedented performance-per-Watt, VR performance that's up to 3x faster thanks to VRWorks, NVIDIA Ansel support, and everything else Pascal-architecture GPUs are capable of, the GeForce GTX 1060 redefines the definition of a "mid-range" graphics card.
GeForce GTX 1060's from NVIDIA GeForce Partners, including ASUS, Colorful, EVGA, Gainward, Galaxy, Gigabyte, Innovision 3D, MSI, Palit, PNY and Zotac will start at $249. And the NVIDIA GeForce GTX 1060 Founder's Edition, as pictured in this article, is priced $299. Look for reviews of both custom cards and the Founder's Edition on your favorite websites and YouTube channels starting now.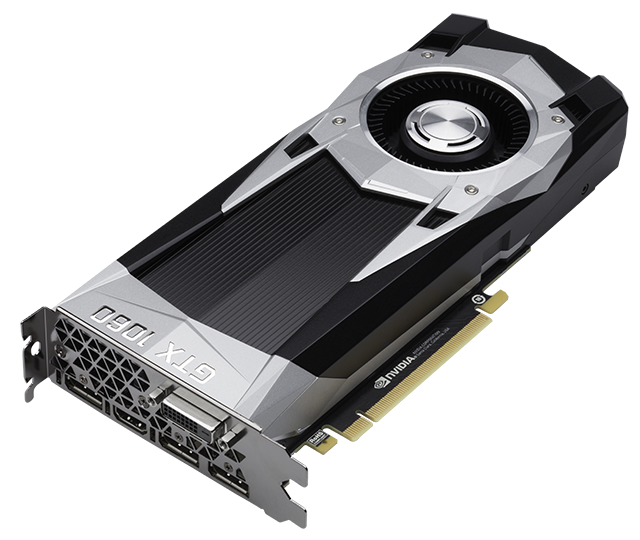 Whether you want to play desktop games or the latest VR titles, the GeForce GTX 1060 delivers the smoothest, fastest and prettiest experiences in its weight class. Learn more on the GeForce GTX 1060 product page.