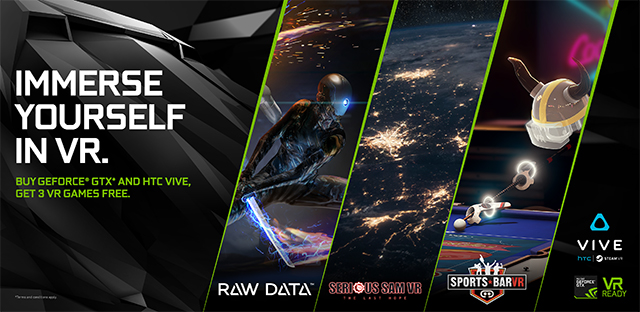 Virtual Reality delivers gameplay experiences you won't find anywhere else, and places you in immersive simulations. Whether you're destroying cyborgs in Raw Data, enjoying the poolroom antics of Sports Bar VR, or blasting aliens in Serious Sam VR: The Last Hope, Geforce GTX 10 Series delivers the ultimate VR experience.
There's no better time to jump in and immerse yourself in VR than this Holiday season with the GeForce GTX HTC Vive Bundle! For a limited time, get Raw Data, Serious Sam VR, and Sports Bar VR for free when you buy a GeForce GTX 1080, 1070, or 1060 GPU, system or laptop, and an HTC Vive, at participating retailers, e-tailers, and system builders.
Our new bundle gives you the planet's best and fastest GPUs, access to NVIDIA VRWorks technologies that make your VR experience even better, and three fantastic, critically-acclaimed games that make full use of VR and its possibilities.
Raw Data, from Survios, is one of the most immersive and exciting Virtual Reality games available. Take control of unique characters with powerful weapons, and attempt to survive against waves of enemies on your own, or online with another player. Utilizing some of the best graphics and VR game mechanics seen to date, Raw Data is a breathtaking VR experience that's getting better and better with each Early Access update.
Serious Sam VR: The Last Hope, from Croteam, brings the Serious Sam franchise's trademark insanity and intensity to VR to create the craziest, over the top, heart-pounding shooter available. Step into the shoes of the Earth Defense Force's greatest hero in this unique VR simulation that's based on Sam Stone's own log files from his time as captain of the Battlecruiser Saratoga. Experience the missions that turned Captain Stone into Serious Sam, the legend that he is today.
Sports Bar VR (also known as Pool Nation VR), from Cherry Pop Games and Perilous Orbit, gives you free reign of a sports bar filled with Pool tables, Air Hockey tables, Dart boards, and much more. Configure games to your liking, and then take your skills online, playing against friends and random opponents. Between shots and matches, roam the bar, interacting with its many physics objects, minigames, and other sights.
Click here to discover where you can snag the NVIDIA GeForce GTX HTC Vive Bundle.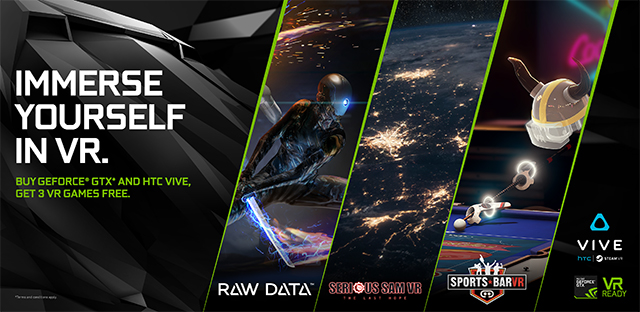 Please ensure the retailer, e-tailer, or system builder you purchase your bundle from is participating in this offer – NVIDIA cannot provide download codes and coupons for purchases made at non-participating retailers, e-tailers, or system builders.