Our new GeForce Game Ready 368.22 WHQL drivers are optimized for the official Overwatch release, as well as forthcoming updates for War Thunder and World of Tanks. To download and install, simply fire up GeForce Experience and click the "Drivers" tab.
Game Ready For Overwatch
Overwatch, Blizzard's incredibly popular multiplayer first-person shooter, launches tomorrow. There's been several betas, including an open beta that attracted nearly 10 million players, but now it's launching for good, enabling round the clock fragging for all time.
With our Game Ready driver you'll have an optimized and SLI-enabled experience, giving you the best possible experience in the game's fast-paced multiplayer matches.
If you want to play at high framerates in the biggest battles, or at 4K, you'll need a modern system capable of pumping out the necessary pixels at a blistering rate. Our testing shows the following NVIDIA GeForce GTX graphics card are ready for such a challenge, or you could grab a GeForce GTX 1080 in four days' time and get smooth framerates and low frametimes at the very highest detail levels and resolutions.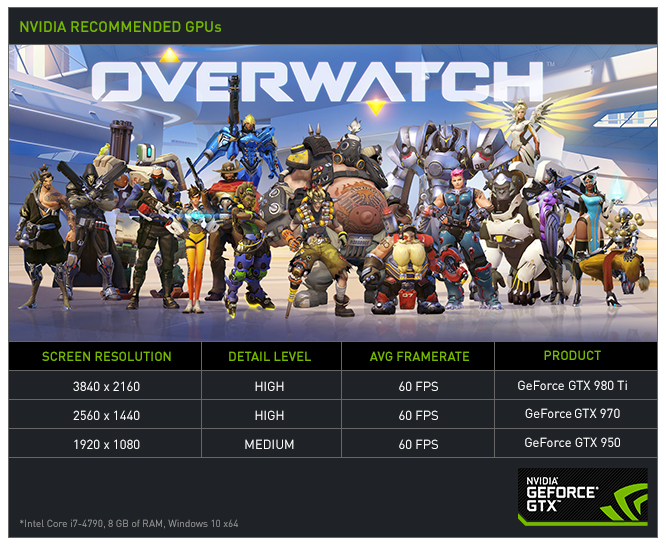 For specifics on Overwatch's release be sure to check out Blizzard's launch protocols.
GeForce Game Ready Overwatch Driver: Download Now
You can download the new GeForce Game Ready driver for Overwatch, and the forthcoming War Thunder and World of Tanks updates through GeForce Experience, our free, essential, game and system-enhancing application.
If you experience any technical issues with the new Game Ready drivers, please post a detailed report on the GeForce.com Driver Feedback Forum where our Customer Care team can better assist you.
With regards to Total War: Warhammer, NVIDIA is working closely with Creative Assembly to resolve issues discovered during testing. To ensure the best possible experience download the latest game updates, and continue to update to new drivers as they're released.