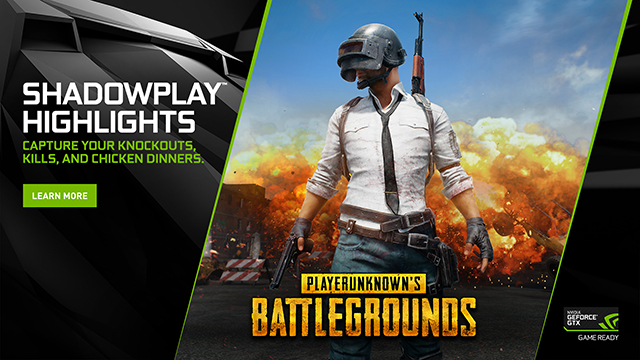 PlayerUnknown's Battlegrounds (PUBG) has taken the gaming community by surprise by becoming one of the best-selling releases of 2017, with over 8 million players in only five months. Recently, PUBG made history when it broke 699,000 concurrent players on Steam, a feat only achieved by two other games.
Every match in PlayerUnknown's Battlegrounds is guaranteed to provide amazing in-game moments, close calls, and heart breaking top 5 deaths. The very best kills, the most amusing losses, and those elusive chicken dinners deserve to be saved and shared with the world, so today at a special NVIDIA event at Gamescom in Cologne, Germany, the developers PUBG took to the stage to announce that the world's most popular multiplayer shooter has been enhanced with ShadowPlay Highlights.
This new NVIDIA technology automatically captures your best PUBG moments. So now, when you get kills, die, win a match, or knockout yourself or your enemies, ShadowPlay Highlights will automatically save a gameplay clip that you can quickly edit before uploading to your favorite sites and services.
"PlayerUnknown's Battlegrounds is known for delivering intense, fast-paced action, and for not taking things too seriously," said C.H. Kim, VP & Executive Producer of Bluehole. "Giving our players the ability to automatically capture that fun and easily share it with friends will increase our presence on social media and introduce PlayerUnknown's Battlegrounds to even more gamers."
To celebrate this we are kicking off a contest, where for the next month we're looking for the best PUBG Highlights - submit your most exciting or amusing ShadowPlay Highlights to Youtube or Twitter, tag @PUBATTLEGROUNDS, @NVIDIAGeForce and #ShadowPlayHighlights, and enter for a chance to win a GeForce GTX 1080 Ti or GeForce GTX USB Drive. Get all the details and learn how to enter here.
To activate ShadowPlay Highlights in PUBG you'll need to update to the latest version of PUBG, have GeForce Experience 3.8 or higher, and have a GeForce GTX graphics card.
Launch PUBG, go to the in-game Settings menu, and select "NVIDIA ShadowPlay Highlights" under the "Highlights Auto Capture" option: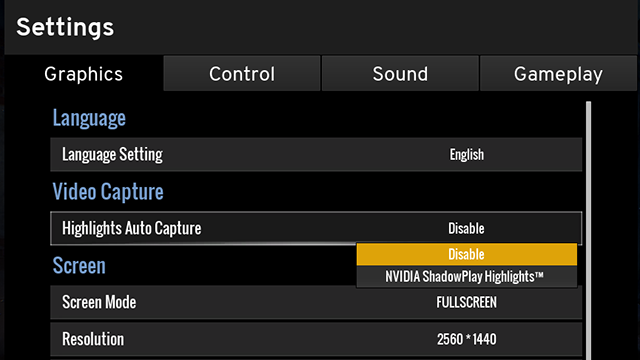 Once you start your game in the lobby, GeForce Experience will ask if you want to enable ShadowPlay Highlights for PUBG. After you click "Yes" Highlights will automatically be recorded without any further input.

If this prompt doesn't appear:
Ensure the GeForce Experience In-Game Overlay is enabled in the Settings menu of GeForce Experience
Ensure Highlights is enabled in GeForce Experience by pressing Alt+Z, then going to Settings > Highlights
You can confirm Highlights is enabled by the presence of the following icon in the bottom right corner of the screen once the match has started:

At the end of the match all your Highlights will be available for you to share. You can select which Highlights to save to your Gallery, or share immediately to Facebook or YouTube.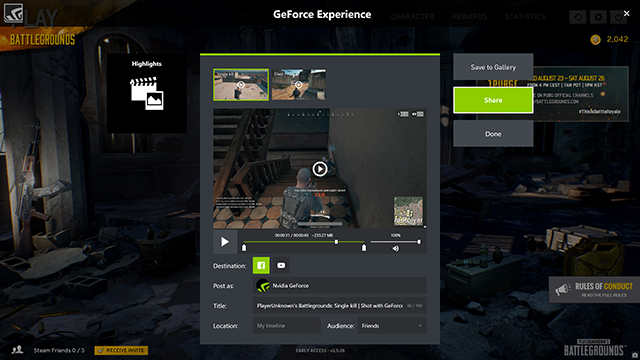 GeForce Experience also enables you to customize what's automatically recorded. Files not saved at this time are stored in a temporary folder (%temp%/Highlights). You can adjust this temporary folder size by by opening up GeForce Experience Overlay (Alt+Z) > Settings > Highlights.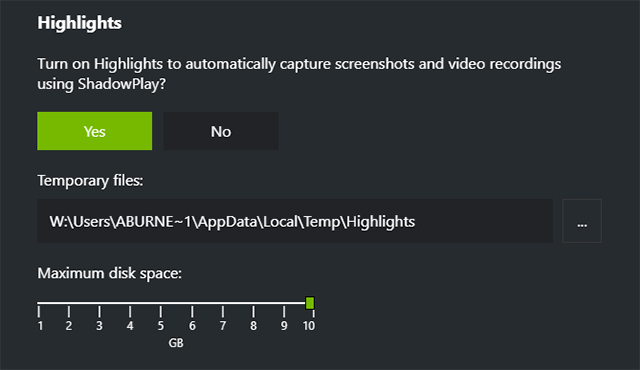 You can configure which highlights are recorded by going to the GeForce Experience desktop client. Go to the home tab and click on "Details" under PUBG. On the top right, you'll see a media icon that enables you to select the different types of Highlights available as well as to disable the feature.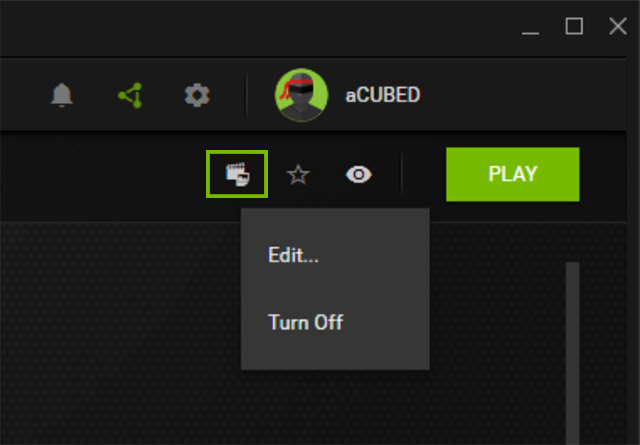 Today's new PUBG patch also sees the introduction of HBAO+, the industry's leading platform-agnostic ambient occlusion technique. With this fidelity-enhancing tech all PUBG players will now see richer, more realistic shadowing where two surfaces or objects meet, and where an object blocks light from reaching another nearby game element. Every building, room, open field and object in Erangel will benefit, with the improvements being immediately evident when you view the interactive comparisons below.
Click here to view the interactive comparison in 4K, in fullscreen
To enable this game-enhancing technology, simply select a "Post Processing" detail level other than Very Low from the in-game settings menu.
Click here to view the interactive comparison in 4K, in fullscreen
The integrations of these two new technologies mark the first steps in a new collaboration that will maximize the performance benefits of NVIDIA GeForce GTX GPUs for players of the incredibly-popular multiplayer shooter, which has sold over 7 million copies in 4 months.
Click here to view the interactive comparison in 4K, in fullscreen
All of NVIDIA's development resources have been made available to Bluehole Inc., including NVIDIA's effects libraries, developer tools, research papers, source code samples, and more.
Click here to view the interactive comparison in 4K, in fullscreen
"PlayerUnknown's Battlegrounds has quickly become a major force in PC gaming and we'll be working with Bluehole right up until the release to deliver the best experience for GeForce gamers," said Tony Tamasi, senior vice president of Content and Technology at NVIDIA. Our team of visual effects engineers are at Bluehole Inc's disposal, lending their expertise in game development, and helping the studio add the latest in graphics and physics simulations technologies to PlayerUnknown's Battlegrounds.
Click here to view the interactive comparison in 4K, in fullscreen
To jump into the action and capture your own Highlights, with HBAO+ visual improvements, head on over to Steam. With any luck you too will win a chicken dinner, and you can prove it to all your friends with the automatically-saved ShadowPlay Highlight.
Click here to view the interactive comparison in 4K, in fullscreen