PLAYERUNKNOWN's BATTLEGROUNDS (PUBG) is one of the world's most popular PC games, with record-breaking player counts on Steam, and over 25 million sales. First released in March in Early Access, PUBG will launch officially on December 20th with a new map, new vehicles, new weapons, vaulting, and a ton of optimizations.
If you've played on the new desert map on the pre-release test server, you'll have seen for yourself just how much more optimized PUBG v1.0 is. To get precise data, to help gamers gear up appropriately for PUBG, we teamed up with the game's developers to run hundreds of benchmarks on both the old and new map in their most demanding locations. And what those tests revealed is that it's now possible to run at High settings at 60 FPS on affordable hardware: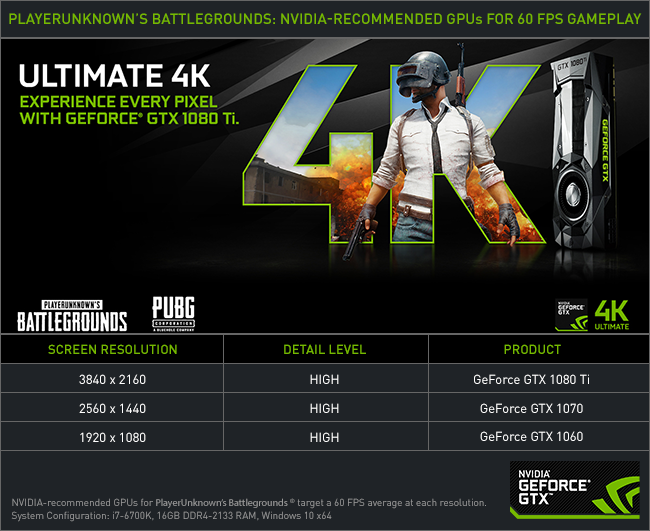 At 1920x1080, the GeForce GTX 1060 hit an average of 70 FPS, and went no lower than 60 FPS, which is why the game's developers at the PUBG Corporation made the GeForce GTX 1060 the official 'recommended' GeForce GTX graphics cards. Meanwhile, at 2560x1440, the GeForce GTX 1070 was the first GPU to exceed 60 FPS, running at 72 FPS average, with a low of 61 FPS. And the ever-demanding 4K required the talents of the GeForce GTX 1080 Ti, the world's fastest consumer graphics card, which ran at exactly 60 FPS with a full suite of High settings.
If you wish to take things further and enable PUBG's maximum-quality Ultra settings, whilst still retaining smooth 60 FPS gameplay, you'll need to step up a tier at each resolution: 1920x1080 now requires a GeForce GTX 1070, 2560x1440 a GeForce GTX 1080, and 3840x2160 a factory-overclocked custom GeForce GTX 1080 Ti.
In addition to delivering the performance to smoothly play PUBG, our recommended GeForce GTX 10-Series graphics cards support a vast array of critically-acclaimed technologies, including ShadowPlay Highlights, an awesome feature that automatically records your kills, knockouts and deaths in PUBG.
Quickly and easily share your favorite highlights through GeForce Experience, and if you're daunted by manually configuring the game's many graphics settings click "Optimize" to instantly receive optimized PUBG settings that ensure a smooth experience on your specific system configuration.
With ShadowPlay Highlights, GeForce Experience Optimal Playable Settings, Game Ready drivers, ShadowPlay, Share, HBAO+ graphical enhancements, and everything else available to GeForce GTX gamers, you'll receive the definitive gaming experience in PUBG and every other game you play with a GeForce GTX GPU.