Red Dead Redemption 2 was one of 2018's very best sellers, and is one of the highest-rated games of all time. Now, the PC edition is about to launch with enhanced graphics, uncapped framerates, new content, and a raft of optimizations and enhancements that make full use of the PC's capabilities.
Understandably, PC gamers want the best possible experience when delving into Red Dead Redemption 2, and have been asking us what hardware they'll require. To answer that, we fired up the game's built-in benchmark to define NVIDIA's recommended GPUs for a high-fidelity experience at 60 FPS.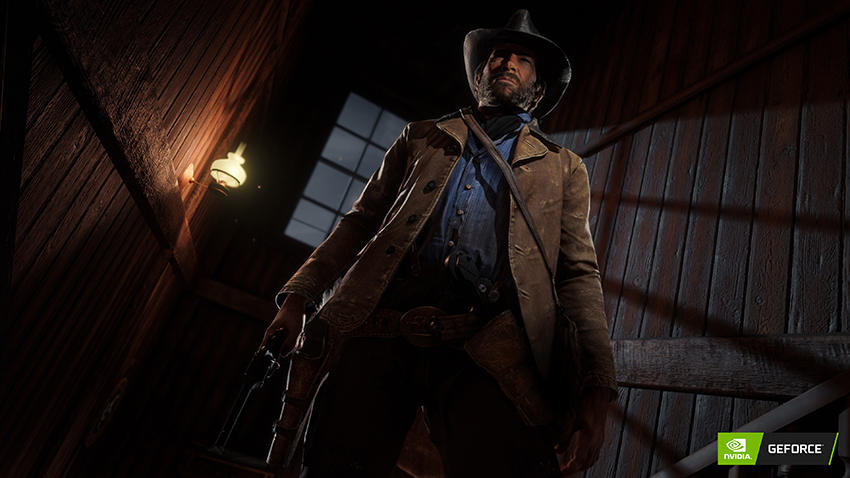 Starting with 1920x1080, the most popular gaming resolution, and using High settings, our testing revealed that the GeForce RTX 2060 was ideal for 60+ FPS 1920x1080 gameplay. Alternatively, step up to a GeForce RTX 2070 or GeForce RTX 2070 SUPER for 60 FPS+ gameplay at even-higher detail levels.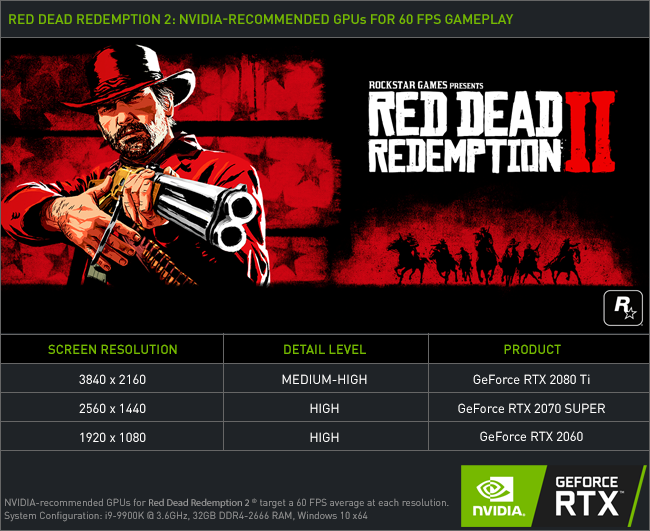 At 2560x1440, the GeForce RTX 2070 SUPER is our recommended graphics card, delivering over 60 FPS on High, in the performance-intensive in-game benchmark. For additional headroom, or if you are looking to run higher settings, consider the GeForce RTX 2080 SUPER, and for Ultra settings the GeForce RTX 2080 Ti.
At 3840x2160, only the GeForce RTX 2080 Ti can deliver a high-fidelity 60 FPS experience, giving gamers a stunning level of cinematic detail in Red Dead Redemption 2's wilderness, and in Saint Denis, the game's vibrant city. To hit this mark, we tuned settings to a mix of Medium and High, as used at a recent PC version press event, where PC Gamer, PCGamesN, GamesRadar, IGN, Polygon and VG247 were wowed by the amazingly detailed experience.
"Everything in the game, both in action and in static scenes within the [new] photo mode, looked absolutely incredible during my session. After engaging in some mud wrestling with a much bigger opponent, I watched a cutscene in which Dutch arrives with an old associate of the gang. Arthur looked so detailed that I felt as if I could reach out and wipe away the mud caked on his face. Later, when I rode north of town, I saw clouds of powder floating around trees, blown off the branches by a breeze. And from high up in the mountains, I pulled out Arthur's binoculars to gaze southward, where I could see a rail bridge many miles away — an indication of the PC port's increased draw distance." -Polygon
If, however, you still wish to run at High across the board at 4K, at 60 FPS, consider using our new upscaling and sharpening technology to upscale gameplay to 4K from 3264x1836 or 2880x1620, for a sizeable performance improvement, and only a minimal reduction in image clarity.
If your GPU isn't listed, Red Dead Redemption 2 features nearly 40 different graphics settings to customize visuals and performance, enabling you to ramp up graphics to ludicrous Ultra levels, and to turn high-impact settings down a notch to achieve a playable framerate. To help configure these many options on your system, load GeForce Experience and click "Optimize" to instantly receive optimized Red Dead Redemption 2 settings.
And to ensure the definitive experience in Red Dead Redemption 2, be sure to download and install our Red Dead Redemption 2 Game Ready Driver, which includes day-0 updates and performance optimizations.
Additionally, consider enabling our recently-released latency and sharpening technologies in Red Dead Redemption 2 for an even-better experience. They can make your gameplay more responsive, and improve sharpness and clarity, especially when upscaling from other resolutions.
Red Dead Redemption 2 PC launches worldwide November 5th.