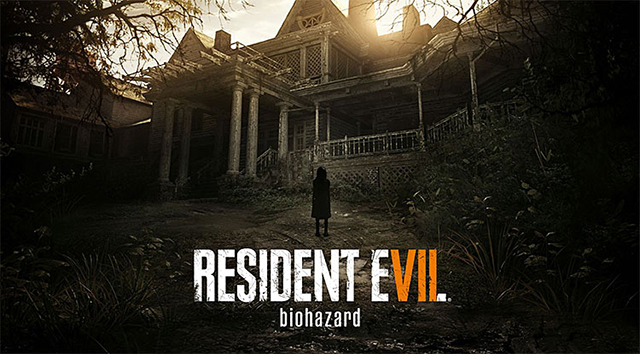 Since 1996 the Resident Evil series has terrified and exhilarated players with its horror-themed elements and frantic action. That trend will continue on January 24th with the launch of Capcom's Resident Evil 7: Biohazard, the latest entry in the storied franchise. Resident Evil 7: Biohazard takes place about four years after Resident Evil 6, and everything unfolds in the same universe as all the games before it. But while some of the previous Resident Evil titles focused heavily on gun-play and twitch-based skill, Resident Evil 7: Biohazard instead hones in on the roots of survival-horror: exploration, interspersed but visceral battles, apprehension, and inventory management.
Additionally, you're not a trained operative in the BSAA (Bioterrorism Security Assessment Alliance), or a member of S.T.A.R.S. (the Special Forces team that populated some of the past Resident Evil adventures). Instead, you're placed in the shoes of Ethan Winters, an everyday, normal protagonist who's looking for his missing spouse and just trying to stay alive. Ethan's travels eventually bring him to a dilapidated mansion on a plantation in Dulvey, Louisiana, where the game's action unfolds in frightening succession.
While delving into the dangerous mansion—as well as other places connected to the plantation property, such as a bizarre and noxious greenhouse—you'll encounter grisly creatures and numerous members of the twisted Baker family, all of whom are more than willing to end your expedition with violent haste. From early on, you're stalked and hunted by Jack Baker, the family patriarch. He's relentless in his pursuit, and he doesn't care about causing destruction in his efforts to apprehend you. He smashes tables to bits if they get in the way, and he'll even bash through walls to surprise and ambush your character. You've got to constantly stay on guard, or risk suffering a nasty demise.
Despite lacking a super-hero status, you aren't defenseless, and there's still a good amount of combat you'll take part in. You have access to various weapons ranging from hand-guns, flamethrowers, chainsaws, and everything in-between, but you won't blast apart everything you see. This game is a more subtle, creepy experience than that. As confirmed by Eurogamer in an interview with Capcom Director Koushi Nakanishi, Resident Evil 7: Biohazard is very much a return to the glory days of tension, fear, and vulnerability, and all from a glorious FPS perspective—a first for the main Resident Evil series.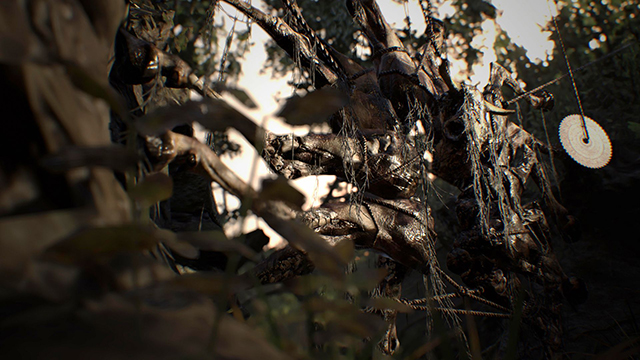 Of course, there are plenty of aspects that long-time Resident Evil fans will recognize. For one, the EKG health meter and healing herbs are back. You'll need to use herbs wisely to recover yourself after taking damage. Safe rooms make a return too, where you can take some much needed rest to save your progress and spend coins on equipment upgrades. You can't just carry around everything you find though. Far from it. Ammo is a rare luxury, healing elements are limited, and quest items take up valuable inventory space. You'll need to constantly weigh the costs and benefits of which items to keep, and which ones to leave behind. Sometimes though, those decisions aren't crystal clear—there are some trinkets and curiosities that won't help you at all, and simply take up precious room. But that's all part of what makes true survival horror games such as Resident Evil 7: Biohazard so engaging. You'll need brains over brawn to succeed, and spatial awareness combined with clever inventory placement are at the center of that.
There are also plenty of mind-bending puzzles to solve, and weird mysteries and obstacles await around every corner. For example, you'll receive phone calls randomly from an unnamed source aiding you along the way. You'll also stumble across old-fashioned VCR tapes here and there, and if you play them, you'll be transported into their recorded events, taking part of the horror personally. (Hint: you'll want to keep your eyes glued to the screen during such interactions, as the tapes often contain vital clues as to how to progress.)
Thanks to the first-person perspective and brand-new RE Engine, you can expect to be deeply immersed into Resident Evil 7: Biohazard's unsettling atmosphere. Capcom claims that the RE Engine was specifically created with this game in mind, and that the engine results in near photorealistic graphics, right down to the littlest details in the environment. Debris and waste litter the floors and hallways, filthy, dilapidated walls glisten with moisture and palpable dread, and the mansion and the plantation are covered in visual oddities and complex textures. The graphics look especially awesome when played on a PC at higher resolutions, such as 2560 x 1440 or even 4K (3840 x 2160). Adding to that, the PC version of Resident Evil 7: Biohazard offers HDR support, so if you happen to own a next-gen HDR monitor (or an HDR TV), you're in for a treat. For SHIELD TV folks, there's also the option of using NVIDIA GameStream to send the HDR gameplay directly to your 4K TV.
Looking to adjust multiple graphics options? Resident Evil 7: Biohazard has you covered there too. You can tweak such settings as field of vision, resolution scaling, texture filtering, texture quality, anti-aliasing, volumetric lighting quality, motion blur, effects rendering, shadow quality, mesh quality, and many more. Of course, if you'd prefer to have all those options preset so you can jump right into the best-performing and best-looking gameplay possible, GeForce Experience's Optimal Playable Settings (OPS) can do that.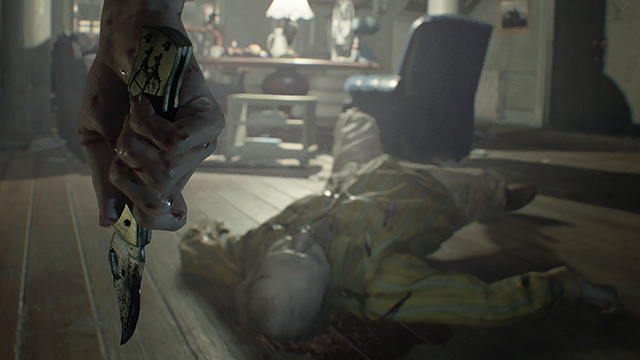 Overall, The PC version of Resident Evil 7 has higher framerates, PC-exclusive effects, and multiple playable resolutions compared to the consoles. It also includes some great NVIDIA technologies, such as HBAO+, GeForce Experience Share, and the previously mentioned GameStream/GameStream 4K & HDR. You can also utilize GeForce Experience to connect to your Facebook account, so you can broadcast Resident Evil 7: Biohazard live and upload screenshots and recordings right into your timeline. GeForce Experience also enables the easy and automatic download of Game Ready Drivers, including those already available for Resident Evil 7: Biohazard. If you're unfamiliar with Game Ready drivers, they provide an ideal gaming experience by giving you the most stable, optimized performance possible right when all your favorite games release.
To experience Resident Evil 7: Biohazard with its immersive graphics cranked up at 1920x1080, Capcom is recommending players gear up with the GeForce GTX 1060; for 2560x1440 we recommend the GeForce GTX 1070, and for 4K, the GeForce GTX 1080.
Resident Evil 7 Official Minimum System Requirements For 1080p 30 FPS
CPU: Intel Core i5-4460, 2.70GHz or AMD FX-6300, or better
GPU: GeForce GTX 760
RAM: 4GB
DirectX: Version 11
OS: Windows 7, Windows 8, Windows 8.1 or Windows 10 (64-bit versions)
HDD: 24GB free space
Resident Evil 7 Official Recommended System Requirements For 1080p 60 FPS
CPU: Intel Core i7 3770 3.4GHz or AMD equivalent, or better
GPU: GeForce GTX 1060
RAM: 8GB
DirectX: Version 11
OS: Windows 7, Windows 8, Windows 8.1 or Windows 10 (64-bit versions)
HDD: 24GB free space
Starting January 24th, you can purchase Resident Evil 7: Biohazard from Steam, or directly from the game's website. Be sure to download and install the Resident Evil 7: Biohazard Game Ready drivers before you play, for the optimum experience.