Our new GeForce Game Ready 378.49 WHQL drivers are optimized for Conan Exiles and Resident Evil 7, and the For Honor Closed Beta.
To download and install, simply fire up GeForce Experience and click the "Drivers" tab.
Game Ready For Conan Exiles Early Access
Available in Early Access starting January 31st, Conan Exiles is an open-world action, adventure, exploration, survival and crafting game based on the Conan lore written by Robert E. Howard. You can solo the game's vast content via a local connection, or jump into the action in multiplayer on public and private servers, testing your mettle against human-controlled friends and adversaries, or simply cooperating to build an incredible world in a PvE environment.
To experience Conan Exiles at the level of fidelity shown in the trailer above, developer Funcom is recommending gamers gear up with a GeForce GTX 1070 or GeForce GTX 1060, or previous-generation GPUs with comparable performance. For further details, check out the complete set of Minimum and Recommended system requirements below.
Conan Exiles Official Early Access Minimum System Requirements
Conan Exiles Official Early Access Recommended System Requirements
As your build your settlements, explore the world, and conquer your foes, you'll be able to capture stunning 2D, 360° and Virtual Reality 360° screenshots with NVIDIA Ansel to memorialize these achievements. With the new Game Ready driver installed, simply press Alt+F2 during gameplay to reveal the Ansel interface, where you configure and frame your custom screenshot. After snapping, press Alt+Z to load GeForce Experience Share, which will enable you to upload your shots straight to Imgur, Google Photos and Facebook. Alternatively, use Share to stream, capture and upload gameplay videos.
From within GeForce Experience you can also optimize settings of supported games with a single click, update drivers easily and automatically, take screenshots, add a framerate overlay to your screen, stream gameplay to SHIELD devices at up to 4K at 60 FPS, and in HDR, and participate in giveaways of free games, beta keys, and more.
So for the very best Conan Exiles experience update your PC with the new GeForce Game ready driver and the latest version of GeForce Experience. And should you wish to learn more about the game, be sure to check out our in-depth Conan Exiles article.
Game Ready For Resident Evil 7
Resident Evil 7 launches today, January 24th, 2017. Set in modern day rural America, after the events of Resident Evil 6, players experience the terror directly in first-person for the first time, considerably increasing the intensity of the experience.
For the PC version of Resident Evil 7, which is enhanced by NVIDIA HBAO+, Capcom recommends players equip their systems with a GeForce GTX 1060, or a previous-generation GPU of comparable power, such as the GeForce GTX 970.
Resident Evil 7 Official Minimum System Requirements For 1080p 30 FPS
Resident Evil 7 Official Recommended System Requirements For 1080p 60 FPS
GeForce GTX players can also benefit from GeForce Experience one-click Optimal Playable Settings, GeForce Experience Share's screenshot and video capturing and uploading tools, GameStream, and HDR, which can be enjoyed on HDR TVs and upcoming G-SYNC HDR displays. Learn much more about those features, and Resident Evil 7 itself in our in-depth launch article.
Game Ready For The For Honor Closed Beta
February 14th sees the release of For Honor, a fast-paced single-player and multiplayer action game that has Knights, Samurai and Vikings competing in visceral hand-to-hand combat. Before then, however, Ubisoft is running a Closed Beta from January 26th to January 29th, which you can sign up to here.
For an excellent High-quality For Honor experience at 1920x1080, the most popular gaming resolution, Ubisoft recommends GeForce GTX gamers gear up a GeForce GTX 1060. For higher detail levels, resolutions and framerates, we recommended the GeForce GTX 1070, GeForce GTX 1080, and high-performance SLI configurations.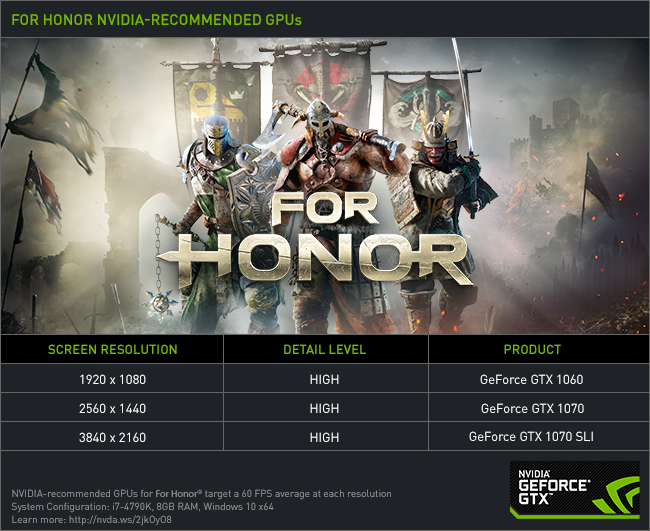 To determine whether you're ready for the Closed Beta and the complete game, check out the full system requirements below.
For Honor Official Minimum System Requirements For 720p 30 FPS
For Honor Official Recommended System Requirements For 1080p 60 FPS
If you're lucky enough to gain entry to the Closed Beta, be sure to grab the new Game Ready driver for an optimized hack and slash multiplayer experience.
GeForce Game Ready Driver - Download Now
You can download the new GeForce Game Ready drivers through GeForce Experience, our free, essential, game and system-enhancing application, which also records and streams gameplay, and grants you access to giveaways.
If you experience any technical issues with the new Game Ready drivers please post a detailed report on the GeForce.com Driver Feedback Forum, where our Customer Care team can better assist you. A list of fixes in this driver for previously-reported issues can be found here.