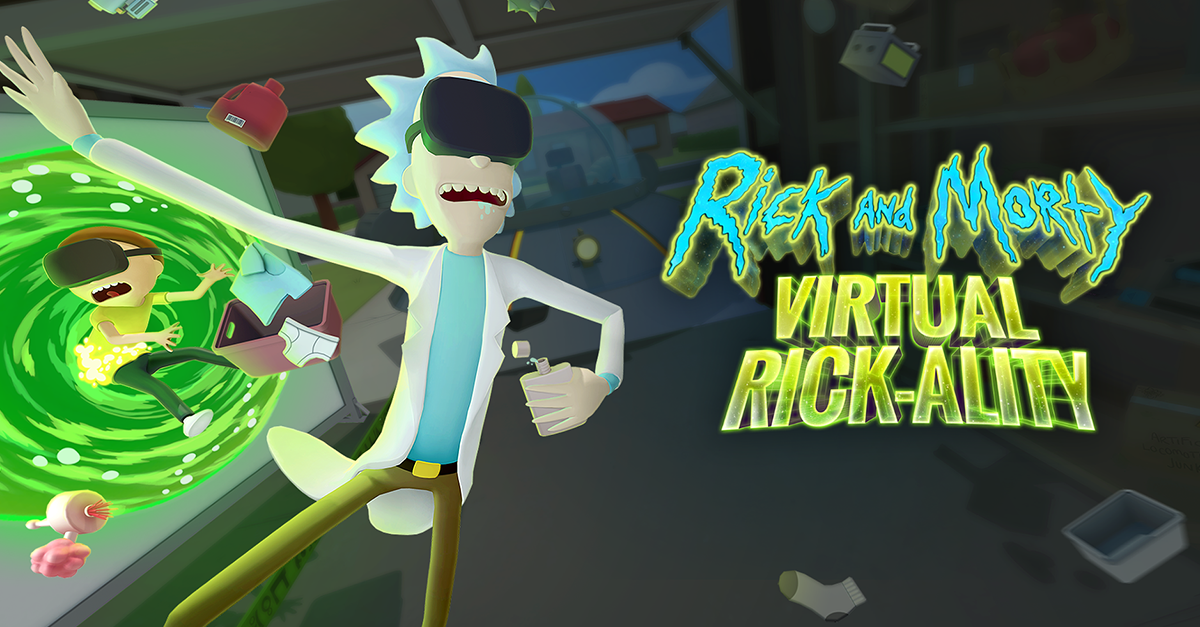 Since modern virtual reality is relatively new, developers are still discovering new ways of leveraging the technology to deliver innovative VR experiences. One studio that's clearly ahead of the curve is Owlchemy Labs. The company's first foray into VR, Job Simulator, was universally heralded for its irreverent humor and expert mastery of VR design principles.
That's why it was so exciting when the company announced their next project: a VR title set in the world of Rick and Morty. Due to the popularity of the show, expectations were sky high, but Owlchemy proved to be a perfect match for the show's unique comedic sensibilities. With Virtual Rick-ality, they've delivered an experience that's a dream come true for VR enthusiasts and Rick and Morty fans alike.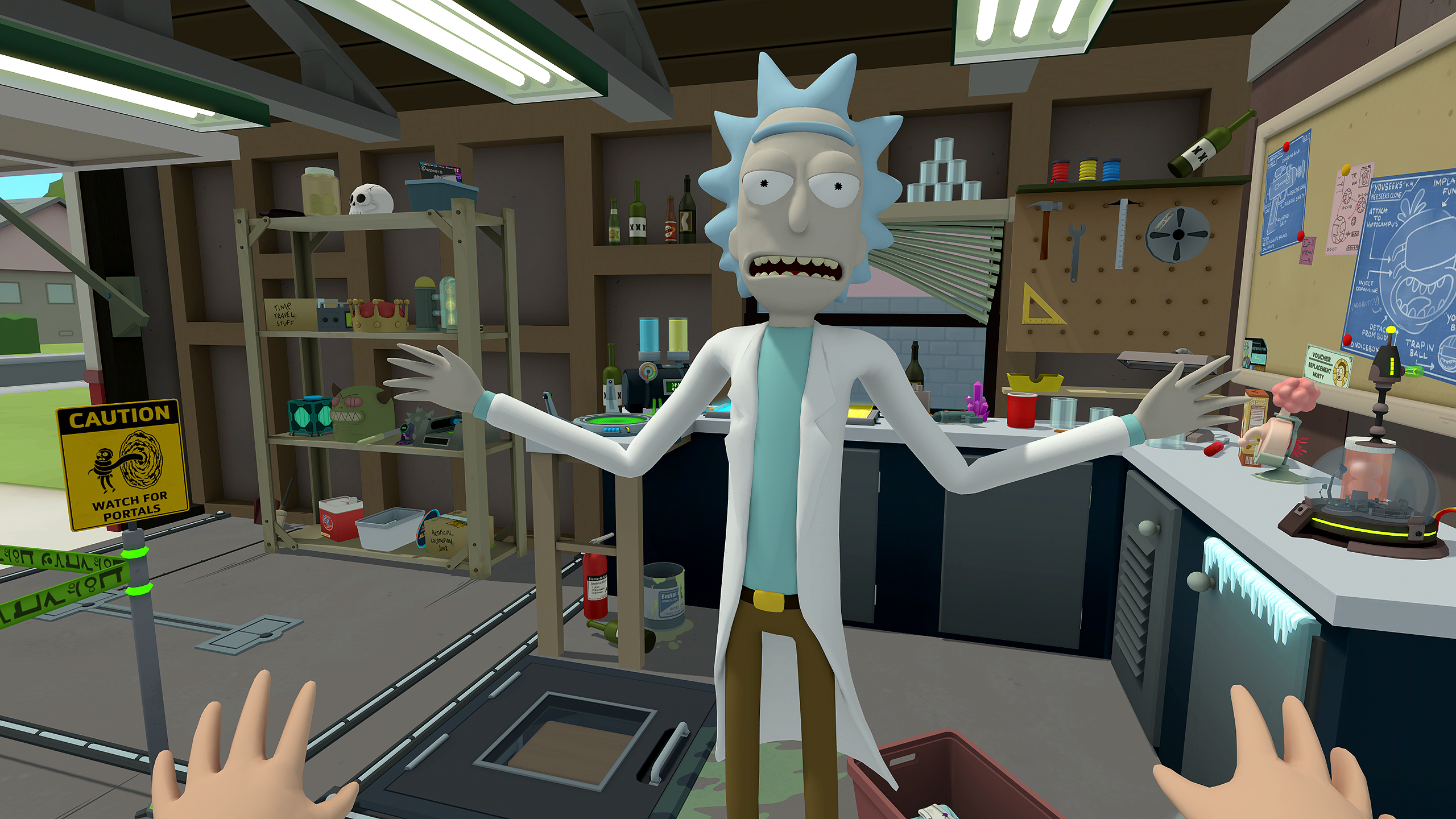 Step Into The Lab
If you've watched the show (and we recommend you do if you haven't), Virtual Rick-ality is your chance to take part in the wacky animated mayhem. You enter the world as a clone of the show's surly genius, Rick Sanchez, and get access to the garage that houses his creations. The team did an incredible job recreating environments from the show, and gamers who own VR ready GPUs like the NVIDIA GeForce GTX 1060 are in for a visual treat. Best of all, you can reach out with your Oculus Touch or HTC Vive controllers and fiddle with everything you see. Allowing players that freedom isn't just for fun, though: it's an integral part of the VR experience.
"We learned during the creation of Job Simulator that you need to be able to interact with every item around you when you have hands in VR," Owlchemy's CEO and Janitor, Alex Schwartz (his actual title) says, "because it's a fundamental human tendency to want to reach out and play with the world."
Players will certainly have plenty of things to mess with, as Owlchemy made sure to mine the world of Rick and Morty for all its worth. Virtual Rick-ality is overflowing with references from the show, but fans can also expect plenty of surprises to uncover.
"As huge fans of Rick and Morty, we felt very passionate about doing the show justice," Schwartz says. "So we did our best to incorporate references and Easter eggs that gave nods to the show while still creating new content to add to the game experience. We also wanted to give fans an absurd amount of room for exploration and discovery with the hidden secrets of the game."
Bird Persons Of A Feather
The company also put the comedic skills they displayed in Job Simulator to good use, crafting a genuinely funny and entertaining Rick and Morty experience that lives up to the show's high standards. Of course, they made sure to involve the team at Adult Swim Games as well as series co-creator Justin Roiland throughout the process, making Virtual Rick-ality a true team effort.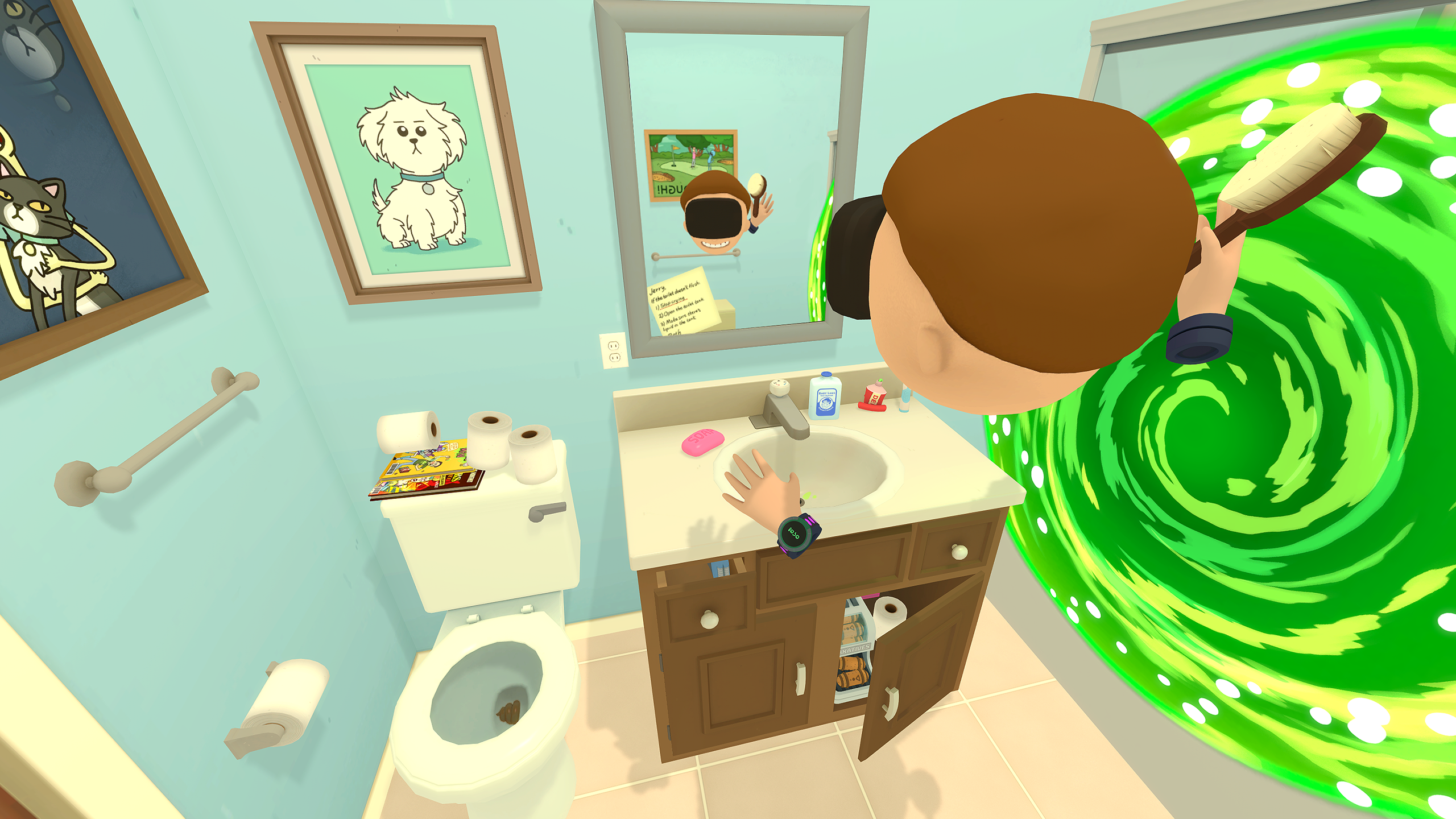 "The team at Adult Swim Games placed a great deal of trust in our ability to capture the spirit of Rick and Morty," Schwartz explains, "and gave us quite a bit of freedom as we experimented with what humor worked with what we were developing. We had an insane amount of fun with the creative process!"
And what did Rick and Morty mastermind Justin Roiland bring to the table? The same elements he contributes to the insanely popular show: his unique sense of humor, voice acting abilities, and gift for improvisational riffs.
"At various points in the development process, we hand builds and scripts over to Justin so he could add his absurd layer of humor and stutters and madness to the mix," Schwartz says. "Justin's riffs and improv usually resulted in hours of dialog with tons of hilarious moments throughout, which we edited and trimmed down to make it fit in the game."
Technically Sound
With the entertainment portion of the game locked into place, Owlchemy turned their attention to the second most important aspect of VR: making sure the game worked the way it was supposed to. Because VR is so immersive, technical issues like futzy controls and broken interactive elements are far more noticeable and have a greater potential to ruin the experience. Thankfully, Owlchemy had their previous experience with Job Simulator to lean on.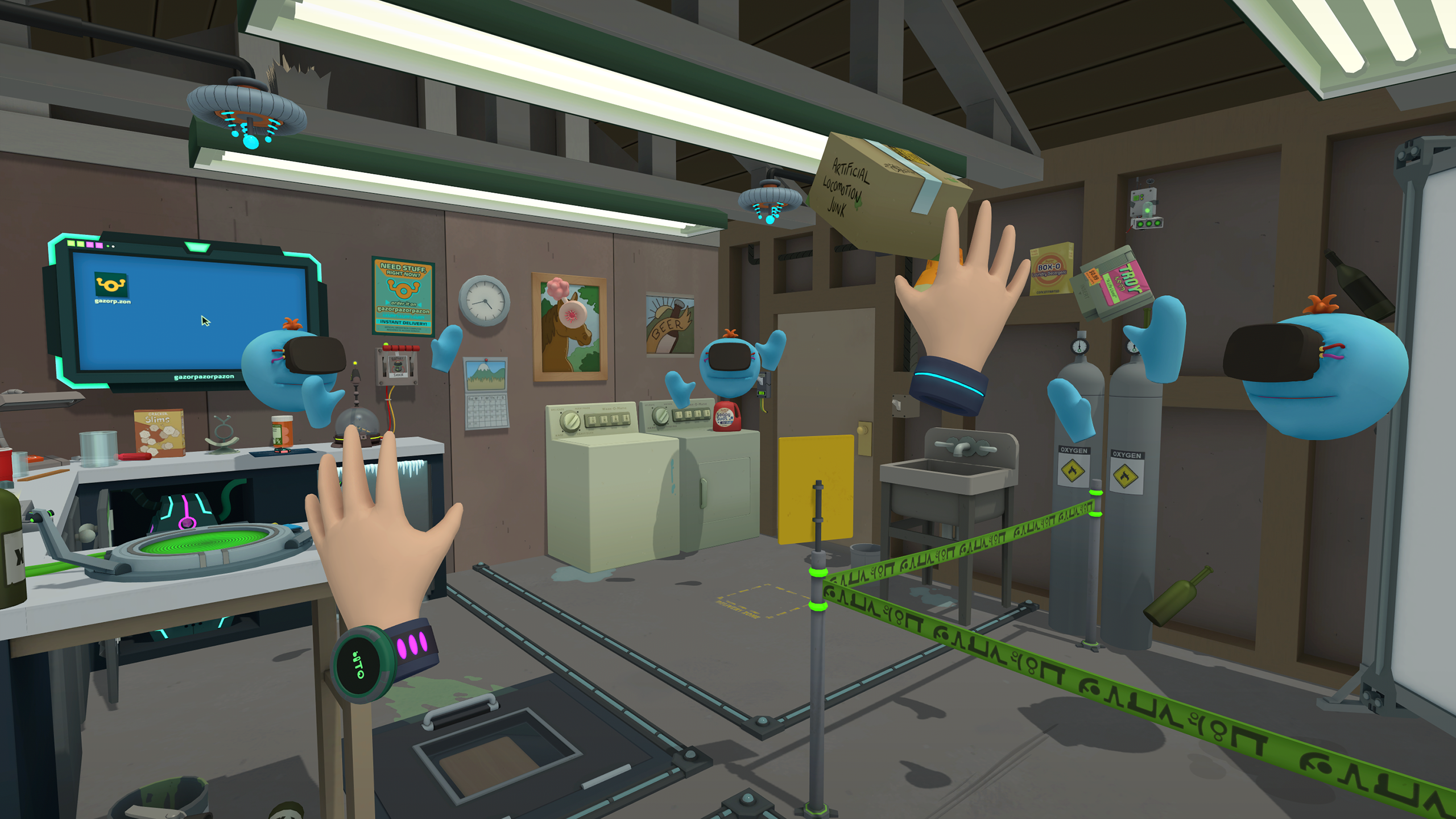 "We learned so much about VR as a technology and medium while creating Job Simulator," Owlchemy's Schwartz says. "Like the need to constantly iterate and prototype to determine if an idea works and how individuals navigate a 3D space. VR is a fantastic place to be building new content because we're making new discoveries every day!"
It's that passion for creating the best possible VR experiences that allowed Owlchemy to deliver such a thrilling Rick and Morty experience. They could have simply thrown a gimmicky tie-in to cash in on the show's popularity. But Owlchemy genuinely cares about their craft, which is why the went the extra mile to create a game that lives up to the show's sterling reputation. It's that passion that will serve them well with their future VR endeavors as well.
"Our bread and butter is VR, so we are firmly planted in that world for many years to come," Schwartz says. "We want to explore our passion for building original intellectual properties because we can imagine and create new worlds, characters, and experiences to share with gamers."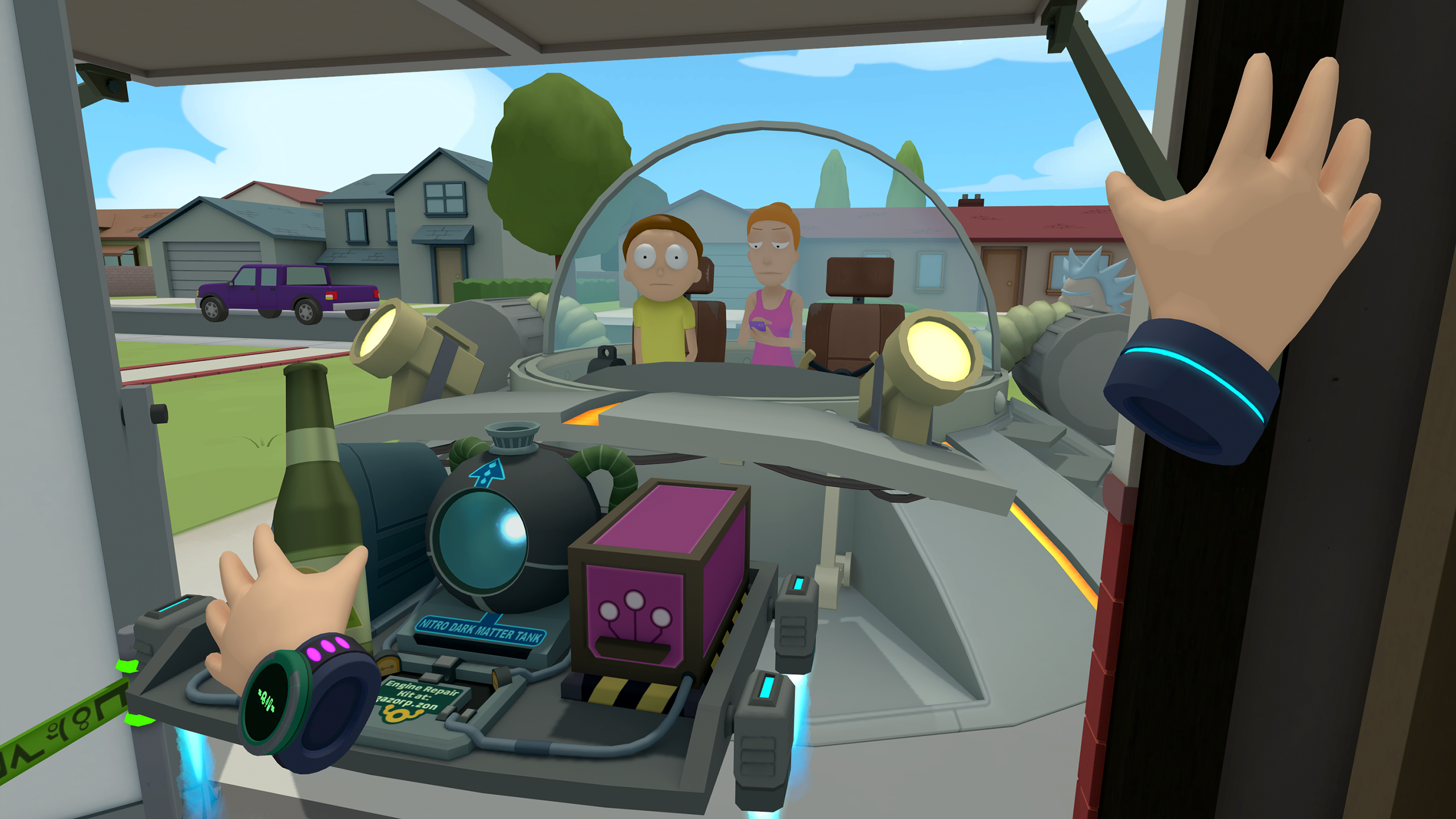 Certified Genius
The company isn't just about fun and games, however. Much like series star Rick Sanchez, Owlchemy Labs is armed with an incredible amount of technical know-how, which allows them to continually push the VR envelope. A great example is their OwlchemyMR (mixed-reality) tech, which lets players seamlessly inject real-world footage of themselves into their virtual experiences.
As Schwartz notes, that kind of innovation is something the company will focus on in the future: "We're looking forward to continuing to innovate in virtual reality as we develop new tools, new games, and explore the different ways we can interact and use our hands to interact in VR."
That willingness to experiment coupled with their storytelling chops makes Owlchemy Labs a company every VR enthusiast should keep tabs on. Let's just all hope they don't do anything that lands them in Galactic Federation prison because we need them here on Dimension C-137, creating amazing VR games for us to squanch.
Rick and Morty: Virtual Rick-ality is now available on Oculus Rift and HTC Vive. Get the best VR experience by ensuring your PC is equipped with a VR-ready NVIDIA GeForce GTX 10-series GPU. Go here to learn about the GeForce GTX 10-series, which includes the newly released GeForce GTX 1080 Ti.