Shadow Warrior 2, Flying Wild Hog's over the top first-person action game, is out today on PC. It's loaded with nearly two-dozen graphics settings, has support for DSR, GeForce Experience Share, G-SYNC, HDR, SLI, Surround and Ultra Wide Screen, and has an abundance of other configuration options that'll make PC gamers weep for joy. Most importantly, it's got excellent reviews from the press, making it well worth a look for fans of entertaining, action-packed games.
For GeForce GTX gamers, an extra treat awaits in Shadow Warrior 2 thanks to a collaboration between NVIDIA and Flying Wild Hog: the first application of NVIDIA Multi-Res Shading in a non-VR game. In short, Multi-Res Shading (MRS) can project images into multiple viewports on a display, adjusting the resolution of each independently. In Shadow Warrior 2, MRS enables us to decrease the resolution of the game's graphics on the periphery of the screen, improving performance without affecting image quality on the center of the screen where your eyes are focused during gameplay.
In Virtual Reality, MRS has increased performance in Everest VR, Raw Data, and other titles. And now on desktops and laptops, Shadow Warrior 2 performance can be improved by up to 30% with MRS, enabling you to play at 4K at over 60 FPS on a GeForce GTX 1080, with max settings enabled, or at over 60 FPS at 2560x1440 on a GTX 1060, also with max settings enabled.
Similar resolution-adjusting concepts are available in console games and select PC titles, but only Multi-Res Shading leaves the focal point of the screen at the player's selected rendering resolution, retaining maximum image quality where your eyes are focused. In Shadow Warrior 2, Conservative and Aggressive MRS options are available, adjusting the size of the MRS border and the resolution of graphics rendered inside.
| | | | |
| --- | --- | --- | --- |
| MRS Setting | MRS Border, X-Axis | MRS Border, Y-Axis | MRS Border Resolution |
| Conservative | | | |
| Aggressive | | | |
In other words, the Conservative setting adds a border 20% the size of the screen on the top and bottom of the picture, and a border 18% the size of the screen on the left and right of the picture. And everything rendered within that border is shown at 60% resolution (40% lower than the selected screen resolution; for example, images inside the MRS viewports are rendered at 2304x1296 when 3840x2160 is the selected screen rendering resolution). In pictorial form, it works like this: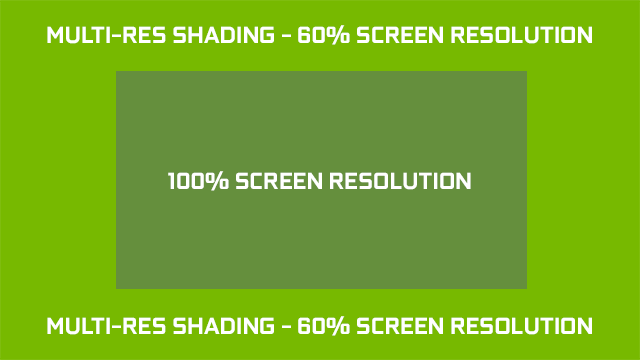 As the resolution of the MRS border is dictated by the screen resolution specified in the options of a game, we recommend MRS be used at higher resolutions like 2560x1440 and 3840x2160 (4K). During gameplay the reduced resolution of the MRS border is far less noticeable at 2560x1440, and nigh on unnoticeable at 4K. This is especially true in Shadow Warrior 2, a fast and furious game where you can't take your eyes off the center of the screen due to the non-stop action. Take a look for yourself in our 4K 60 FPS video that uses Conservative Multi-Res Shading:
Fans of tech can also check out our interactive comparisons that enable the viewer to examine Multi-Res Shading image quality while the action is paused: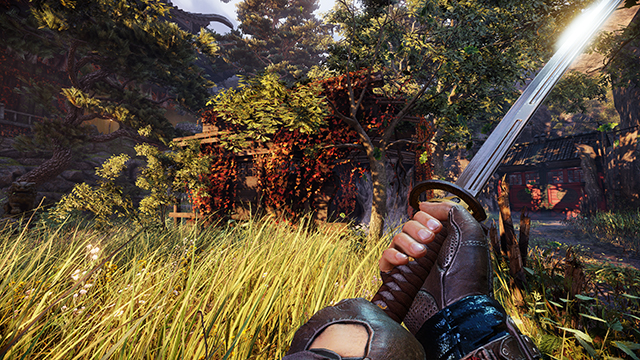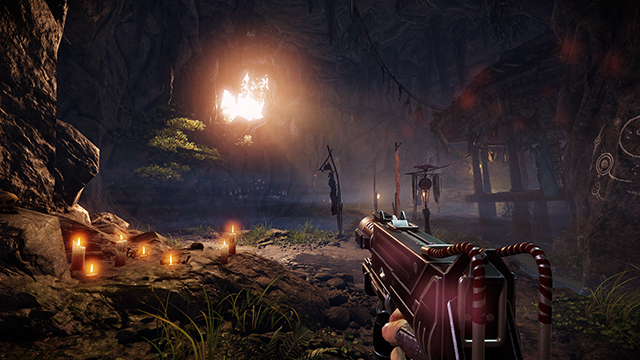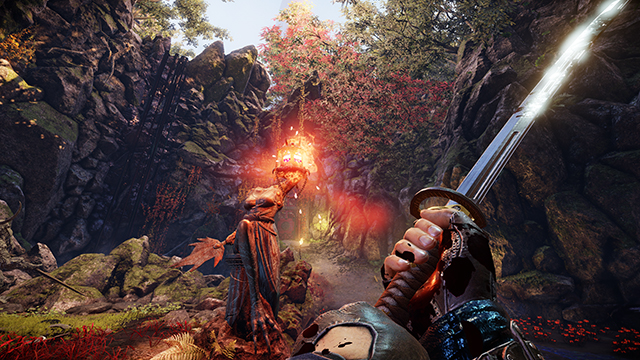 With Multi-Res Shading for desktops and laptops, NVIDIA GeForce GTX 900 and 10-Series gamers can get even more performance from games, enabling the use of higher screen resolutions and higher-quality settings, increasing image quality where it counts – the focal point of the screen. If you wish to try Multi-Res Shading for yourself, pick up Shadow Warrior 2 from GOG or Steam. And for the best experience, be sure to download and install our Game Ready driver before playing.
Be sure to keep your eyes locked on GeForce.com, too, for news of other Multi-Res Shading implementations, as well as announcements about the addition of NVIDIA GameWorks visuals effects and NVIDIA Ansel to upcoming AAA titles.