Titanfall 2 is one of the Holiday season's most anticipated titles, building upon the fast, fluid, and fun Pilot and Titan gameplay that is at the core of the Titanfall experience, whilst also adding more Titans, more maps, and new gameplay mechanics. Additionally, Titanfall 2 sees the introduction of an engrossing single-player campaign that sends players into the Frontier as a Militia rifleman with aspirations of becoming an elite Pilot. Stranded behind enemy lines and facing overwhelming odds, players must team up with a veteran Titan to uphold a mission they were never meant to carry out.
Ahead of Titanfall 2's release on October 28th we're excited to unveil the world's first look at Titanfall 2 running on PC at 4K, at 60 FPS, with every game setting maxed out:
To experience that level of detail and fluidity at home, Respawn Entertainment is recommending gamers equip their systems with a NVIDIA GeForce GTX 1080, the only consumer graphics card capable of playing Titanfall 2 at 4K, at 60 FPS, at the time of writing.
If you lack a GeForce GTX 1080 and a 4K monitor don't fret, you can still have a fantastic Titanfall 2 experience with other GPUs. For instance, the GeForce GTX 1060, which starts at $249, can play Titanfall 2 with nearly every setting maxed at 60 FPS at 1920x1080, or with a lower framerate a 2560x1440.
With settings virtually on max you'll see Insane-quality textures, NVIDIA HBAO+ Ambient Occlusion effects, and higher-quality anti-aliasing, effects and shadows. And with a high level of performance you'll have smooth, stutter-free gameplay even during the most explosive moments in Titanfall 2's fast-paced multiplayer matches.
| | | | |
| --- | --- | --- | --- |
| | MINIMUM (900p) | RECOMMENDED (1080p) | ULTRA (4K) |
| CPU | | | |
| GPU | | | |
| VRAM | | | |
| RAM | | | |
| Monitor | | | |
| HDD | | | |
| DirectX | | | |
| OS | | | |
| Internet | | | |
To give an even-clearer idea of how their system requirements will perform, Respawn Entertainment has benchmarked the aforementioned Minimum, Recommended and Ultra systems, and shared their results. Over on their PC blog you'll see framerate charts showing performance across the duration of their benchmark, plus the minimum, maximum and average framerates. And below each chart you can see the game settings used in each test.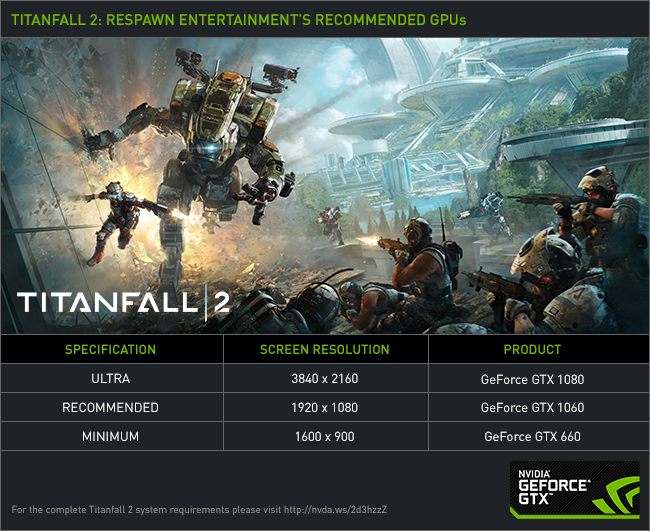 Systems and laptops equipped with a GeForce GTX GPU can also take advantage of our vast array of game and experience-enhancing technologies:
G-SYNC monitors make gameplay even smoother and minimize input lag, enabling you to react faster and gain the competitive edge. It's for this reason that eSports tournaments worldwide use G-SYNC screens with their GeForce GTX-powered systems.
GeForce Experience enables you to optimize Titanfall 2's dozen settings with a single click, giving you a 60 FPS experience with the best possible balance between image quality and performance. In addition, you can capture and stream gameplay and take screenshots with Share. And by using GeForce experience you'll be eligible for hardware and software giveaways.
DSR lets you crank up the internal rendering resolution when you've got spare performance, further improving the quality of your graphics. For example, if you own a GeForce GTX 1080 and use a 1920x1080 screen, you'll be able to render Titanfall 2 on your graphics card at 3840x2160, and then automatically downsize the picture to fit your 1920x1080 monitor, greatly enhancing image quality.
MFAA is an innovative NVIDIA anti-aliasing technology that decreases the performance impact of high-quality MSAA anti-aliasing, giving you higher framerates and the option to spend saved frames on other settings that further improve image quality.
Surround enables you to extend your view of Titanfall 2 by playing with three monitors. See more of the action, and see enemies approaching from the left or right, giving you a competitive advantage.
FCAT and other testing technology enables NVIDIA engineers to examine the performance of games in great detail, revealing stutters and other issues that we can rectify in the game code and through driver updates before a game's release. This ensures GeForce GTX GPUs deliver the smoothest experience in every game.
Furthermore, the in-game options menus give you full control over VSync, refresh rates, key binds, the field of view, aspect ratios (including 21:9), mouse acceleration, mouse and controller sensitivity, and of course, graphics settings. For further info, check out Respawn Entertainment's PC blog.
Between the GeForce GTX 10-Series' blazing fast and super smooth performance, NVIDIA experience-enhancing technologies, and the many in-game options, the definitive Titanfall 2 experience will be found on GeForce GTX systems and laptops.
To see even more PC gameplay footage, and to learn about the PC Anti-Cheat technology being employed by Respawn Entertainment, visit the official Titanfall website. And to pre-order Titanfall 2 ahead of its October 28th release, head to Origin.