Tom Clancy's Ghost Recon® Wildlands, from Ubisoft®, launches March 7th. Featuring a massive open-world, players tackle the vicious Santa Blanca drug cartel in four-player co-op or single-player.
For the PC release we've worked hand-in-hand with Ubisoft to create the definitive PC experience, with a vast range of options, unique features, NVIDIA GameWorks effects, and NVIDIA Ansel support. For an exclusive first-look at how these technologies enhance the game check out the 4K 60 FPS tech trailer below, and keep on reading.
DirectX 11-Enhanced Volumetric Lighting
Previously used to great effect in Far Cry 4, NVIDIA's DirectX 11-Enhanced Volumetric Lighting technology added realistic God Rays and lighting throughout the game, improving image quality. For Tom Clancy's Ghost Recon Wildlands, the technology has been further improved, increasing image quality and reducing the FPS impact.
With the "God Rays" option set to "Enhanced", our Volumetric Lighting will fill the entire scene with accurate, eye-catching God Rays, as demonstrated below in our interactive comparison.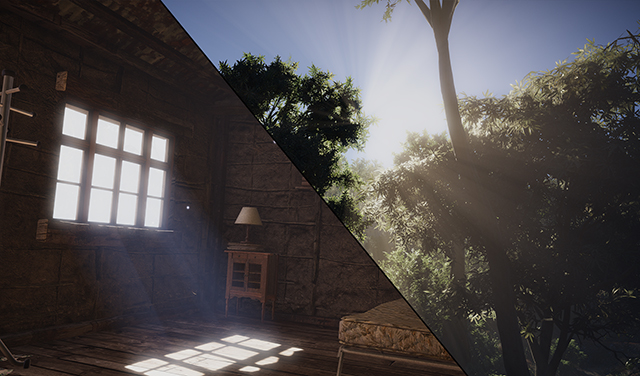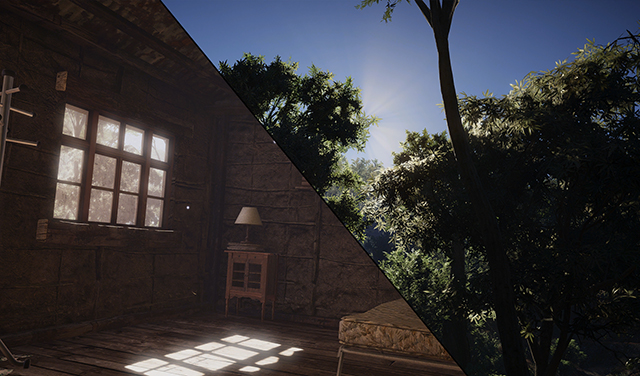 Click here to view the interactive comparison in fullscreen
HBAO+ Ambient Occlusion Shadowing
NVIDIA's HBAO+ Ambient Occlusion is the go-to solution for developers wanting fast, high-quality, platform-agnostic ambient occlusion shadowing, and so HBAO+ is ready and waiting for use on PC in Tom Clancy's Ghost Recon Wildlands.
As shown below in our interactive screenshot comparison, HBAO+ adds higher-quality ambient occlusion shadows in the local area, and greatly improves the fidelity, visibility and accuracy of distant shadows in Tom Clancy's Ghost Recon Wildlands' expansive world, in addition to adding shadows that otherwise would not exist.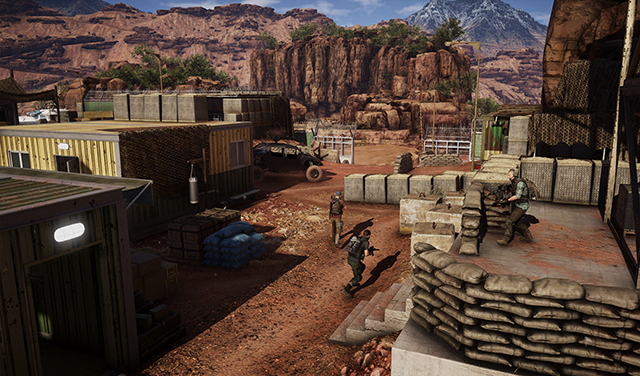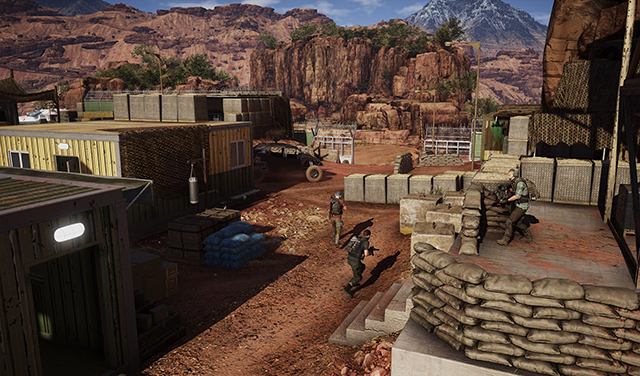 Click here to view the interactive comparison in fullscreen
NVIDIA Turf Effects
Thick fields of grass as far as the eye can see considerably enhance the realism and fidelity of a game world. Tom Clancy's Ghost Recon Wildlands has this nailed, but with the power of modern GPUs and our NVIDIA GameWorks Turf Effects technology we can further increase the density and fidelity of grass throughout Tom Clancy's Ghost Recon Wildlands, creating a world that looks even better. In addition, enhanced Turf Effects grass is self-shadowed, and shaded by scene conditions and NVIDIA HBAO+, increasing fidelity that bit more.
Turf Effects is a subtle addition when you're sprinting, shooting, driving and flying through the world, but together with other effects and features it further improves image quality and immersion for the duration of the game. Check out an example of the tech in action in our interactive comparison below: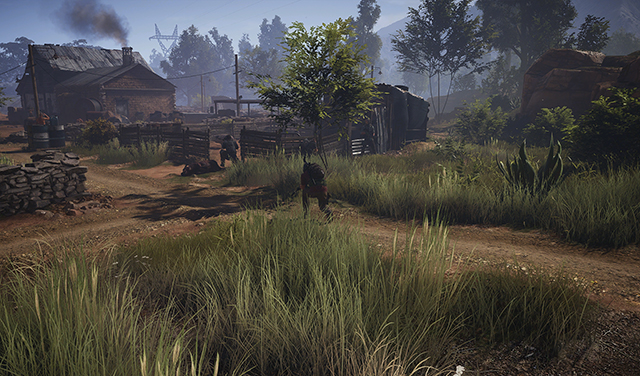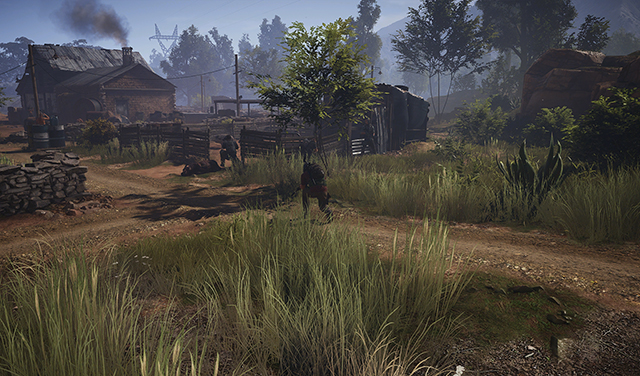 Click here to view the interactive comparison in fullscreen
In the not too distant future the Turf Effects Software Development Kit will be publicly released, enabling developers to apply a light touch of Turf Effects, as seen in Tom Clancy's Ghost Recon Wildlands, or to cover entire fields and environments in Turf Effects grass. Each blade of grass can be comprised of up to several hundred triangles, with each blade featuring realistic physical properties, allowing for highly accurate interactions with characters and objects. Furthermore, each blade of Turf Effects grass supports natural shading with correct shadows from the individual blades of grass, as well as self-shadows, two sided lighting, and correct occlusion for scene geometry, creating stunning scenes.
NVIDIA Ansel
NVIDIA Ansel enables GeForce GTX gamers to capture and share unique screenshots snapped from any angle in Tom Clancy's Ghost Recon Wildlands. Simply press Alt+F2 in single-player and you'll be able to take incredible screenshots that were previously impossible to frame and capture.
After you've framed your photo you can capture a standard screenshot at your selected in-game resolution, or a "Super Resolution" shot at resolutions up to 33x higher, using the CUDA capabilities of your GeForce GTX GPU. These shots expose additional detail in the world, and allow you to zoom in to distant locations and scenes without any loss of fidelity. And if you capture something truly incredible with Super Resolution, downsampled 33x shots make for fantastic desktop wallpapers.
If you want to share something a little different, or view screenshots in entirely new ways, capture your Ansel images in 360 degrees for use in photospheres hosted on Facebook or Google Photos; in screenshot viewers in Google Cardboard and Virtual Reality headsets; and in galleries on gyroscope-enabled smartphones. Explore scenes in 360 degrees, and view all the detail that's otherwise hidden in a 2D screenshot.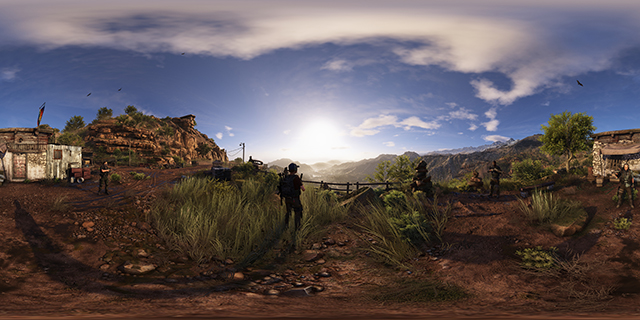 Whichever type of screenshot you choose to capture, each can be further customized with a selection of included filters, or your own custom filter. Whether you want a stylish black and white photo, a splash of vignette, or something completely off the wall, you can do it with Ansel's filters.

To get started with NVIDIA Ansel in Tom Clancy's Ghost Recon Wildlands, download and install the Tom Clancy's Ghost Recon Wildlands Game Ready driver that will be released shortly before the game itself, then press Alt+F2 in single-player. Define options, filters and other settings with the menu on the left of the screen, then press "Snap" on the bottom left to take your very own custom screenshot.
By default screenshots are saved to C:UsersUSERNAMEVideos, or you can press Alt+Z to open the GeForce Experience Share overlay and upload them directly to Google, Facebook or Imgur without leaving Tom Clancy's Ghost Recon Wildlands.
In Conclusion
Having worked closely with Ubisoft on the PC edition of Tom Clancy's Ghost Recon Wildlands, it is ready for launch on March 7th with a vast array of NVIDIA technologies, NVDIA Ansel support, additional PC-specific options and features, and great graphics. If you wish to get the very most from all that goodness, consider upgrading to select GeForce GTX 1070 and GeForce GTX 1080 GPUs, systems and laptops at participating retailers, where you'll receive a free digital copy of the game. Please note, select GeForce GTX 1080 Ti GPUs will be available as part of this offer once released on March 10th.