Tom Clancy's The Division, Ubisoft®'s much-anticipated online open world action-RPG, begins a closed beta test on January 29th that runs through to January 31st. Check your inbox for a beta key if you're a GeForce Experience Beta user, and if you're not sign-up for a chance to receive a key on Ubisoft's beta page. Those who get a key who also have a GeForce GTX GPU, and our Game Ready driver, will receive the definitive gaming experience during the three-day test.
In The Division's beta you will experience early story-driven missions and have the opportunity to team up with other agents to battle for loot and outwit them in the PvP-enabled Dark Zone. And amongst the many PC graphics options you'll discover the ability to enable work-in-progress versions of NVIDIA HBAO+ and NVIDIA PCSS on compatible graphics cards, improving graphical fidelity in The Division's detailed urban environment.
If you're unfamiliar with our suite of game-enhancing GameWorks effects, HBAO+ adds rich, realistic shadows around objects that occlude light, giving scenes extra depth and detail. Percentage Closer Soft Shadows (PCSS), meanwhile, add contact-hardening, realistic soft shadows that progressively soften as the distance from the casting object increases, further increasing realism.
Of course, enabling all of these graphics settings in a pre-release beta will require a powerful graphics card, such as the GeForce GTX 970.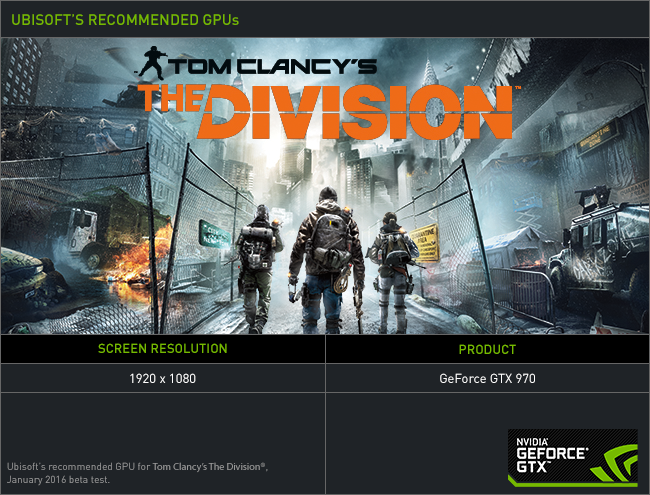 In addition to giving you the performance to play The Division, the recommended GeForce GTX 970 graphics card supports our vast array of critically acclaimed technologies, giving you the definitive gaming experience, unmatched by any other platform. And with GeForce Experience's ShadowPlay you can capture and share breathtaking, high-fidelity moments with your friends with ease.
With our Game Ready drivers and technologies like G-SYNC, the definitive The Division experience will be on GeForce GTX PCs. If you do need or desire an upgrade to attain this experience, you can find stockists of the recommended GeForce GTX 970 here. For more details on system requirements head here.