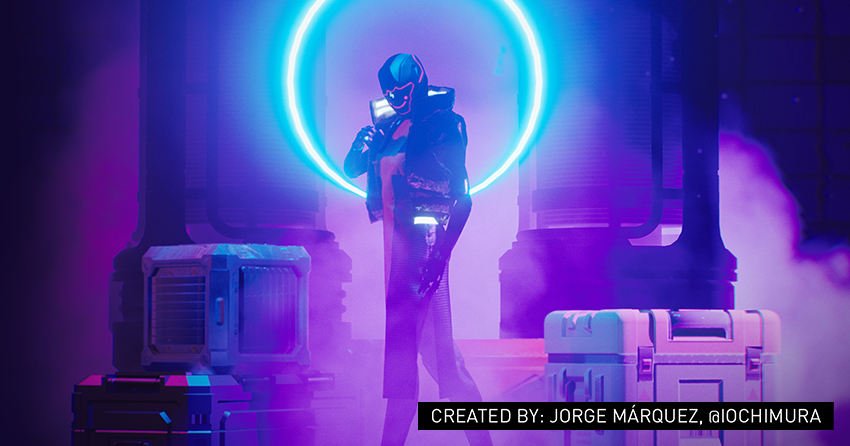 With many creators working from home, staying productive in the midst of kids, pets, and other distractions is more important than ever. To enable creators to get work done faster and better, NVIDIA and our partners are releasing new products this month including new GeForce RTX SUPER Max-Q GPUs, a dozen new RTX Studio laptops, and a host of updates to RTX-powered creative applications from Adobe, Epic, OTOY, and more--all backed by a new NVIDIA Studio driver, available for download today.
HP launches 3 new RTX Studio laptops
Earlier this month we announced 10 new RTX Studio laptops powered by new GeForce RTX SUPER GPUs and Intel 10th Gen CPUs. Today, we are excited to announce 3 more additions to the RTX Studio line-up of laptops for creators—the HP ENVY 15, HP ZBook Studio, and HP ZBook Create.
The HP ENVY 15 features up to an NVIDIA GeForce RTX 2060 Max-Q GPU, an all-aluminum chassis with 83% screen-to-body ratio, optional 4K OLED Touch or HDR™ 400 True Black display, and gaming-class thermals for the ultimate creator performance.
The HP ZBook Studio and ZBook Create provide true mobility without compromise with up to NVIDIA GeForce RTX 2080 SUPER and Quadro RTX 5000 Max-Q GPUs—all in a thin-and-light form factor. With a professional grade chassis made of sustainable materials, an 87% screen-to-body ratio, these ZBooks bring creators the first DreamColor display and an all-day battery life.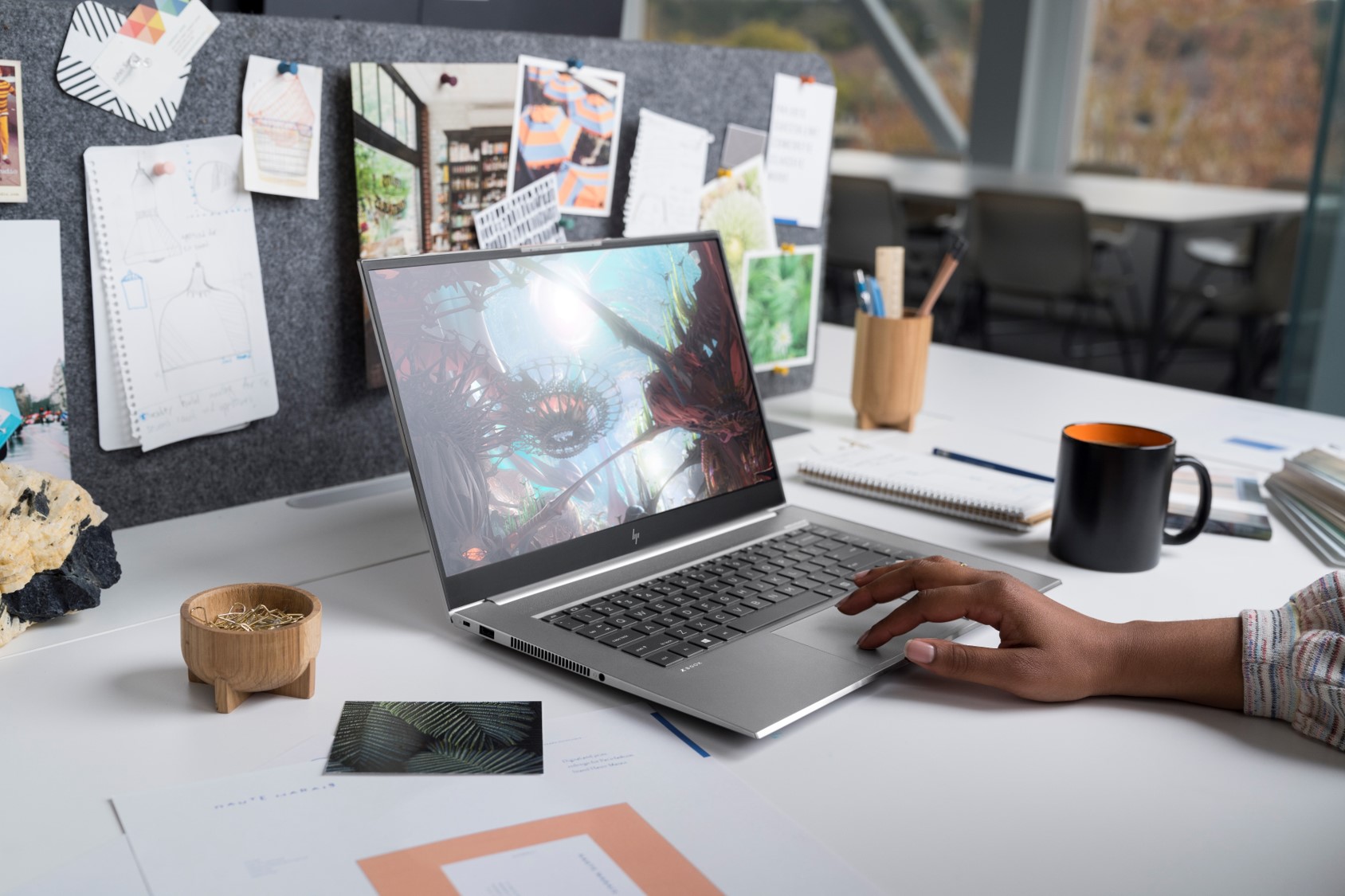 RTX-powered Creative App Updates
This month brings some big updates to your favorite creatives apps, with new features that take advantage of RTX-powered laptops and PCs.
Unreal Engine 4.25, the popular real-time engine from Epic Games, is releasing production-ready support for RTX-accelerated real-time ray tracing. This is an exciting milestone after several months in beta, making real-time ray tracing even more accessible for artists. The ray tracing update comes along with a host of other exciting engine updates. UE4.25 is already in preview with the final release expected in a few short weeks.
OctaneRender 2020.1, the latest update to the popular GPU-based renderer from OTOY, adds production-ready OptiX 7 support, bringing the power of RTX-accelerated ray tracing to all Octane users. Rendering is 2-3X faster than previous versions thanks to the dedicated ray tracing cores on NVIDIA RTX GPUs.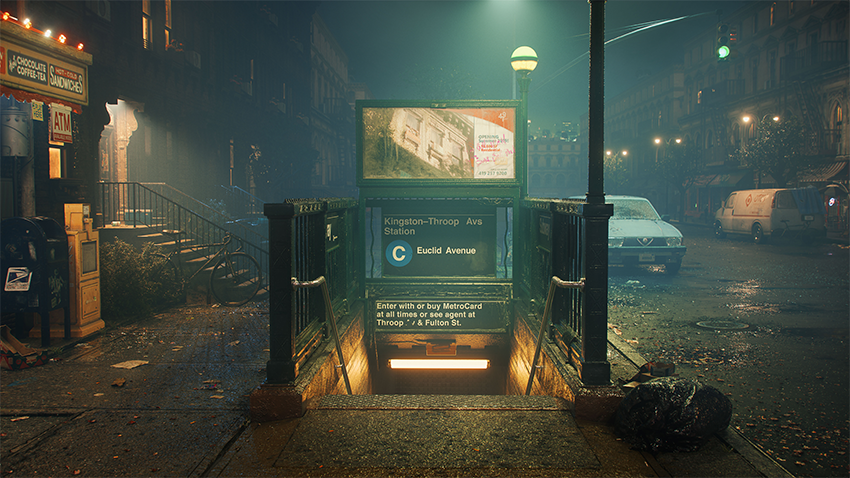 OctaneRender. Image courtesy of Aaron Covrett.
Minecraft with RTX, the highly anticipated ray tracing update for the world's best selling game, has released a public beta available today. Minecraft is a content creation machine, reaching an incredible 100 billion views on YouTube in 2019. With Minecraft with RTX, creators can take their worlds to a new level of visual fidelity using new physically-based materials to build stunning, custom ray-traced worlds. Read our guide on how to design your own physically based materials for Minecraft using Substance Painter, and then check out the beta!
D5 Render is a brand new visualization app using real-time ray tracing to allow architects and interior designers to realistically preview their designs. D5 Render and NVIDIA RTX GPUs enable designers to easily create, modify and share photorealistic real-time experiences. This new architectural visualization tool provides built-in assets to accelerate the design workflow, and is compatible with Sketchup, Rhino, 3ds Max, ArchiCAD, and others, making it easy to integrate into existing workflows. D5 Render is currently in a free public beta, with the official release expected at the end of May.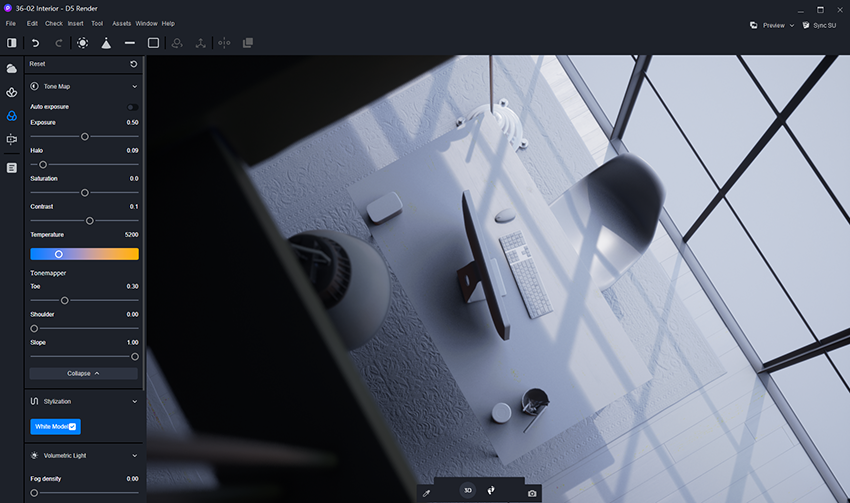 D5 Render. Asset courtesy of Dejie Yu.
Adobe's suite of 3D material creation apps Substance Designer and Substance Painter get new RTX updates too. In addition to Substance's existing support for RTX acceleration for baking, the Curvature baker in Designer and Painter is being upgraded to now use ray tracing. This update not only provides more accuracy than previous versions of the curvature baker, but is also lightning fast with RTX GPU acceleration.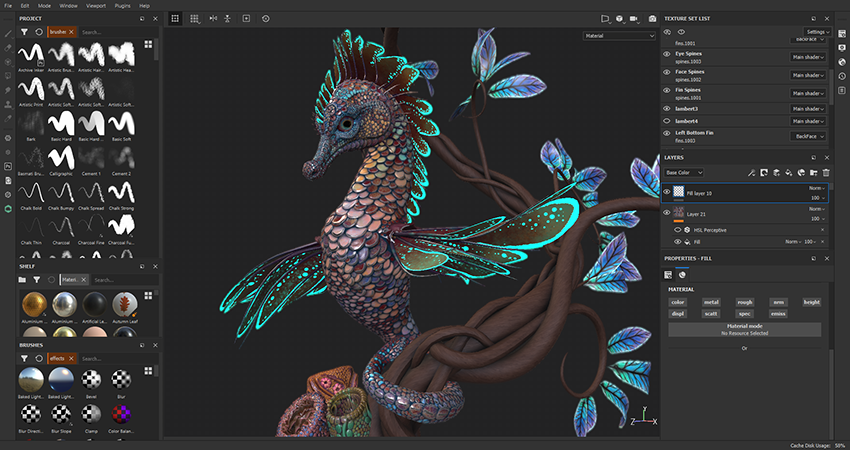 Substance Painter. Asset courtesy of Ashlee Martino-Tarr.
Keyshot 9.2 and Keyshot Viewer 9.2, the OptiX 7 enabled renderer just released by Luxion, brings incredible rendering speeds to product designers and artists. Rendering with an NVIDIA RTX GPU is up to 15x faster than a high-end desktop CPU , letting artists spend more time creating and less time waiting.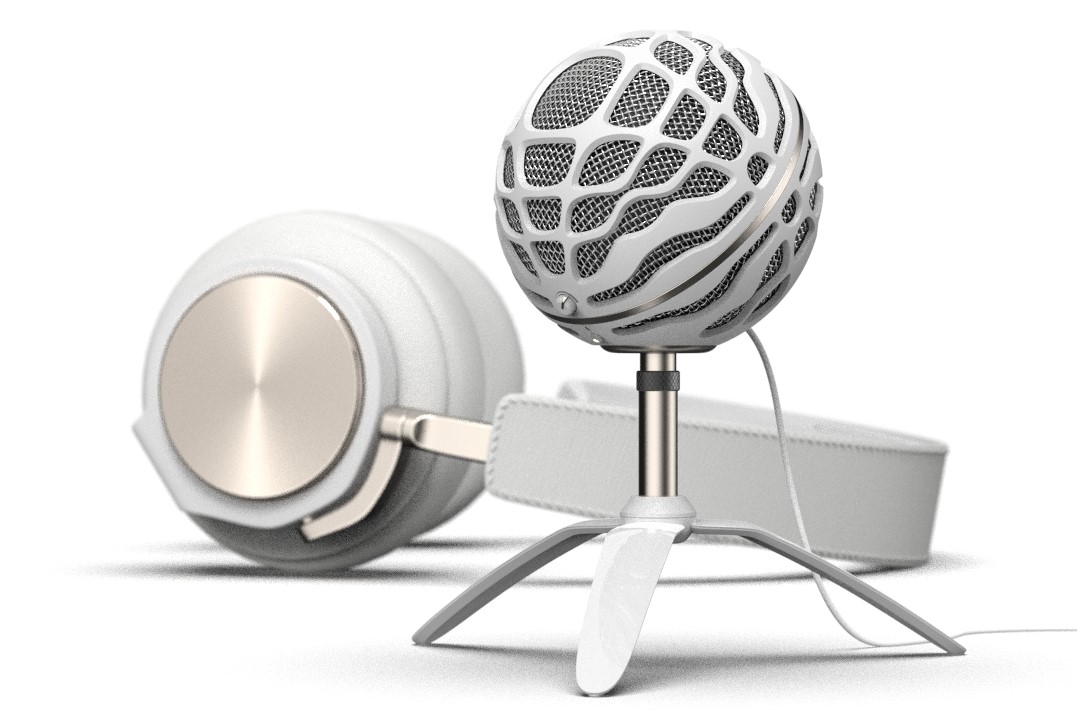 Image courtesy of Keyshot.
Redshift Renderer is the first fully GPU-accelerated, biased renderer for high-end production rendering. Version 3.0.18 will be available soon for registered users and integrates OptiX 7. This enables RTX-accelerated ray tracing, AI denoising, and NVLINK support so users can scale GPU memory to seamlessly render massive scenes.
Redshift Renderer. Art courtesy Hirokazu Yokohara.
TheNVIDIA Texture Tool plugin for Adobe Photoshop is now available as a free download for artists and developers working with high resolution textures in real-time apps and games. The tool uses GPU-acceleration to compress and convert textures into formats used in real-time engines. Thanks to CUDA acceleration, RTX GPUs are up to 20x faster than high-end desktop CPUs.
StreamFX, an OBS Studio plugin, released a new version that integrates NVIDIA's RTX-accelerated AR SDK to enable a smart camera feature for game broadcasters that tracks your face and automatically crops and zooms to keep you at the center of the frame. It's like having your own cameraman, powered by AI.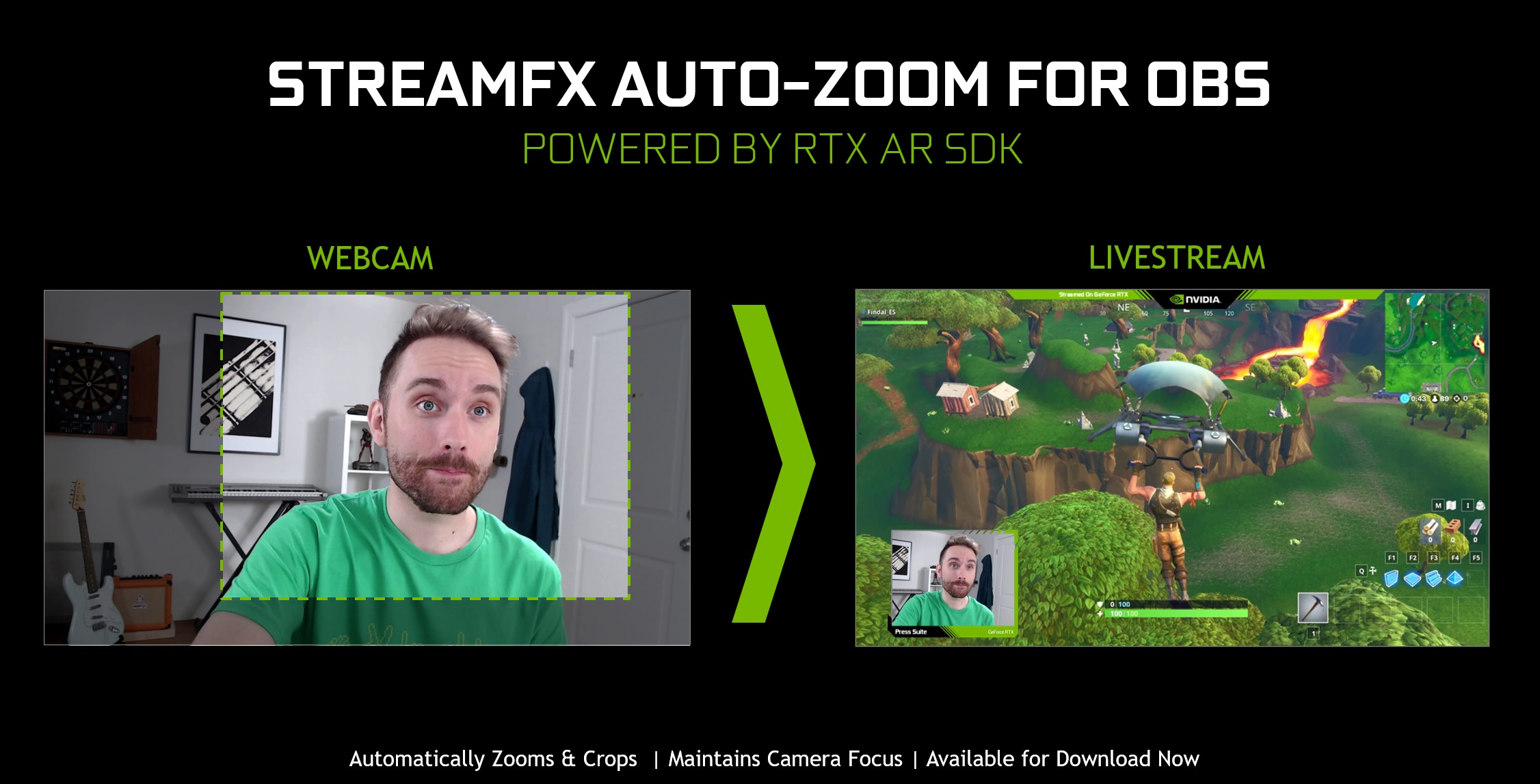 BorisFX Silhouette Paint, a brand new plug-in version of Silhouette, the Academy and Emmy award-winning VFX application, is now available now. Silhouette Paint is the industry's first GPU-accelerated paint and tracking plug-in designed to bring the best 32 bit, high dynamic range paint tools to editing and effects applications. With the plugin, artists can now access Silhouette's professional sequence-based paint tools inside their creative app host of choice including Adobe After Effects and Premiere Pro, Foundry's NUKE, Blackmagic Design Resolve, Autodesk Flame and more.

Silhouette Paint "Object Remove." Image courtesy of BorisFX
CorelDraw Graphics Suite 2020, released last month, advances the use of GPU-accelerated machine learning in creative apps including new features like stylize - using AI to apply different styles to your images, image upsampling - to increase the resolution while retaining details, JPEG artifact removal - using AI to remove artifacts found from JPEG compression, and bitmap to vector tracing - using AI to generate vector images from bitmaps.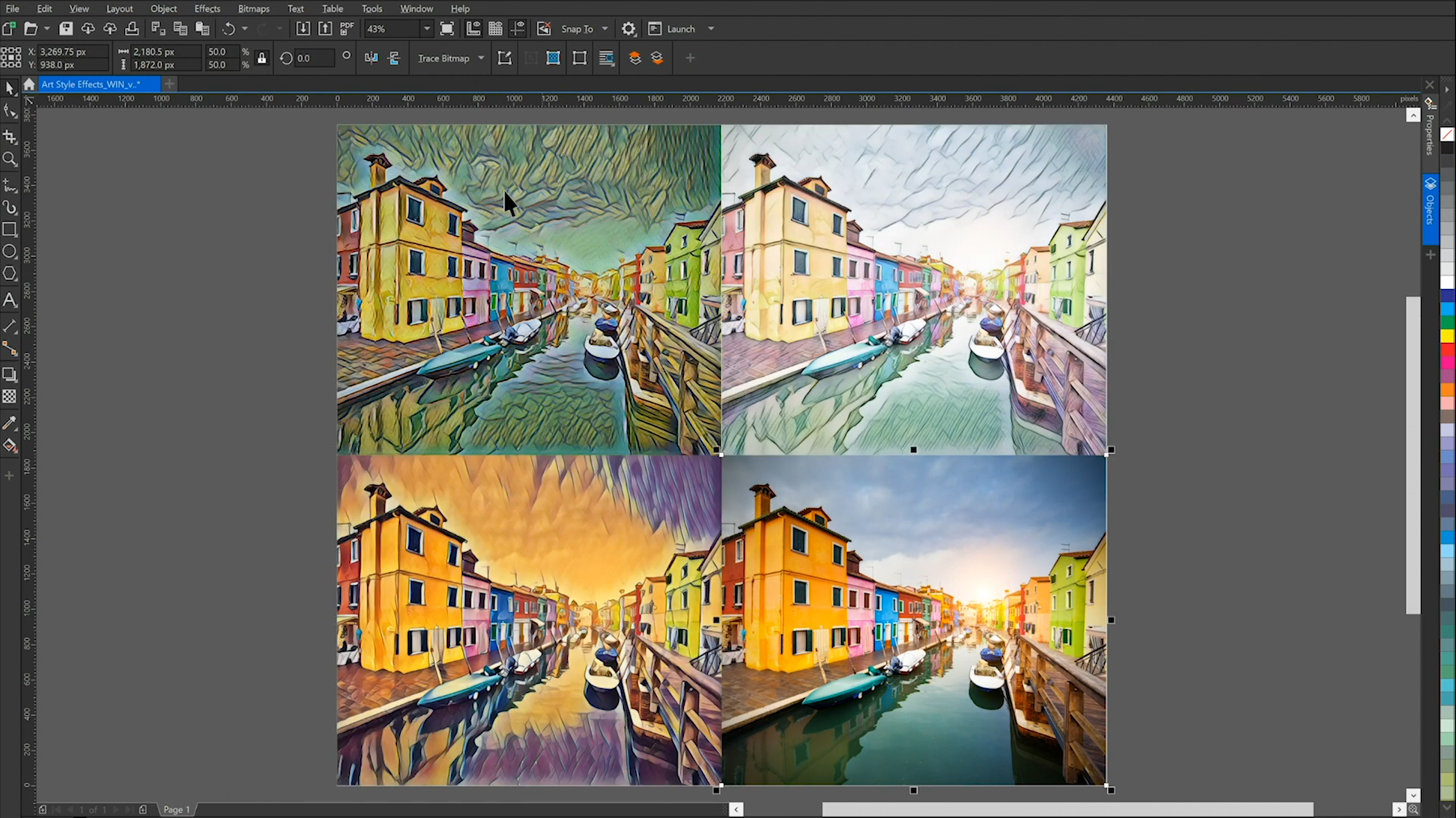 Stylize. Image courtesy of Corel.
FilmConvert will release a new version of Cinematch this week. Cinematch is a GPU-accelerated plugin for Adobe Premiere Pro and enables video editors to quickly color match sensor profiles from different cameras to speed up their color correction. This plugin makes it a breeze for video editors who frequently work with clips from different cameras in the same timeline.
Earlier this month, the 3D renderer, Cebas finalRender, released a new version, Drop 4. This adds support for the OptiX ray tracing API and uses NVIDIA RTX GPUs to accelerate ray tracing, perform AI-enhanced denoising, and scale rendering of large complex scenes across NVLINK-connected GPUs to deliver considerable rendering speed gains for 3D artists.
Stay Up to Date with NVIDIA Studio
To get the latest performance optimizations and support for the new April creative app updates, download the new Studio Driver (release 442.92) today through GeForce Experience or from the driver download page. Studio Drivers are built specifically for creators, testing extensively using top creative apps and workflows. You can also stay up to date on the latest apps through NVIDIA's new Studio YouTube channel, featuring tutorials, tips, and tricks by industry-leading artists. Stay safe, and stay productive!