Our new GeForce Game Ready 376.09 WHQL drivers are optimized for Watch Dogs 2, Dead Rising 4 and Steep, and introduce support for NVIDIA Ansel in War Thunder.
To download and install, simply fire up GeForce Experience and click the "Drivers" tab.
Game Ready For Watch Dogs 2
Watch Dogs 2 has received excellent reviews on consoles, and on November 29th the PC edition will launch on Uplay and other digital distribution services. Featuring a stylized recreation of San Francisco, the game boasts plenty to see and do, and on PC its incredible amount of content will be rendered at a significantly higher level of detail, and be further enhanced by PC-exclusive visual effects.
In total, Watch Dogs 2 features 20 graphics settings, along with the usual array of doodads that PC gamers expect to find in the latest releases. Furthermore, its graphical fidelity is bolstered through the addition of HBAO+, HFTS, PCSS, TXAA, and at a future date, Ansel. Additionally, gamers who play on GeForce GTX GPUs benefit from the inclusion of support for DSR, GameStream, GeForce Experience Share, SLI, and Surround.
Take a look at several of these effects and technologies in action in the Watch Dogs 2 NVIDIA GeForce GTX PC tech trailer.
For an excellent High-quality Watch Dogs 2 experience at 1920x1080, the most popular gaming resolution, Ubisoft recommends GeForce GTX gamers gear up a GeForce GTX 1060. For higher detail levels and resolutions, we recommended the GeForce GTX 1080 and GeForce GTX 1070.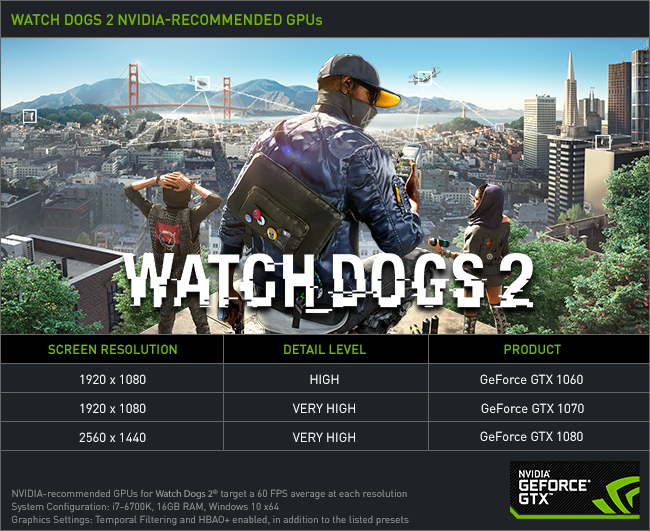 If you want to experience Watch Dogs 2 at higher resolutions and detail levels, select GeForce GTX 1080 and 1070 GPUs, systems and laptops are currently bundled with a free copy of the game at participating retailers. Learn more here.
For much more on Watch Dogs 2, check out our comprehensive Watch Dogs 2 Graphics & Performance Guide for the complete lowdown on every graphics setting, and the game's performance.

Game Ready For Ansel In War Thunder
Tanks, planes and ships fight with and against one another in War Thunder, a popular free-to-play action game with Arcade and Simulation single-player and multiplayer modes.
After each battle a Replay is saved, allowing you to reevaluate your performance, to see the game from the perspective of teammates and enemies, and to make cinematic videos for YouTube. Today, Replay Mode is receiving NVIDIA Ansel support, enabling you to capture screenshots in 2D, Stereo, 360° Stereo and 360° Virtual Reality, and in Super Resolutions such as 63360x35640, 33 times higher than 1920x1080, the most commonly used gaming resolution.
You can learn more about NVIDIA Ansel's integration in War Thunder in our dedicated article, and there's detailed info about the other NVIDIA GameWorks technologies that have previously been added to the game here.
Game Ready For Dead Rising 4
December 6th sees the release of Dead Rising 4 on the Windows 10 Store. It's the holiday season in Willamette, Colorado and a mysterious outbreak has overrun the Willamette memorial megaplex mall and surrounding town with dangerous and deadly predators. Take control of returning hero Frank West as you explore a vast, open world sandbox filled with dangerous new zombies and a million ways to kill them as you seek to uncover the truth behind the outbreak – or die trying.
For the PC version, a GeForce GTX 970 is recommended, though if you're looking to build a PC for Dead Rising 4 you'd be better served by the newer and faster GeForce GTX 1060.
Dead Rising 4 Minimum System Requirements
Dead Rising 4 Recommended System Requirements
For the optimum experience, whether playing the solo campaign or co-op standalone missions, shuffle on over to GeForce Experience and download the new Game Ready driver.
Game Ready For Steep
Following a successful Open Beta that saw the slopes filled with skiers and snowboarders, Ubisoft's winter sports game, Steep, goes on sale December 5th. As before, a system for Steep would be better served by the newer, cheaper GeForce GTX 1060, which matches the pace of the recommended GeForce GTX 980, and includes support for new game-enhancing technologies.
Steep Minimum System Requirements
Steep Recommended System Requirements
For the fastest framerates in-game and in the benchmark, and the smoothest experience when hurtling down hills, download and install our new Game Ready driver.
GeForce Game Ready Driver - Download Now
You can download the new GeForce Game Ready drivers through GeForce Experience, our free, essential, game and system-enhancing application, which also records and streams gameplay, and grants you access to giveaways.
If you experience any technical issues with the new Game Ready drivers please post a detailed report on the GeForce.com Driver Feedback Forum, where our Customer Care team can better assist you. A list of fixes in this driver for previously-reported issues can be found here.