Battle for Azeroth, World of Warcraft's seventh expansion pack, launches August 14th, giving players of the world's most popular MMORPG a whole load of new stuff to see and do, as well as the ability to increase visual fidelity through the addition of new graphics settings and higher detail levels.
For those jumping back into World of Warcraft with the expansion's launch, and those still playing to this day, a new World of Warcraft: Battle of Azeroth Game Ready driver is now available. It'll further accelerate your performance, and optimize your experience, making Battle for Azeroth faster, smoother, and even-better to play.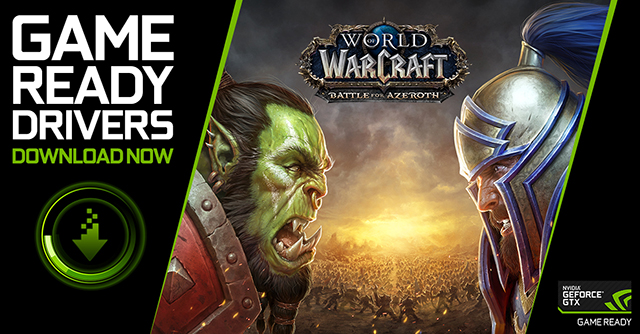 To download and install, head to the Drivers tab in GeForce Experience, or grab it from our website.
Optimized For Excellent Performance
With a GeForce GTX graphics card, your World of Warcraft experience will benefit from our years of optimizations, giving you even-faster performance. And in addition, users can enable HBAO+ shadowing, adding depth and detail to almost-all areas of the game's massive world; DSR for higher-resolution gameplay; and Surround for immersive multi-monitor gaming.
In fact, such is the level of optimization, you can now play World of Warcraft: Battle for Azeroth's demanding moments at 1920x1080, with High settings, at a fluid 60 frames per second, on a GeForce GTX 1060 graphics card. This'll give you even better performance during quests and those moments you're mining or fishing, and enough headroom for performance-intensive raids.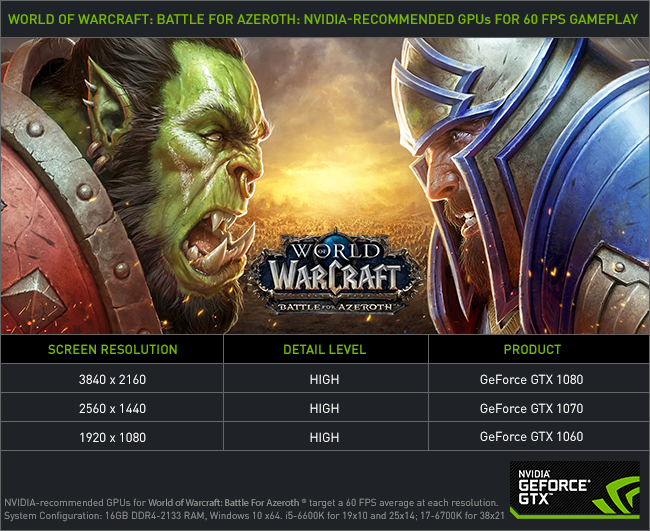 If you like World of Warcraft, you like stats, so here's some: at 1920x1080, our benchmarking concluded with an average framerate of 65.4 on the GeForce GTX 1060, when paired with an i5-6600K. A minimum framerate of 53 was the lowest we saw, and the frametime plot was near-perfect, indicating performance was smooth and stable.
At 2560x1440, the GeForce GTX 1070 gave us a 65.6 FPS average, with a minimum of 52, and equally-smooth frametimes. And at 4K, it's recommended that players step up to an i7 for a perfect 60 frames per second on a GeForce GTX 1080, with the occasional dip to 51 FPS.
Battle For Azeroth On GeForce GTX For The Definitive Experience
With industry-leading performance, ShadowPlay, HBAO+, Surround, GeForce Experience Optimal Playable Settings, Game Ready drivers, and everything else available to GeForce gamers, you'll receive the definitive gaming experience in World of Warcraft: Battle for Azeroth, and every other game you play with a GeForce GTX GPU. Head here to learn more about GeForce GTX 10-Series GPUs and how they can enhance your gaming.
Battle for Azeroth launches August 14th, and our Game Ready driver is available now.