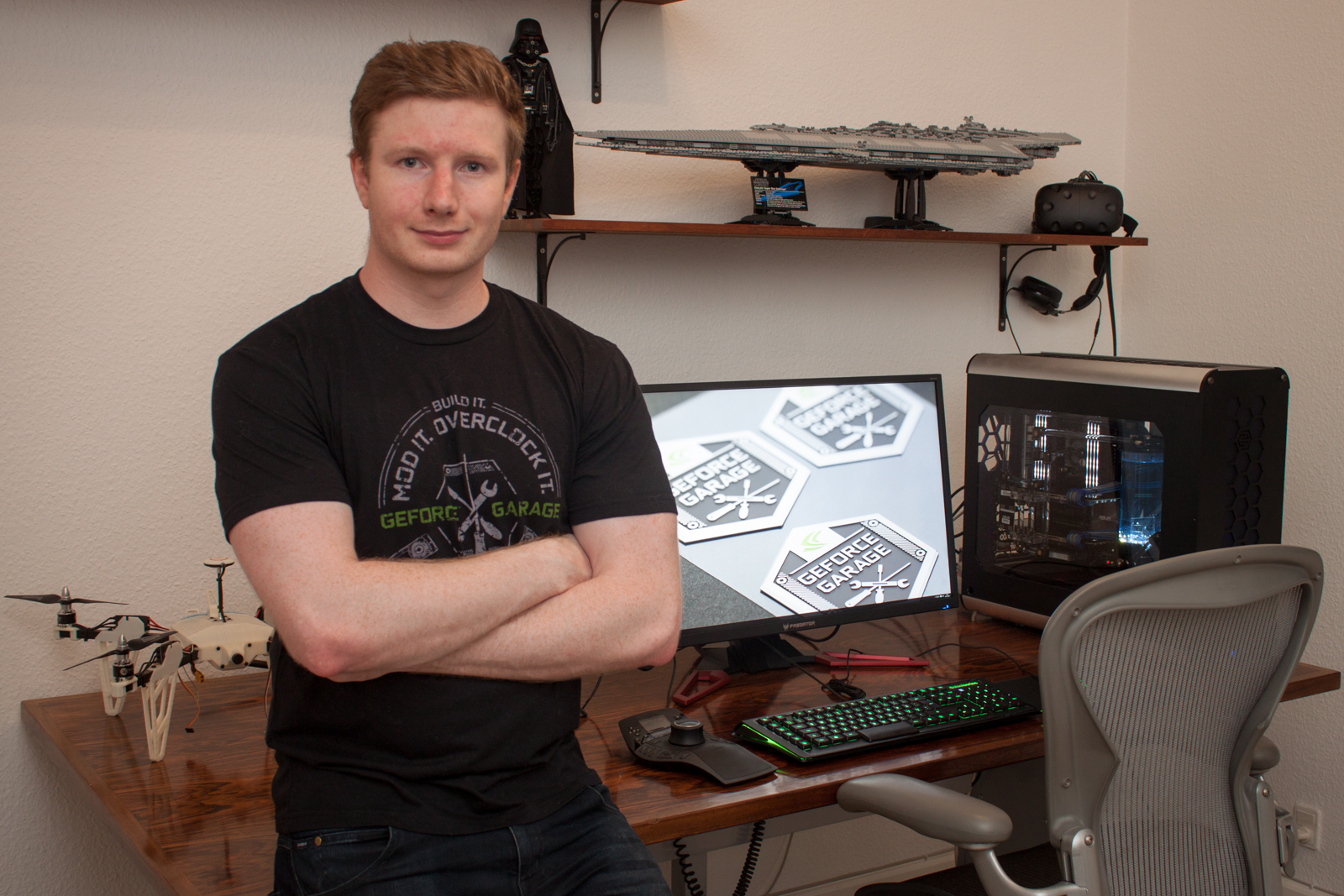 If DIY was a full contact sport, Hans Peder Sahl would be a battle-hardened veteran with a long list of knockout wins. Hailing from Esbjerg, Southern Region in Denmark, Hans is a seasoned DIY builder and case modder. He also happens to be the CTO of Hex Gear, home of premium PC cases like the R40. In one of our Rig Spotlights from last year, we featured his Hex Gear R40 build. That Hex Gear R40 was custom made just for us here at NVIDIA, with company-themed green acrylic and featured a GeForce GTX 980 Ti.
While the R40 is an elegant Micro ATX PC chassis in its own right. Hans Peder has stepped up his game to create another drool-worthy DIY build, using the newer, roomier R80 Rhino PC chassis sporting no less than 4 (that's right, 4) GeForce GTX TITAN X's.
---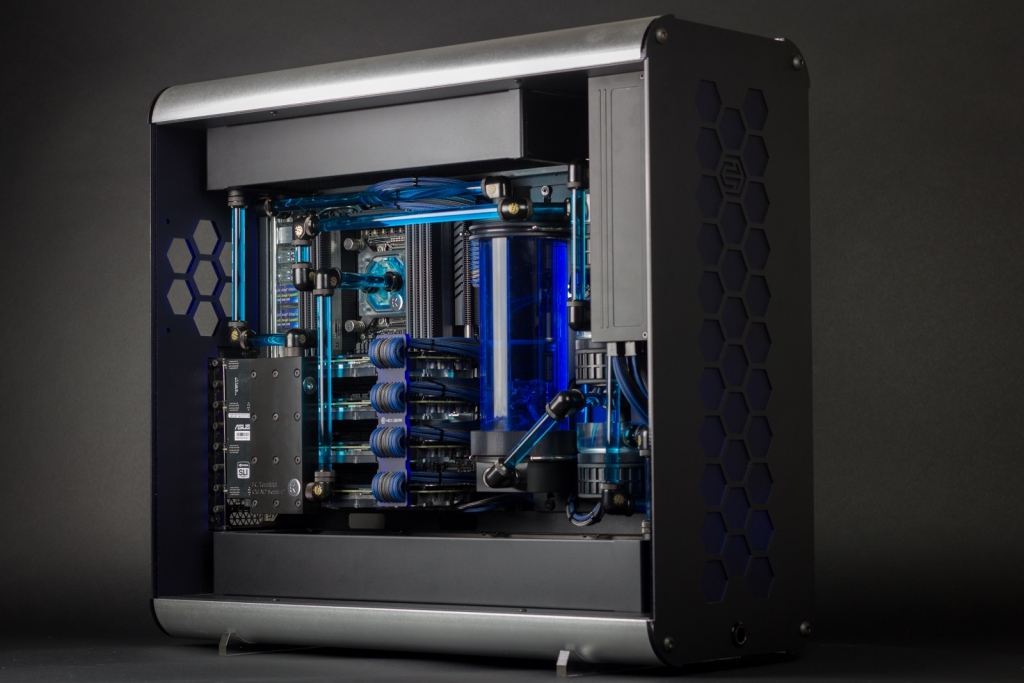 Project Rhino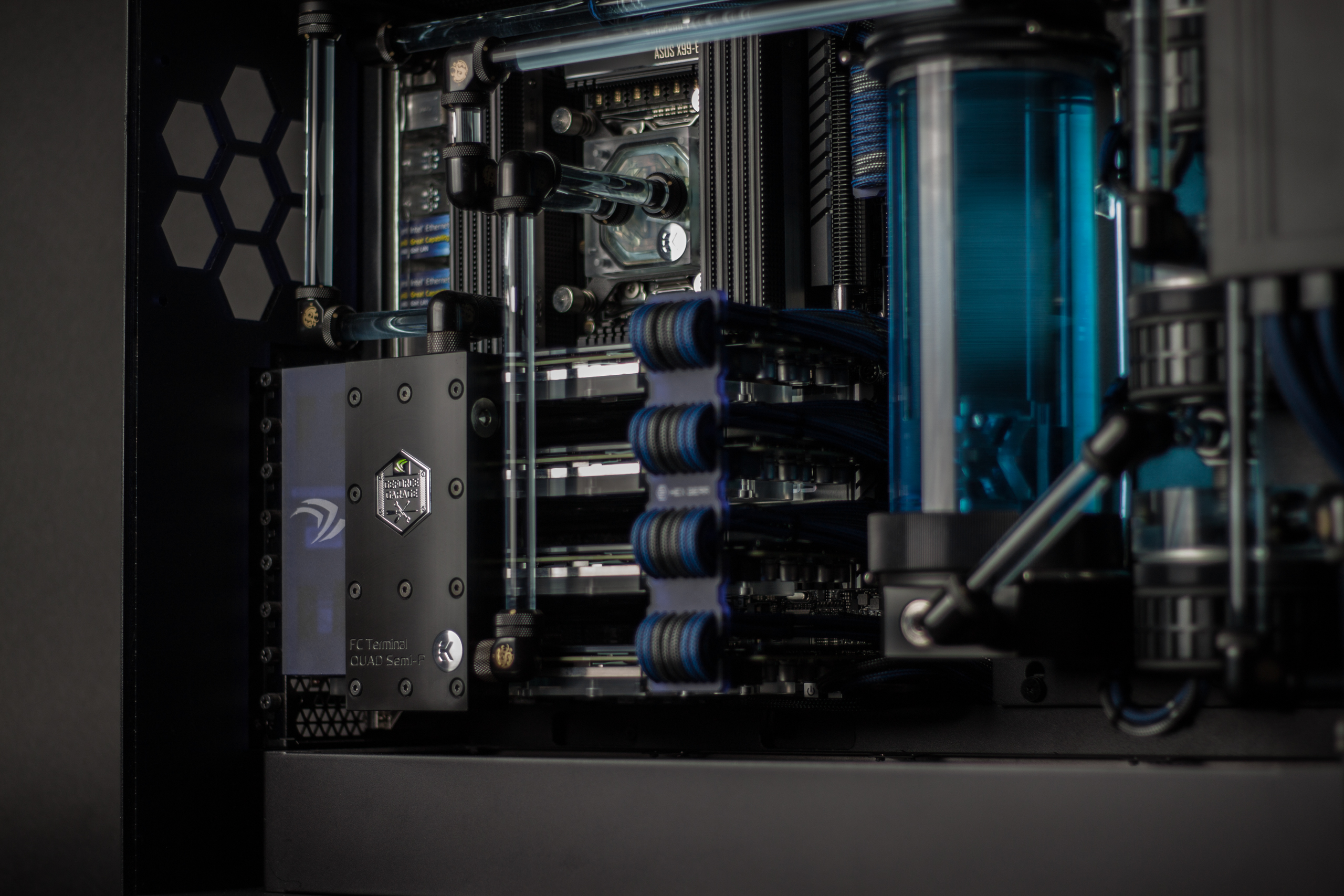 When did you first get into computers?
I think I was around 15 years old. My parents had a super slow desktop that I tried installing some games on, but quickly learned that it was not exactly built to handle the games I wanted to play, such as Command & Conquer and Need For Speed. I then used most of my savings on my very first PC. It came with a GeForce 4 Ti 4200 pre-installed, along with an Intel Celeron CPU and (seemingly) unlimited hard drive capacity at a whopping 80GB.
Was this also your first first mod?
Yes, I had only owned it for a very short time before I started drilling holes in the side panel. I also added a few extra fans with LED's. Then things just escalated from there. After poking a few holes in the side panel, which formed the shape of a skull, (it was cool back then, trust me!) I wanted to add something that suited the skull theme. In my mind, that meant lots of tribal-inspired aesthetics. I managed to saw a piece of acrylic into the shape I wanted. I then printed out a tribal pattern and stuck it onto the acrylic so that I could paint around it.
The end result for a first timer, was about what you would expect. I had no idea what I was doing, but the hands-on experience was priceless. It taught me the very important lesson of "learning by doing", and that things are rarely perfect the first time around.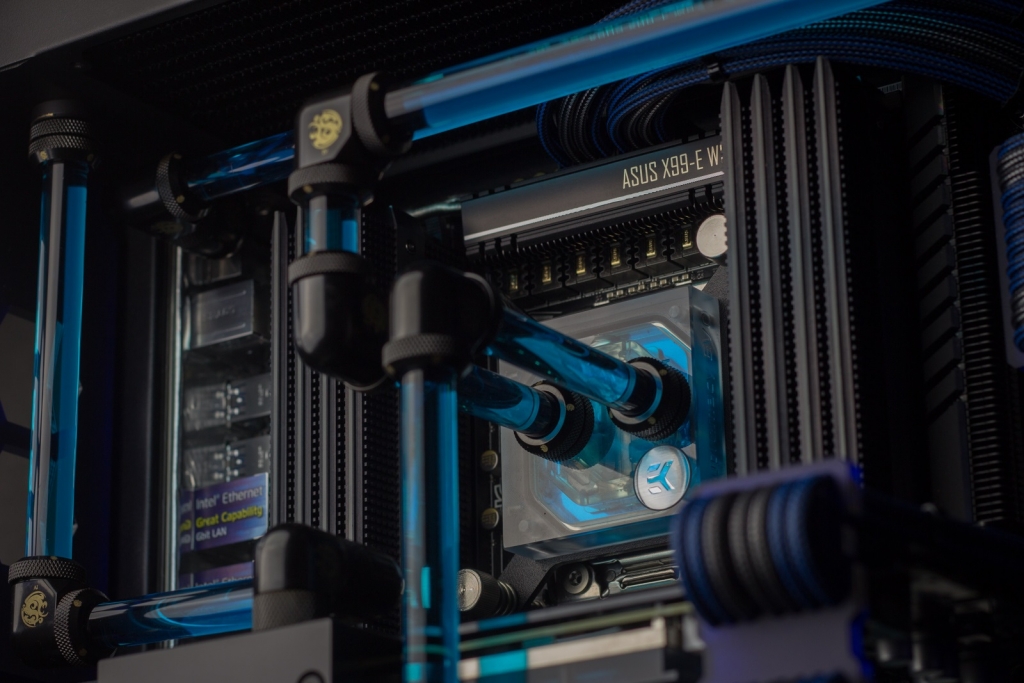 What else have you learned from your many years of modding? Any new sets of skills or technique that you are glad you've learned?
That is a really hard question as most of my skills are used for modding in some way. I do think that modding really started my interest for 3D modeling and manufacturing as a whole. I started out by learning 3D programs such as Google Sketchup, but later moved on to more advanced programs such as Cinema 4D, Inventor and SOLIDWORKS as the parts I made got more complicated. Learning how to draw in both 2D and 3D, as well as understanding what is possible to actually make, has helped me so much. I have also been able to use these skills in other areas, besides case modding. For example, I also designed and 3D printed my own quadcopter/drone from the ground up to suit exactly the specs I needed for it.
You've selected the R80 for this build, which is basically the R40's newer bigger sibling. Any other major differences?
More space is the main feature. Yet it is still not as big as many other "extreme" PC cases, which was also the idea. This build was actually done to prove that you do not need a PC case the size of a small car to house some of the most powerful hardware available, and still be able to cool it all efficiently. Even with all graphic cards and the CPU overclocked, the radiators in the case are enough to keep it cool at a low noise level.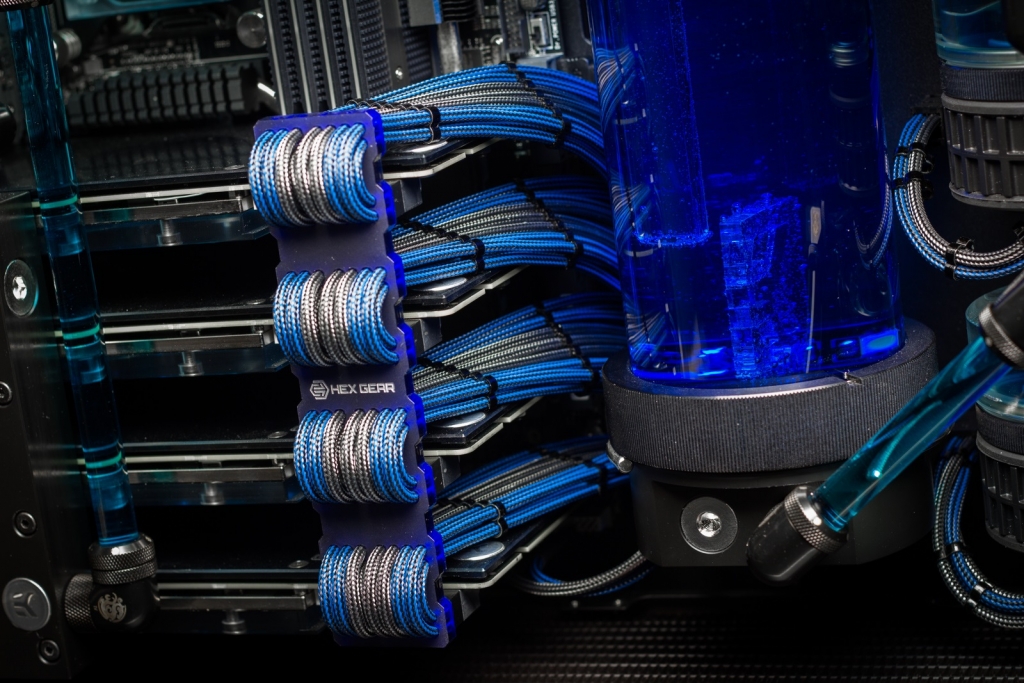 What else makes the Rhino special vs the NVIDIA R40 that you made for us or even your own R40 Engineering rig?
The sheer brutality of it. The Nvidia R40 and the Engineering station were built with efficiency in mind--making "small" rigs that were as powerful as most full size enthusiast rigs. Rhino, however was built with one purpose, to be extreme. It might not make much sense for 99.9% percent of users. It just goes to show just how much you can put into a case if you utilize the space properly, and how clean you can make it look without spending a small fortune on custom parts.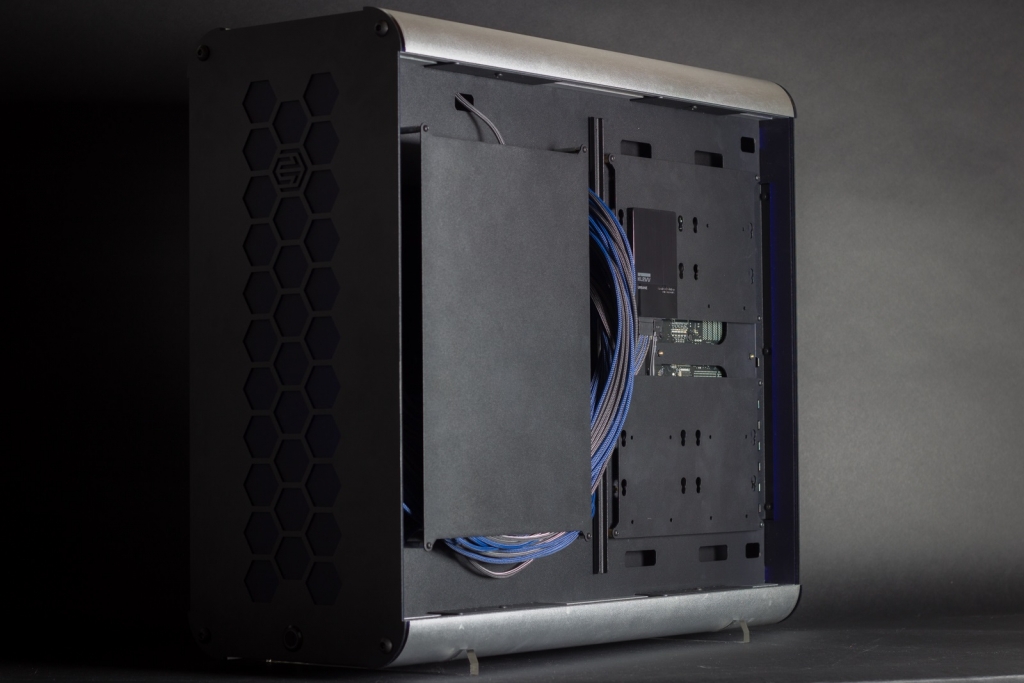 Why do you still DIY?
Simply because I still enjoy it. I could easily cut my build time down considerably if I bought pre-made gear such as sleeved cable extenders and by "hiding the ugly parts" of the builds. But I really enjoy being able to show off each and every corner of a build and be proud of it--even the traditionally "messy" backside. In my opinion a build or casemod is only as pretty as its ugliest side. That is the main reason I still do almost everything myself. Then I can get it exactly how I want it, and always learn how to improve in the process.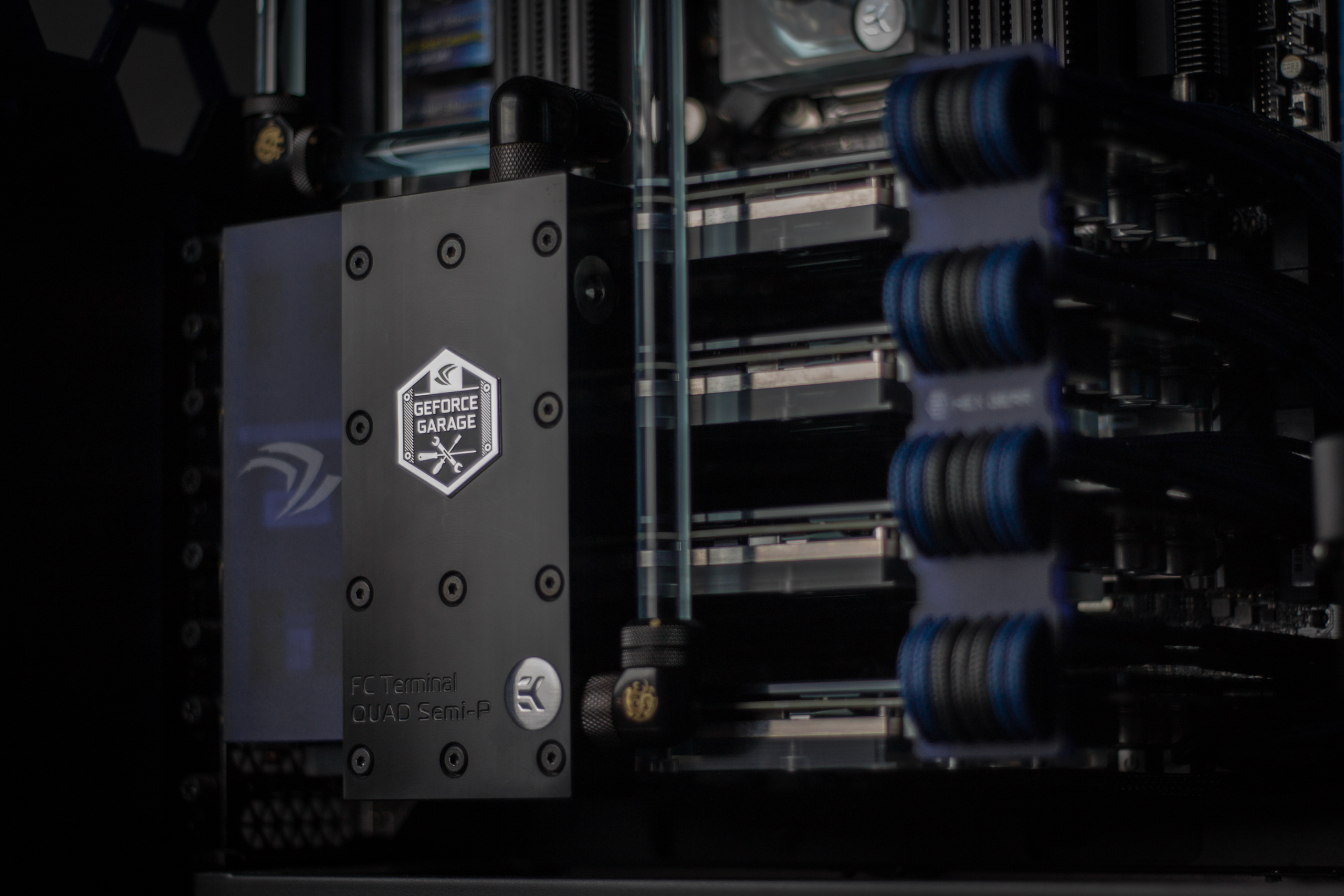 Share your gaming rig on Instagram and Twitter with #YIDIY and you may be featured next.