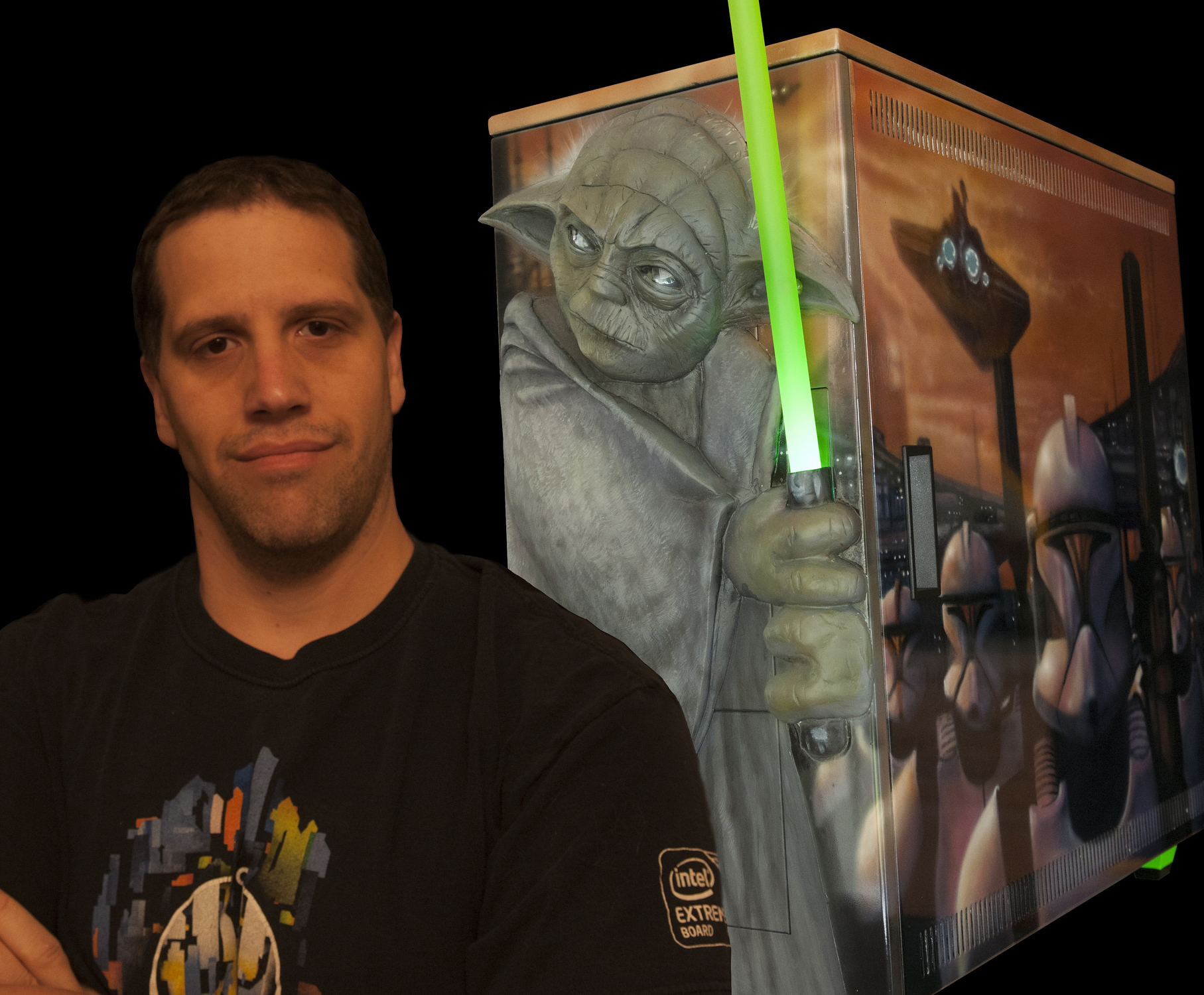 As we continue our spotlight of killer mod builds, and the creative geniuses who craft them, we turn our focus toward May the Fourth and an appropriate work of art. Featured modder Jon "Pennywise" Hansz is on deck with his Yoda Build, themed after the all-too famous diminutive Jedi Master from the Star Wars franchise. Hansz returns to the Geforce Garage after being featured in both our step-by-step hand-lacing guide and our PDXLAN Charity Modding Competition, where he joined forces with Ron Lee Christianson to produce a stunning rig based on The Witcher game series replete with the iconic wolf logo and glowing red eyes to top off that menacing look.
---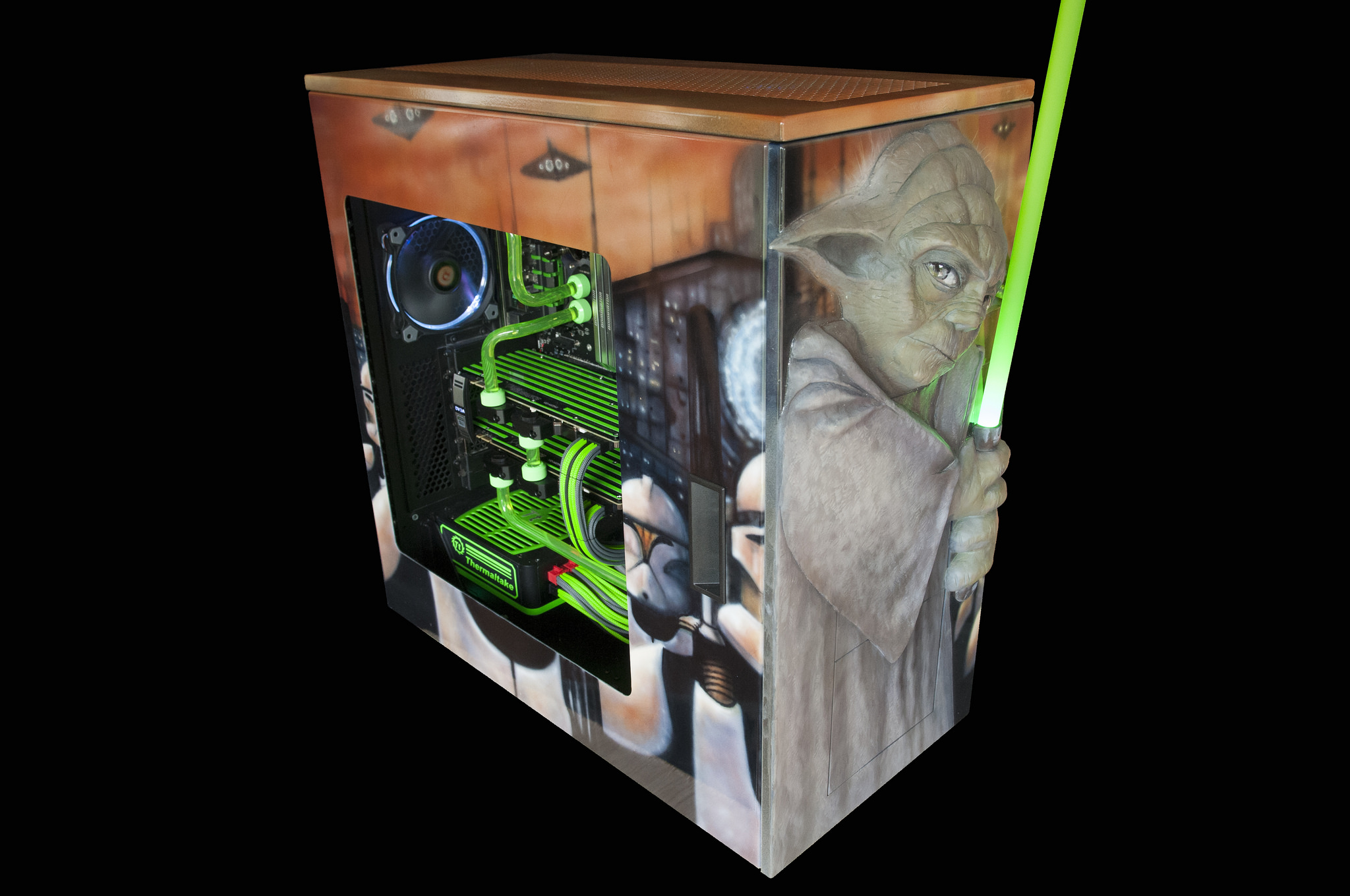 Yoda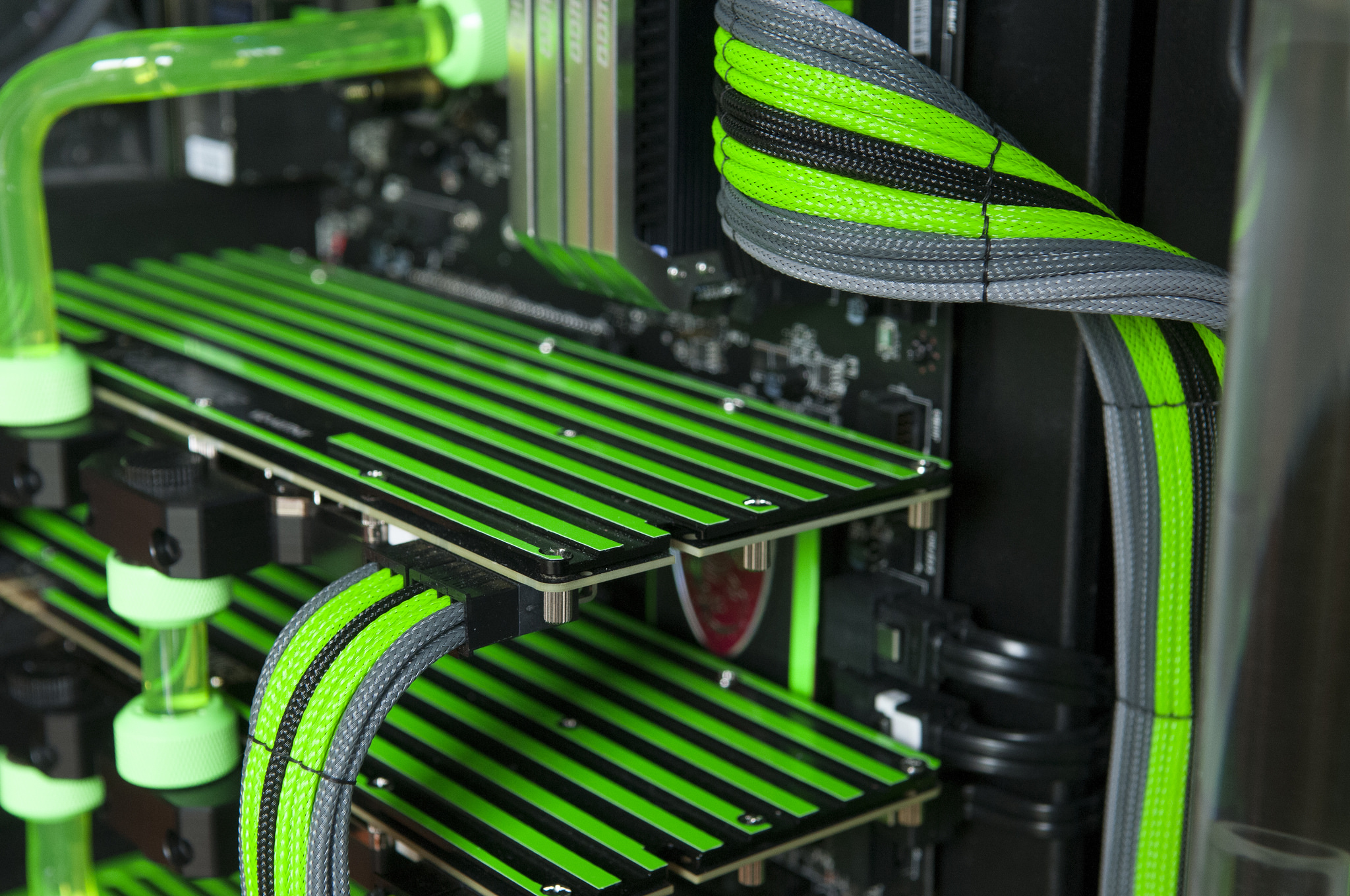 Thanks for joining us, Jon. Can you tell us when or how you first got into modding?
It started as something out of necessity, and turned into something more. I really started modding computers about 6 years ago when it was time for me to build another computer. I wanted it to be more of a piece of art work, something that I could apply my skills both as an artist and an electrician. So I created Epidemic.
Having an applicable skillset definitely helps when you're ready to dive in. Yet even before this stage, where do you get your inspiration from?
I enjoy building something that hasn't been done before. What is inspiring is seeing how much in the past few years people have pushed the bar for quality mods. It really is inspiring to see all the unique ideas people have come up with.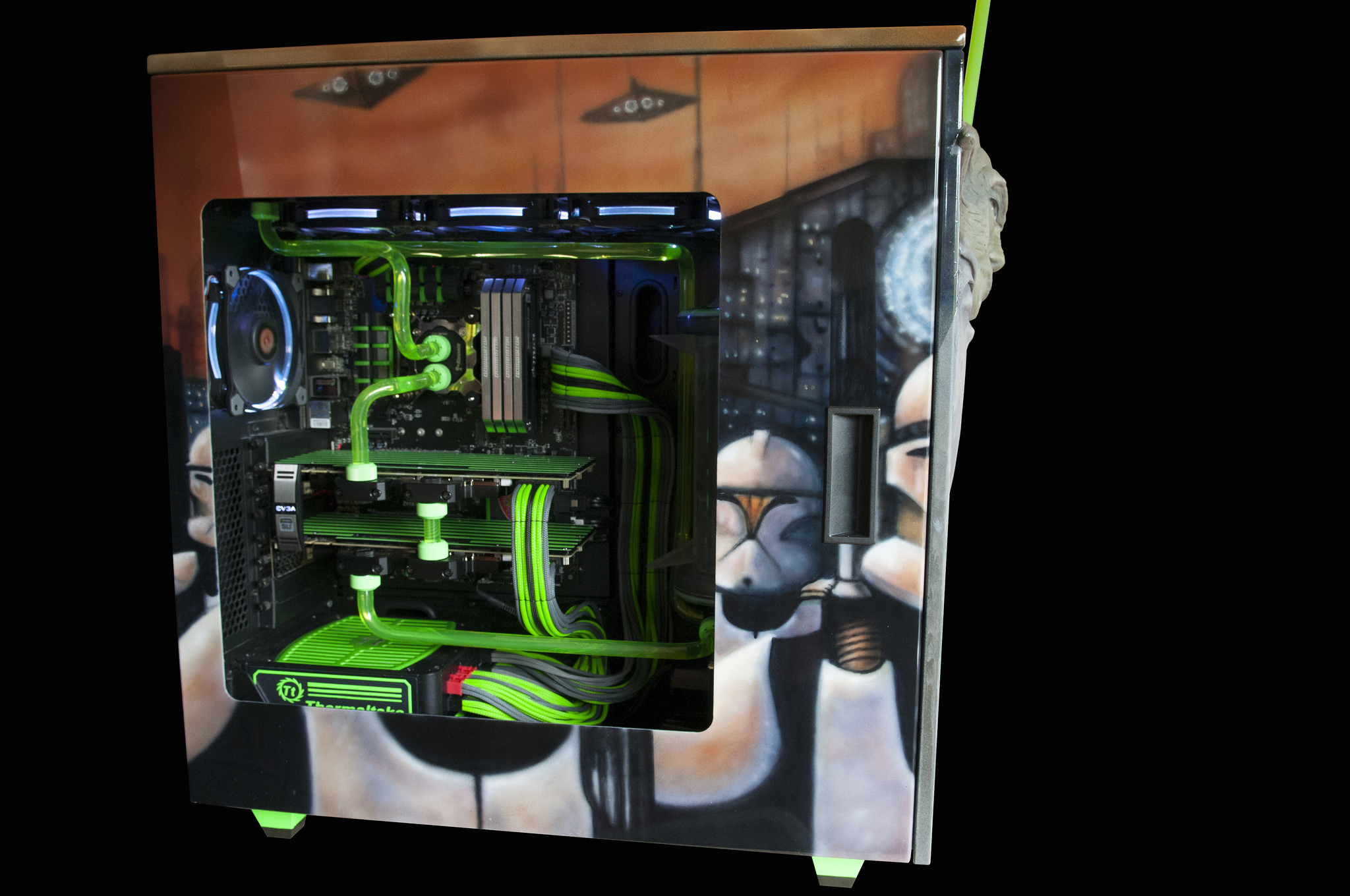 No doubt about that! As you know, we at the GeForce Garage love the modding scene. The level of skill and creativity continues to break new ground. Speaking of which, what new skills have you learned along the way?
As modders we are constantly learning. Not just building mods, but in some cases building tools which are required to build mods. I have a lot of skills that help with my mods. But I would say my favorite was learning how to vacuum form.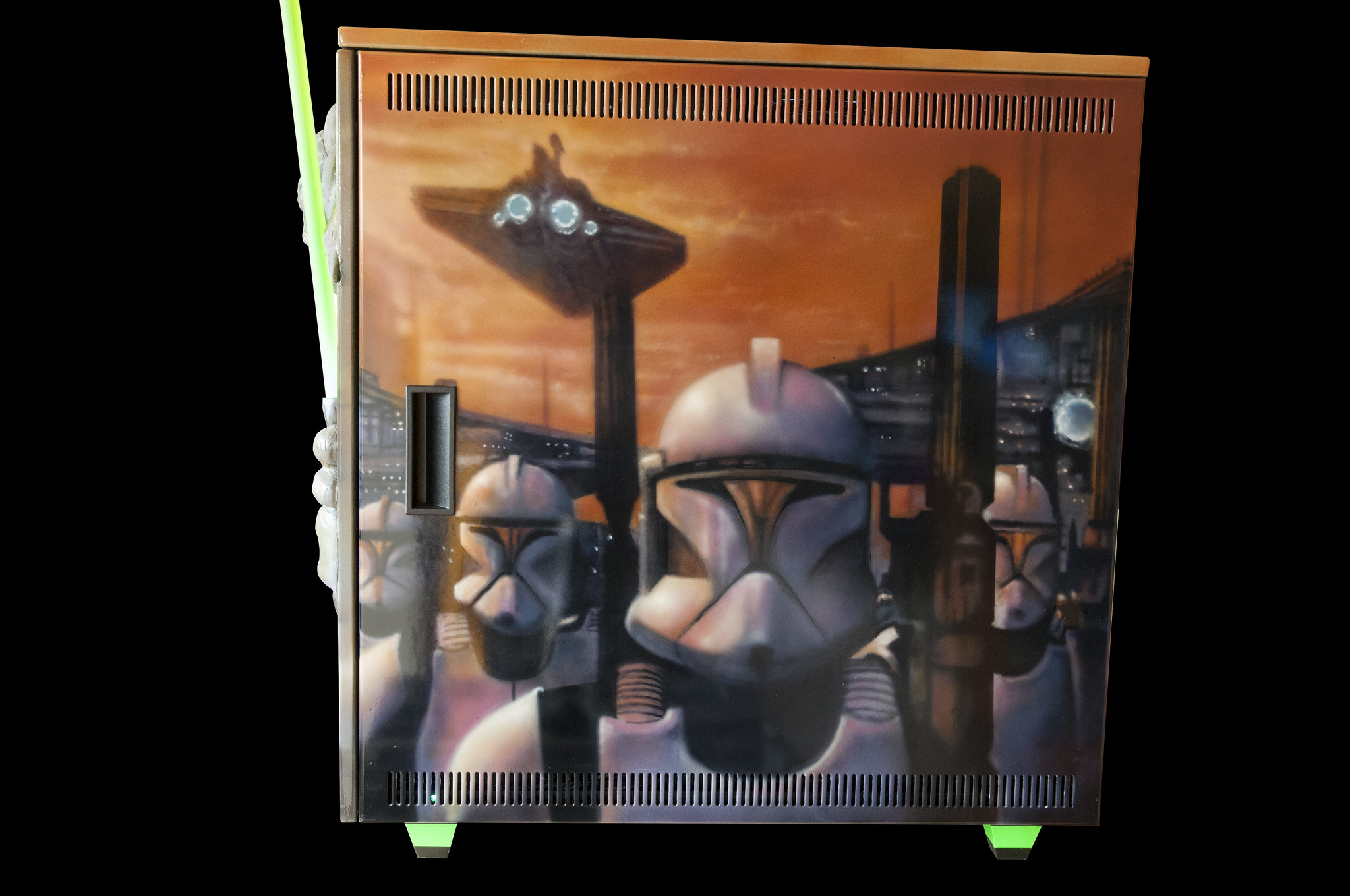 This incredible paint job and airbrushed details were done by the talented Ron Lee Christianson of Blue Horse Studios.
Now, six years later, why do you still do it?
Modding is a way to artistically express my self. I love the fact that we build a piece of art that is also functional.
Tell us more about that. Going over the steps, can you share how you take a general concept to a fully functional piece of art?
So, I'm a little old school when it comes to coming up with a concept. I use transfer tape on the case and hand draw my designs. With the Yoda build. I pulled the front transfer tape off and laid it down and began to sculpt Yoda using clay. I do this to get the general form that I will be using. It doesn't have to be perfect, just the general shape. Then I use my makeshift vacuum former, which is very easy to use.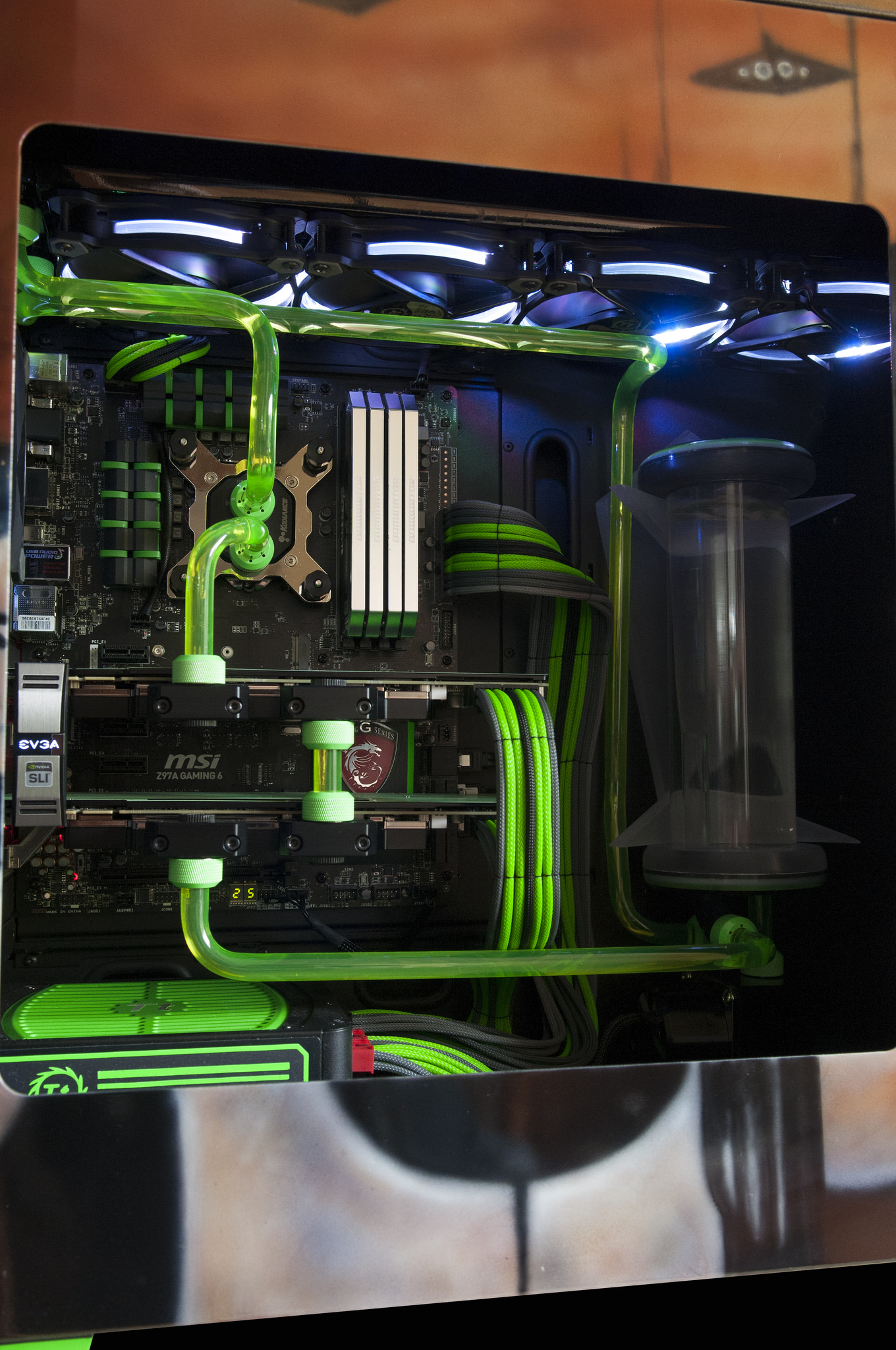 The GeForce Garage badge displayed proudly on Yoda's custom built reservoir.
This is the new skill you picked up while building this mod, correct?
That's right. Taking the clay that I sculpted, I made a vacuum form of it, which is the base of all my detail work. The vacuum form is riveted on and it keeps the front panel light so I don't have to use as much of Magic Sculpt for the details.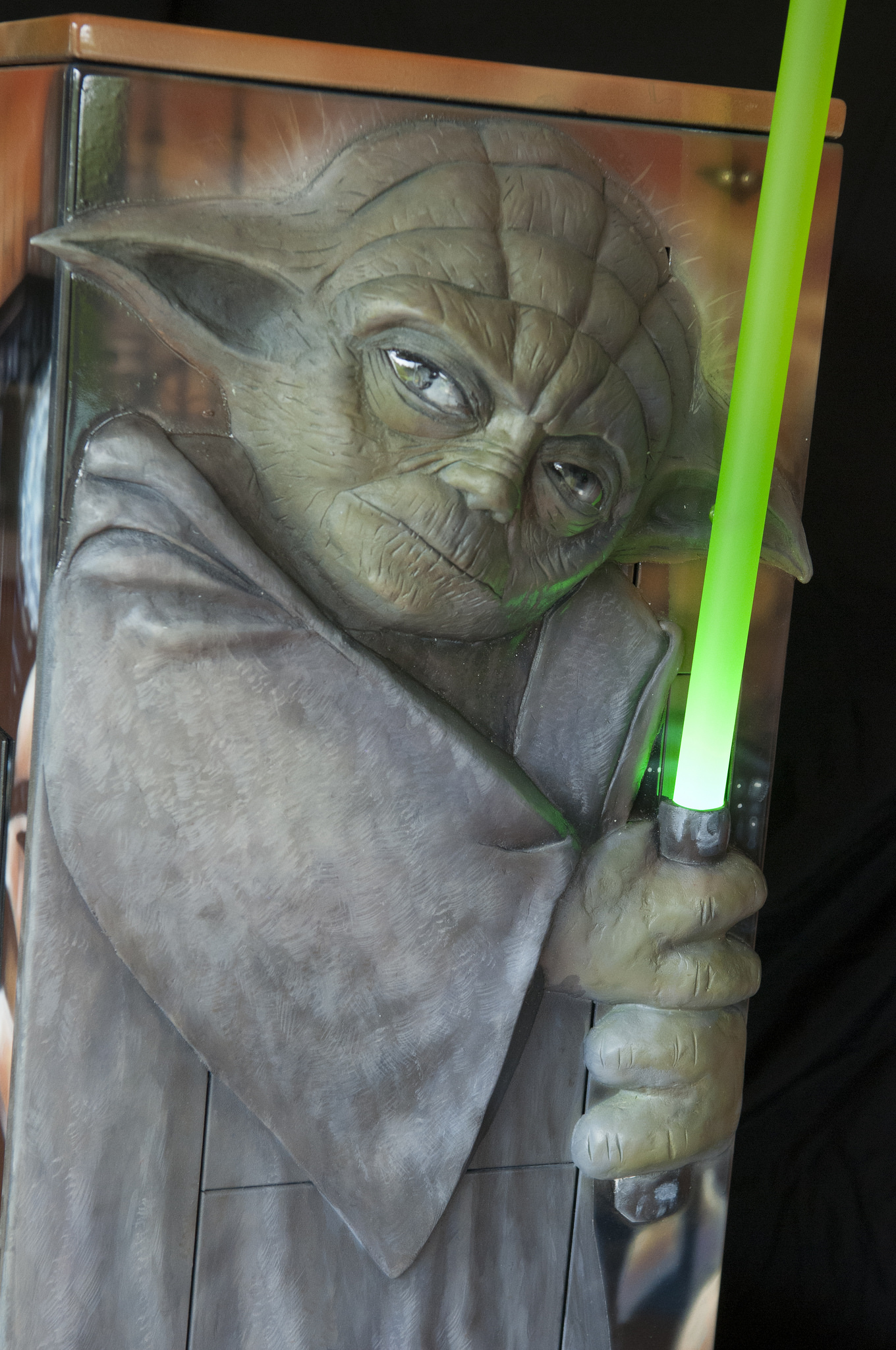 You really nailed the lightsaber! How did you go about recreating this particular Jedi's signature weapon?
I built the light saber out of a half round piece of acrylic and then frosted it. Fitting it into place I built a mount to hold it to the case and a sleeve that the base of it would fit into. I used some pieces of plastic I had left from the vacuum form for the eyes and sculpted the eye around them. I added the LED to the base of the lightsaber to give it a realistic look.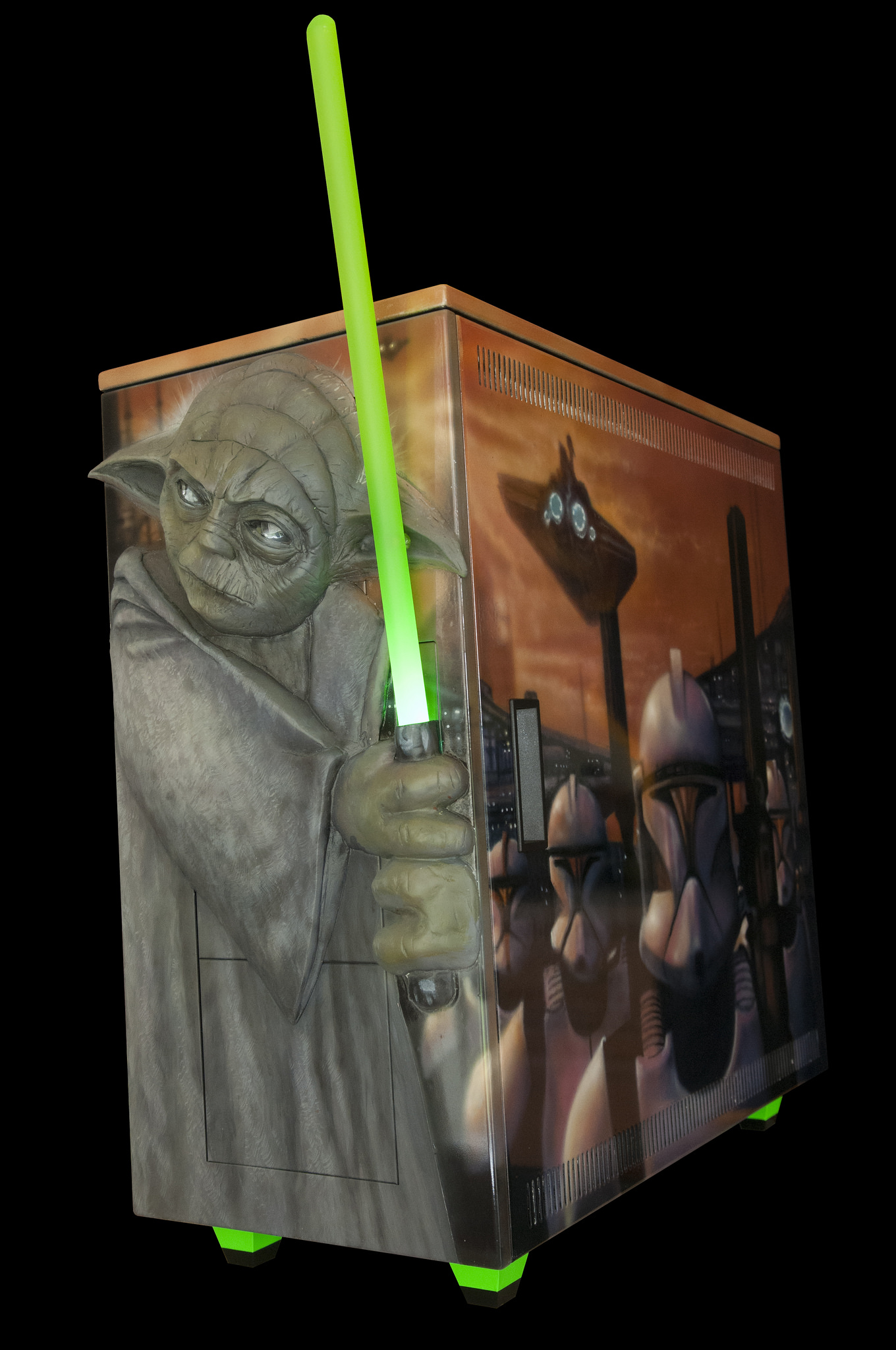 How did you achieve the level of detail for the rest of the Yoda build specifically?
The feet were built out of 3 pieces of acrylic. I glued a clear sheet in the middle of 2 black sheets and cut them out on my chop saw. I sanded them down to 2000 grit and polished them up. To make them look even better I added green vinyl around the clear layer. This makes them look green even when it's off. It also helps displace the light evenly. I also wired in some green led's into the feet to really show them off.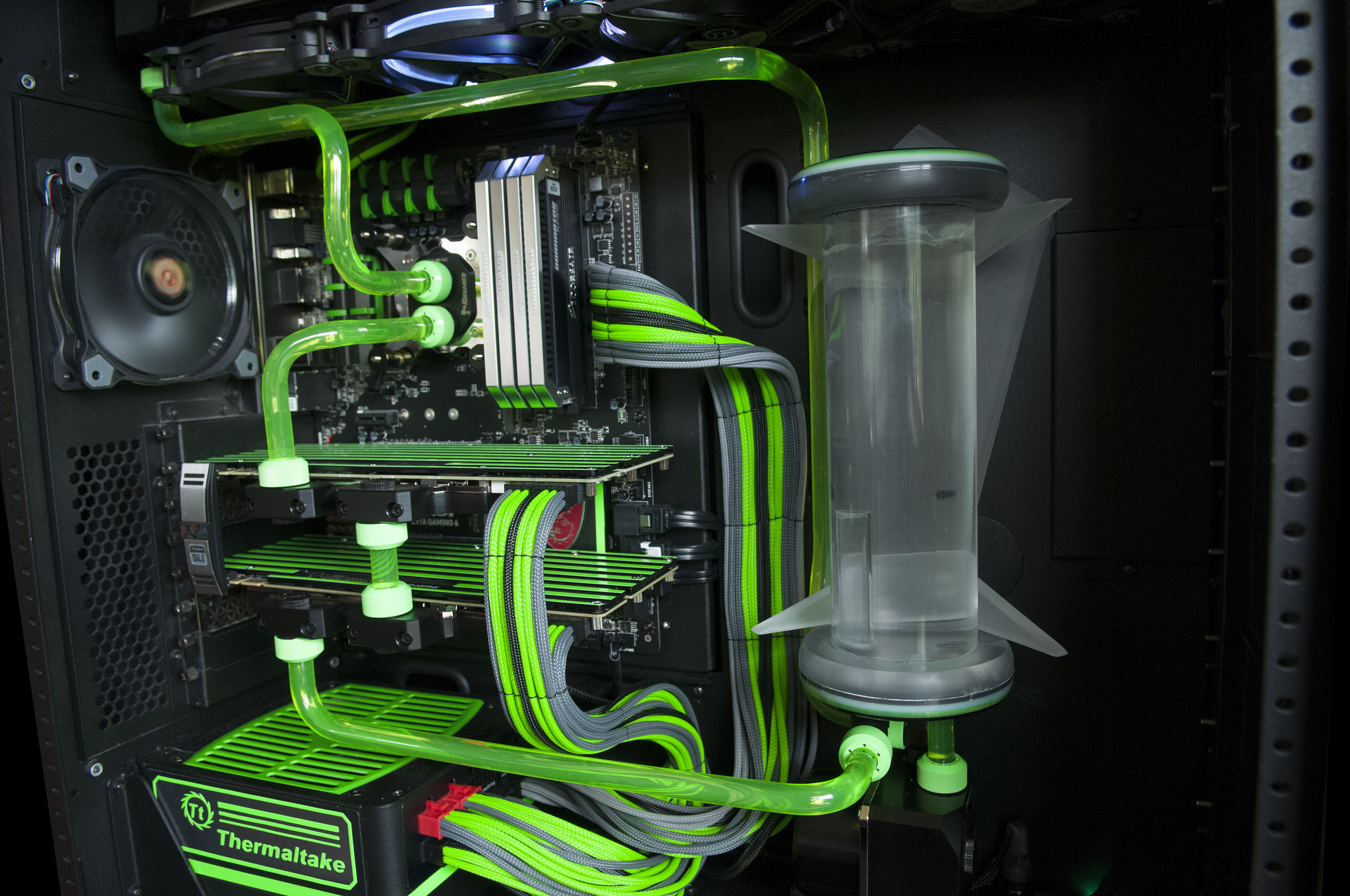 Finally, using my vinyl plotter I re-badged just about everything. I sleeved and hand laced all the cables. All that was left, was to paint the PSU grill and the Mobo heat sinks.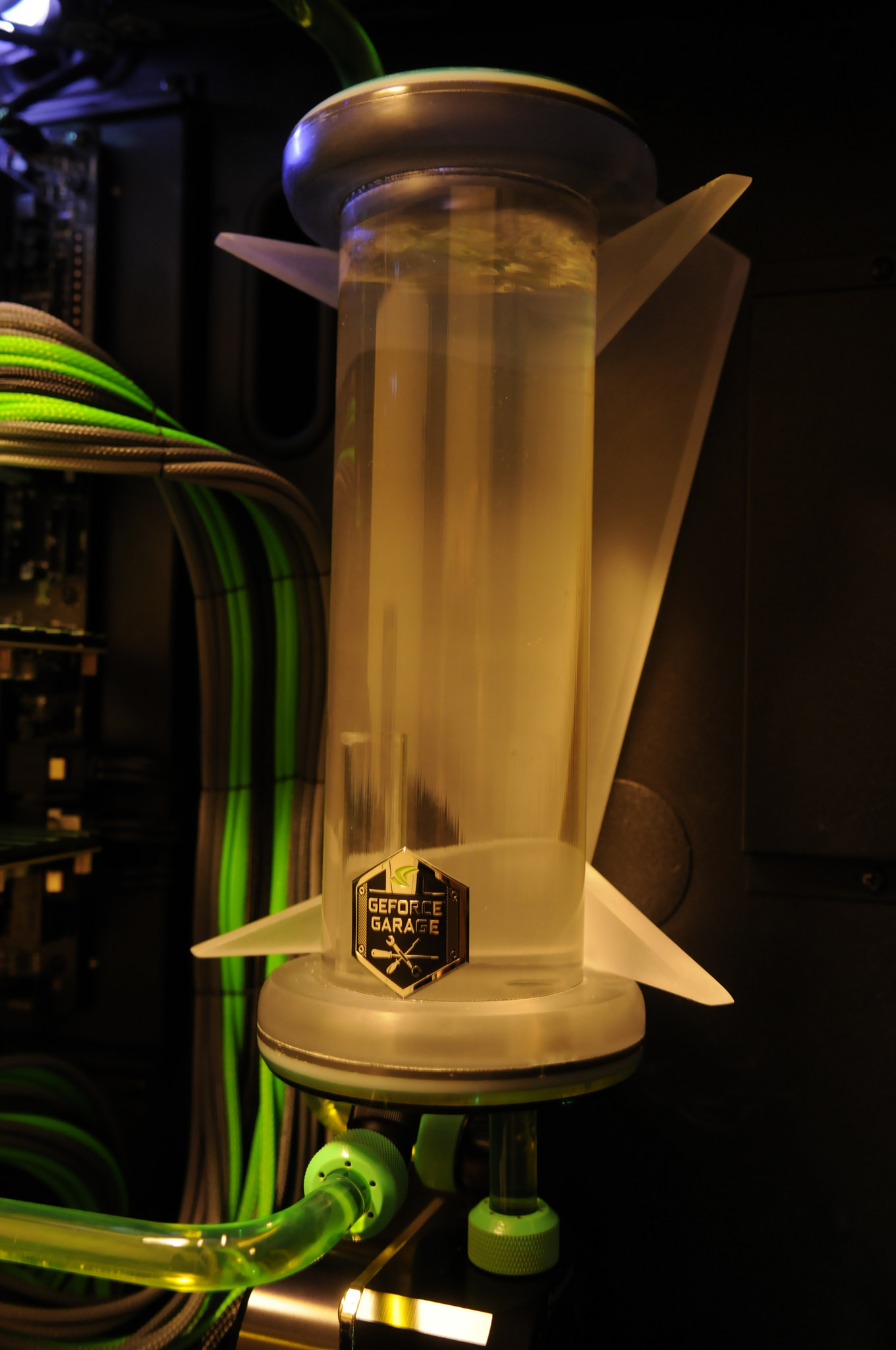 The perfect final touch- the GeForce Garage badge proudly displayed on Yoda's custom-built reservoir.
Share your gaming rig on Instagram and Twitter with #YIDIY and you may be featured next.