NVIDIA Reflex reduces system latency so your actions occur quicker, making gamers more competitive in multiplayer matches, and making single-player titles more responsive.
At CES 2023, Reflex gets even better with new game support, 1440p 360Hz displays with Reflex Analyzer, and a new 240Hz Reflex gaming mode on GeForce NOW.
NVIDIA Reflex Available Now In Even More Games
Over 50 released games support NVIDIA Reflex, enabling GeForce players to reduce system latency by up to 50%, for the most responsive gaming experience possible on any platform. We're very excited to announce that NVIDIA Reflex will be coming to the highly anticipated Party Animals from Recreate Games and Source Technology. Fight your friends as puppies, kittens and other fuzzy creatures with improved responsiveness.
Reflex has also been added to even more blockbuster games:
In each title, enter the video options and enable NVIDIA Reflex to reduce system latency on your system. For even lower latency, select "On + Boost", and optimize other parts of your system to further reduce system latency.
NVIDIA Reflex Comes To GeForce NOW
GeForce NOW is NVIDIA's cloud gaming service, which makes high-performance gaming accessible to billions of gamers. With over 25 million members, more than 1,500 games including over 100 free-to-play titles, and 30 data centers that reach over 100 countries, GeForce NOW gives PC gamers everywhere the power to stream across all their devices with the latest GeForce RTX technology.
In the near future, GPUs based on the NVIDIA Ada Lovelace architecture are coming to GeForce NOW. GeForce RTX 4080-performance will be available in our new Ultimate membership, which delivers the biggest generational leap in cloud gaming — a 4x boost in performance with the highest resolutions and frame rates from the cloud, beautifully ray-traced experiences thanks to the magic of DLSS 3 powered by AI, and immersive, high-performance gaming from the first cloud gaming solution with support for ultrawide monitors.
For competitive gamers, we are also bringing NVIDIA Reflex to GeForce NOW, streaming games at 240 FPS. Combined with Reflex, gamers playing on GeForce RTX 4080 SuperPODs can achieve click-to-pixel latency below 40ms, a first in cloud gaming. That's about half the latency of a console game played natively in your home. See the difference for yourself in the video below, and go hands-on when GeForce RTX 4080 SuperPODs launch in the near future.
1440p, The New Competitive Standard
GeForce RTX 40 Series GPUs power 1440p gaming at ultra-high FPS, delivering the responsive, precisive experience that competitive gamers demand. Together with next generation 1440p 360Hz G-SYNC with Reflex displays, competitive gamers can now play at 1440p without compromise. 1440p gaming on RTX 40 Series gives players increased image fidelity and improved motion clarity without trading off refresh rate or responsiveness.
Compared to 1080p, 1440p competitive play will level up your game, as you can see in this video:
Better Esports Image Quality
Esports Image Quality isn't just about turning settings down to low - it's about creating a crystal clear image with minimal distractions. In battle royale games like Apex Legends, spotting targets at a distance can be a challenge at 1080p due to the lower resolution and smaller screen sizes. At 1080p, targets look aliased or pixelated making them hard to aim at.
Upping output resolution to 1440p, gamers will experience improvements to visibility and clarity, making enemies easier to identify and attack. Check out a comparison below.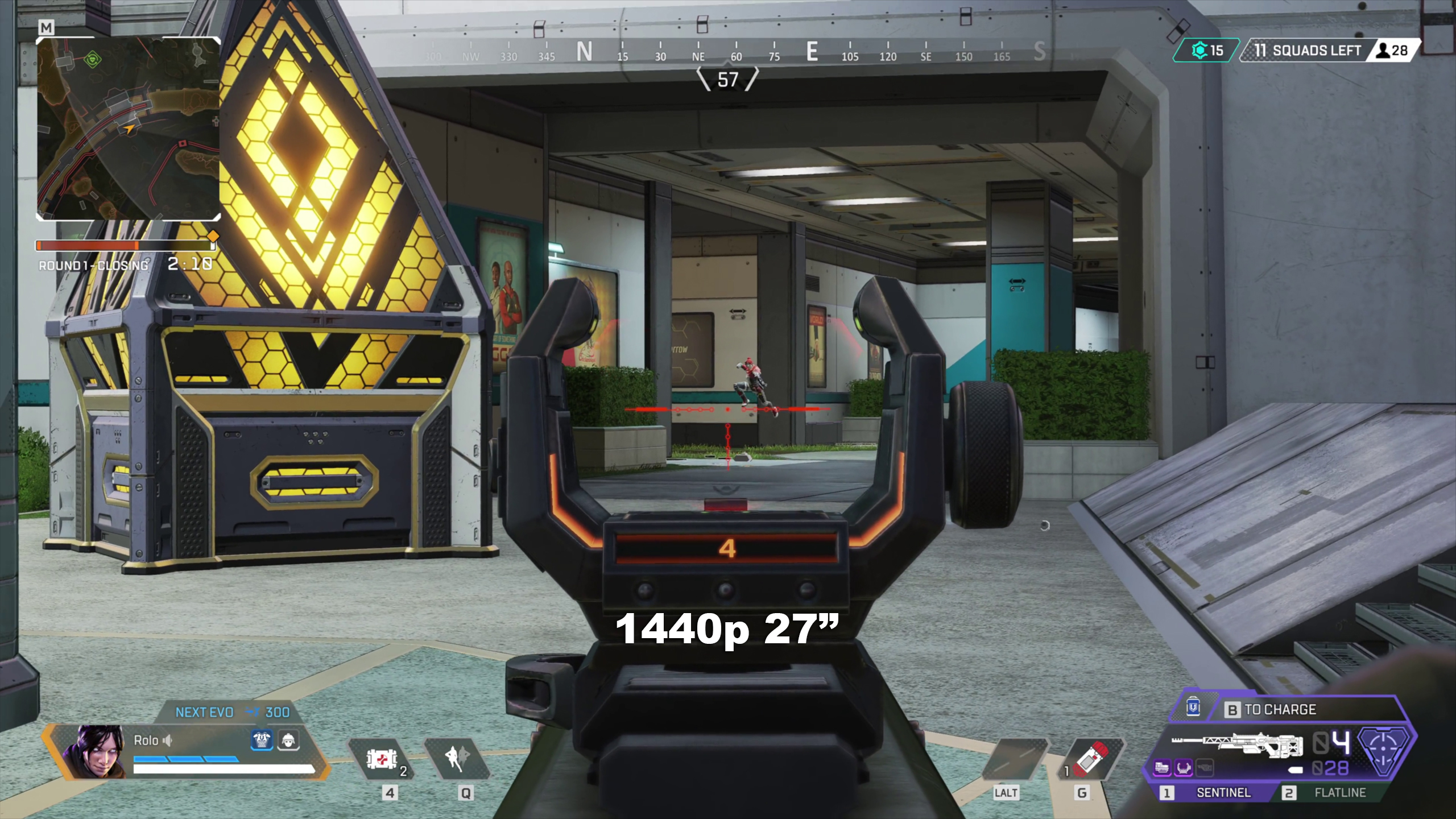 Better Aiming At 1440p
Earlier this year, our scientists in the NVIDIA Esports Research lab studied aiming performance at 1080p 25" vs. 1440p 27" on small targets. Turns out that there is a 3% improvement in aiming performance at 1440p.
For competitive gamers, 3% improvement is huge, and can mean the difference between victory and defeat. To put that in perspective, the win rate difference between all agents in Valorant is about 4%.
Same Low Latency As 1080p
GeForce RTX 40 Series GPUs are beyond fast and often hit competitive games' built-in FPS cap, even at 1440p. When this happens, in games like Overwatch 2, Rainbow Six Siege and Valorant, the total end to end system latency of 1440p is the same as 1080p, giving gamers the benefits of 1440p image quality without the latency tradeoff.
Also, at 360Hz, the display latency between 1440p and 1080p is the same - as long as your system can power high frame rates, 1440p will feel just like 1080p.
New 1440p 360 Hz Displays Now Available
The new standard for competitive displays is 1440p 360Hz packed with esports-ready features like NVIDIA Reflex, dual driver IPS panels, native G-SYNC modules, G-SYNC esports mode latency optimizations, and optional Ultra Low Motion Blur modes. Previously announced ASUS ROG Swift 360Hz PG27AQN is now available.
At CES, we announced two new 1440p 360 Hz esports displays: the Acer Predator XB273U F is now available and the upcoming AOC AGON PRO AG276QSG.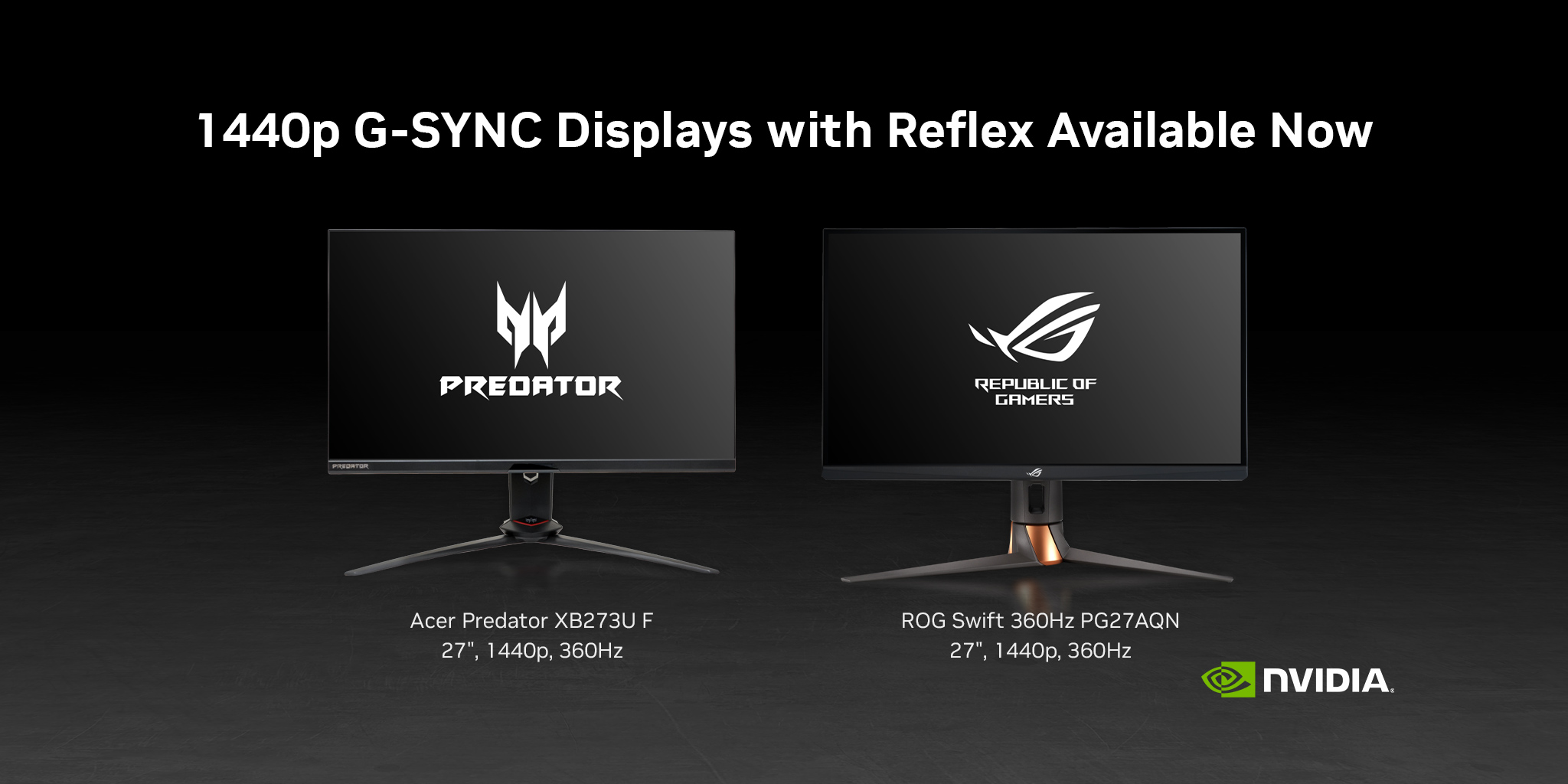 More G-SYNC Gaming Monitors With Reflex
At CES, our partners announced the new Alienware 500Hz Gaming Monitor (AW2524H) 24.5" 1080p NVIDIA G-SYNC display with Reflex which joins the ASUS ROG Swift Pro PG248QP 540Hz 24" 1080p G-SYNC display with Reflex. They are great for games like Counter-Strike: Global Offensive, VALORANT, and Rocket League that have an uncapped frame rate.
More To Come
Even more NVIDIA Reflex games, monitors, and mice are on the way, so stay tuned to GeForce.com to see the news when it drops. Check out the complete list of currently supported games and devices on our NVIDIA Reflex website. And head to GeForce.com to read about our newest RTX games and hardware announcements.