New GeForce 7800 GS AGP Brings the Award-Winning GeForce 7 Series Graphics Architecture to the Huge Installed Base of AGP-Equipped PCs
For further information, contact:
Brian Burke
NVIDIA Corporation
(512) 401-4385
bburke@nvidia.com
FOR IMMEDIATE RELEASE: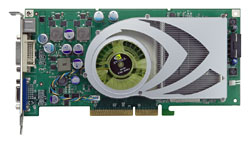 SANTA CLARA, CA—FEBRUARY 2, 2006—NVIDIA Corporation (Nasdaq: NVDA), the worldwide leader in programmable graphics processor technologies, today announced the new NVIDIA® GeForce 7800 GS graphics processing unit (GPU) for AGP-based systems. Boasting the feature set of the award-winning GeForce 7800 GPUs, the new GeForce 7800 GS GPU features advanced technologies including:
Support for Microsoft® DirectX® 9.0 Shader Model 3.0 and high dynamic-range (HDR) rendering for advanced lighting effects, as well as transparency adaptive antialiasing—to deliver ultra-realistic visual quality in the latest games.



The third-generation NVIDIA architecture optimized for Microsoft® Windows Vista™—designed to give users the best possible experience with the 3D graphical user interface in the upcoming operating system (OS)



NVIDIA PureVideo™ technology—the combination of high-definition video processors and software delivers unprecedented picture clarity, smooth video, accurate color, and precise image scaling for the playback of video content.
"Customers with fast AGP systems are an ideal target market for an upgrade to a powerful graphics processor such as the GeForce 7800 GS AGP," said Howard Tong, vice president at Newegg.com. "We are thrilled to have this product, because quite frankly, a GeForce 7800 GPU on an AGP-based add-in card is what a lot of gamers have been asking for."
NVIDIA GeForce 7800 GS AGP-based graphics cards will be available for purchase at Best Buy stores and on www.bestbuy.com, as well as at CompUSA stores on Sunday, February 5, 2006 in North America. Worldwide availability from leading e-tailers such as Newegg.com, TigerDirect.com, and ZipZoomFly.com will be on the following day. Some of the world's leading add-in card partners will be offering graphics cards based on NVIDIA GeForce 7800 GS AGP GPUs, including AOpen, Asus, BFG Technologies, Club 3D, EVGA Corporation, Gainward, Galaxy, Gigabyte, Innovision, Leadtek, Pine, PNY Technologies, Point of View, Sparkle, and XFX.
"GeForce 7800 GPUs are widely considered the pinnacle of graphics performance for PC gaming enthusiasts, and today's product introduction will allow a lot of extremely powerful AGP systems to benefit from upgrading to the GeForce 7 Series architecture," said Ujesh Desai, general manager of desktop GPUs at NVIDIA. "PC gaming enthusiasts with tricked-out AGP systems have a lot invested in their computers so the new GeForce 7800 GS AGP GPU will allow them to extend the life of their systems, and keep their PCs on the bleeding edge."
For further information on the GeForce 7800 GS, please visit //www.nvidia.com.
About NVIDIA
NVIDIA Corporation is the worldwide leader in programmable graphics processor technologies. The Company creates innovative, industry-changing products for computing, consumer electronics, and mobile devices. NVIDIA is headquartered in Santa Clara, CA and has offices throughout Asia, Europe, and the Americas. For more information, visit www.nvidia.com.
Certain statements in this press release including, but not limited to the benefits, capabilities, performance and features of the NVIDIA GeForce 7800 GS AGP GPU, use of the GeForce 7800 GS AGP GPU with Microsoft's next generation operating system, and the availability and sources of availability of the GeForce 7800 GS AGP GPU are forward-looking statements that are subject to risks and uncertainties that could cause results to be materially different than expectations. Such risks and uncertainties include, but are not limited to, unexpected changes in Microsoft's next generation operating system prior to its launch, developments of new products and technologies by competitors, software bugs, manufacturing defects, delays in manufacturing or delivery of products, delays in ramping new products into production, unexpected incompatibility of products and technologies, unpredictable costs associated with the development of new products, continued acceptance and use of new technologies and products, the impact of competitive products and pricing alternatives, changes in industry standards and interfaces, and other risks detailed from time to time in the NVIDIA reports filed with the Securities and Exchange Commission including its Form 10-Q for the quarter ended October 30, 2005. These forward-looking statements are not guarantees of future performance and speak only as of the date hereof. NVIDIA disclaims any obligation to update these forward-looking statements.

###
Copyright© 2016 NVIDIA Corporation. All rights reserved. All company and/or product names may be trade names, trademarks, and/or registered trademarks of the respective owners with which they are associated. Features, pricing, availability, and specifications are subject to change without notice.
Note to editors: If you are interested in viewing additional information on NVIDIA, please visit the NVIDIA Press Room at
http://www.nvidia.com/page/press_room.html