Enhanced Dual-Link DVI and Stereo Support Target High-End CAD, DCC and Scientific Visualization Customers
For further information, contact:
Kelly Dove
NVIDIA Corporation
(512) 401-4514
kdove@nvidia.com
FOR IMMEDIATE RELEASE:
SANTA CLARA, CA—MAY 22, 2006—NVIDIA Corporation (Nasdaq: NVDA), the worldwide leader in programmable graphics processor technologies, today announced NVIDIA Quadro FX 3500 professional graphics has been selected as the standard high-end solution in the Dell Precision™ 380 workstation. This latest addition to the graphics options brings a new level of price performance with features like two dual-link DVI connectors and stereo support to professional CAD, DCC and scientific visualization applications.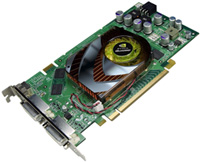 "The Dell Precision 380 is a very flexible workstation solution for professionals, offering an extensive range of configuration options," said Jeff Brown, general manager for NVIDIA professional products. "The NVIDIA Quadro FX 3500 solution resets the performance bar for high-end professional graphics and offers the features and ISV certifications Dell workstation customers require."
"Dell's industry leadership and direct business model uniquely position us to be the first to introduce NVIDIA Quadro FX 3500 graphics on desktop workstations, providing our customers with a significant performance upgrade option at a very appealing price point," said Darrel Ward, director, Dell Precision Workstations. "The Dell Precision 380 is designed to offer our customers all the features and certifications of a workstation-class solution and provide options that significantly improve graphics performance in a compelling platform."
The NVIDIA Quadro FX 3500 solution offers 256MB of GDDR3 dedicated video memory and an extremely fast 42.2 GB/second memory bandwidth, which helps deliver outstanding application performance. The two dual-link DVI-I connectors can be used to drive up to two Dell 3007WFP 30-inch UltraSharp Widescreen Flat Panel Monitors, which offer a maximum resolution of 2560 x 1600 (WQXGA) for incredibly sharp and vivid image and video quality.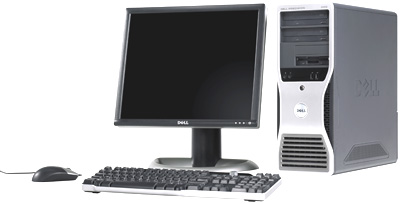 NVIDIA Quadro FX graphics products are available through leading OEMs, including Dell, and through channel partners PNY Technologies (US and EMEA), Leadtek (APAC), and ELSA Japan (Japan). For more information on these and other NVIDIA Quadro products, please visit www.nvidia.com/quadro.
NVIDIA Corporation
NVIDIA Corporation is the worldwide leader in programmable graphics processor technologies. The Company creates innovative, industry-changing products for computing, consumer electronics, and mobile devices. NVIDIA is headquartered in Santa Clara, California and has offices throughout Asia, Europe, and the Americas. For more information, visit www.nvidia.com.
Certain statements in this press release including, but not limited to, the features, benefits, performance and capabilities of NVIDIA Quadro FX 3500 professional graphics and the Dell Precision 380 workstation are forward-looking statements that are subject to risks and uncertainties that could cause results to be materially different than expectations. Such risks and uncertainties include, but are not limited to, delays in ramping new products into production, delays in release of NVIDIA Quadro FX products by OEMs and channel partners, loss in performance or capabilities when our products are incorporated into other products, changes in customer preferences or product uses, manufacturing or software defects, development of new technologies by our competitors, the impact of competitive products and pricing alternatives, and other risks detailed from time to time in the reports NVIDIA files with the Securities and Exchange Commission including its Form 10-K for the fiscal year ended January 29, 2006. These forward-looking statements speak only as of the date hereof. NVIDIA disclaims any obligation to update these forward-looking statements.
###
Copyright© 2016 NVIDIA Corporation. All rights reserved. All company and/or product names may be trade names, trademarks, and/or registered trademarks of the respective owners with which they are associated. Features, pricing, availability, and specifications are subject to change without notice.
Note to editors: If you are interested in viewing additional information on NVIDIA, please visit the NVIDIA Press Room at
http://www.nvidia.com/page/press_room.html