For further information, contact:
Bryan Del Rizzo
NVIDIA Corporation
(408) 486-2772
bdelrizzo@nvidia.com
FOR IMMEDIATE RELEASE:
CES—LAS VEGAS, NV—JANUARY 11, 2007—NVIDIA Corporation (Nasdaq: NVDA), the worldwide leader in programmable graphics processor technologies, today announced that the National Academy of Television Arts and Science has recognized the Company's innovation in graphics processor development with a Technology and Engineering Emmy Award.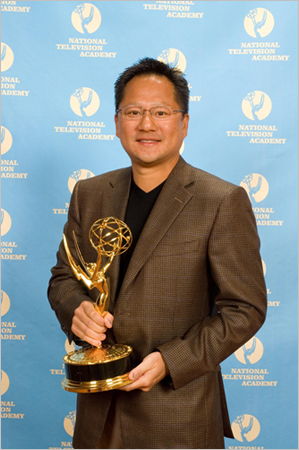 Jen-Hsun Huang, CEO of NVIDIA Corporation Accepts Emmy Award For Pioneering Work in Near and Real-Time Fully Programmable Shading Via Modern Graphics Processors.
© Marc Bryan-Brown Photography
The Emmy for pioneering work in near and real-time fully programmable shading via modern graphics processors, was awarded to NVIDIA at the 58th Annual Technology and Engineering Emmy Awards held Monday night in Las Vegas.
"We are honored by this recognition from the National Academy of Television Arts and Science for our innovations in computer graphics," said Jen-Hsun Huang, president and CEO at NVIDIA, who accepted the Emmy award on NVIDIA's behalf. "We have long believed that computer graphics is one of the most important elements of the digital experience, and will transform the way movies are made, games are played, and information is navigated. This wonderful award is a reflection of the passion and innovation of our employees and how they have revolutionized computer graphics."
NVIDIA graphics processors are the leading technology used in consumer and professional computing markets. Game developers and industry professionals utilize NVIDIA graphics processors to accelerate the content creation pipeline, helping them to deliver content to consumers that can be viewed in high-definition, high-resolution formats. NVIDIA graphics processors are also a key component for performing real-time image rendering in live broadcasts for things such as 3D weather applications, election graphics, character animations, and special effects generation for shows such as Battlestar Galactica.
To view a rebroadcast of the award ceremony, please visit: //www.tvworldwide.com/events/emmys/070108/. For more information on the National Academy of Television Arts and Science, please visit: www.emmyonline.tv.
About NVIDIA
NVIDIA Corporation is the worldwide leader in programmable graphics processor technologies. The Company creates innovative, industry-changing products for computing, consumer electronics, and mobile devices. NVIDIA is headquartered in Santa Clara, CA and has offices throughout Asia, Europe, and the Americas. For more information, visit www.nvidia.com.
Certain statements in this press release including, but not limited to, statements as to the impact and benefits of NVIDIA's products, innovation and technology leadership and the evolution of entertainment mediums are forward-looking statements that are subject to risks and uncertainties that could cause results to be materially different than expectations. Important factors that could cause actual results to differ materially include: difficulties in the development of new and enhanced products; defects in our products or the components of a product; software defects; the impact of technological development and competition; general industry trends; changes in industry standards and interfaces as well as other factors detailed from time to time in the reports NVIDIA files with the Securities and Exchange Commission including its Form 10-Q for the quarter ended October 29, 2006. Copies of reports filed with the SEC are posted on our website and are available from NVIDIA without charge. These forward-looking statements are not guarantees of future performance and speak only as of the date hereof, and, except as required by law, NVIDIA disclaims any obligation to update these forward-looking statements to reflect future events or circumstances.
###
Copyright© 2016 NVIDIA Corporation. All rights reserved. All company and/or product names may be trade names, trademarks, and/or registered trademarks of the respective owners with which they are associated. Features, pricing, availability, and specifications are subject to change without notice.
Note to editors: If you are interested in viewing additional information on NVIDIA, please visit the NVIDIA Press Room at
http://www.nvidia.com/page/press_room.html