Elemental Accelerator for NVIDIA Quadro
Up to 6X Faster Video Encoding
Elemental Accelerator™ is a high-speed, high-quality video processing solution designed to add power and performance to the Adobe® Premiere® Pro CS4 workflow. Coupled with select NVIDIA® Quadro® FX video cards for creative professionals, Elemental Accelerator harnesses the power of the graphics processing unit (GPU) to perform up to 6X faster video encoding and deliver dramatic time savings over conventional CPU-only encoding solutions1.


Elemental Accelerator performs GPU-accelerated conversion of commonly distributed digital video formats to H.264/AVC output ready for upload to the web or burning to Blu-ray disc. Elemental Accelerator also supports high-speed MPEG-2 encoding for DVD or digital broadcast. By executing demanding processing tasks on the Quadro GPU, Elemental Accelerator not only speeds video transcoding, it frees CPU resources to perform other tasks, resulting in a faster, more efficient video editing and production environment. Elemental Accelerator works with a single Quadro solution or, for dramatically faster encoding speeds, can be used with multiple Quadro GPUs.
VIEW DEMO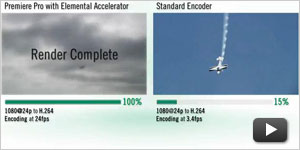 SEE HOW IT WORKS
Watch how easy it is to use the Elemental Accelerator.
SUPPORTED PRODUCTS
1 Performance results based on a 2.13 GHz quad-core Intel Xeon E5506 combined with dual Quadro FX 3800 graphics solutions. Results will vary based upon CPU and GPU combinations.