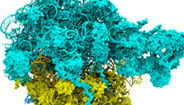 UIUC calculates the interaction of biological molecules and ions with computationally intensive kernels.
With GPU Computing, these molecular simulations are no longer restricted to clusters in server rooms.
The combination of NAMD and NVIDIA GPU Computing solutions is a marriage of cutting-edge research and software development, aimed at harnessing the nation's fastest supercomputers to decipher the tiniest components of living cells. These new computing tools are quickening the pace of drug discovery and other vital research in unraveling biological processes.
For more information, visit: //www.ks.uiuc.edu/

For more information about NVIDIA GPU Computing solutions, visit: www.nvidia.com/tesla