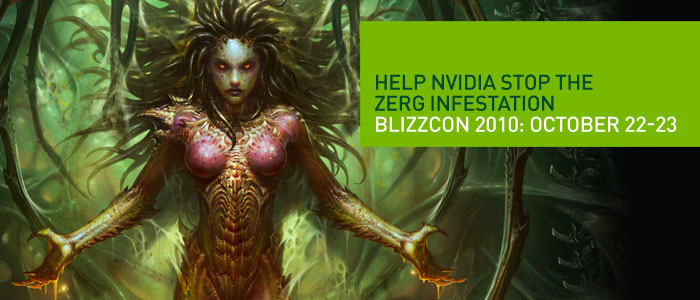 FRIENDS DON'T LET FRIENDS GET ZERGIFIED
Join the cause and help save the galaxy from the Zerg infestation! Today NVIDIA GPUs are at the heart of the world's highest performance supercomputers, helping scientists and researchers find
cures to diseases
and study
virus genomes
. Now at BlizzCon 2010, NVIDIA GPUs will attempt to find a cure for the greatest threat of our time – the Zerg hyper-evolutionary virus! NVIDIA supercomputers will do this by mapping out the Zerg genome using the processing power of NVIDIA GPUs. Come by the NVIDIA booth at BlizzCon 2010 to do your part in preventing the spread of the Zerg virus!
Plus:
Participate in contests to win big prizes.
Get your picture taken in 3D with your favorite StarCraft II characters.
Play StarCraft II and World of Warcraft in 3D and across multiple monitors with NVIDIA® 3D Vision™ and Surround technologies.
See StarCraft II and World of Warcraft on the *world's largest* 3D TV.
And more!
© BlizzCon is a registered trademark of Blizzard Entertainment, Inc.