At the center of NVIDIA's corporate culture are our five core values. These values are willingness to take risks, striving for excellence, intellectual honesty, directness and making a contribution. They apply everywhere we do business and infuse the spirit of our workforce.
We are proud to have a workplace characterized by a lack of politics, respect for each individual's contribution, as well as open and direct person-to-person communication. Our commitment to intellectual honesty means that we can have honest conversations, recognize our mistakes and learn from them.
At the bedrock of our culture is integrity, the expectation that each individual operates at the highest ethical standard, placing the interest of the company first, our colleagues second and ourselves third.
We have a publicly available document, called Our Code, which sets out the standards guiding our professional relationships. It describes the principles that apply to how we act toward customers, competitors, partners, vendors, government regulators, stockholders, fellow employees, as well as the community at large. We believe that these standards have driven our past success and will help determine our future.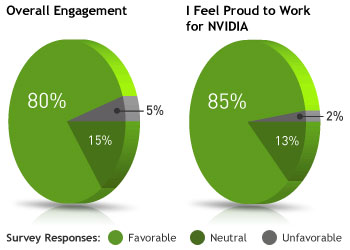 Employee Engagement
To better understand our employees' concerns and discover areas where we can improve, we conduct a global annual employee survey. Our 2009 survey returned a response rate of 91 percent, compared with an industry average of 84 percent.
Among the highest ranking attributes identified in the survey were engagement and motivation. Areas with lower scores include training opportunities and the perceived fairness of pay, the latter perhaps affected by a temporary, across-the-board pay cut made in 2009 related to the company's financial performance amid the recession, which has since been restored.
GIVE US YOUR FEEDBACK
Tell us how we did on our first global citizenship report. Your input can help shape our future priorities. After giving feedback, you can see responses from other stakeholders.