Our employee engagement efforts focus on projects that can have a transformative impact in local communities by creating sustainable change.
CEO Jensen Huang speaking about Project Inspire.
Project Inspire
Project Inspire, NVIDIA's global volunteer initiative, started with the idea that the money typically spent on an office Christmas party would be better spent out in the community. Now, every year, volunteers from NVIDIA's headquarters in Santa Clara get together for a "Party with a Purpose" project that benefits the community.
Learn about the 2009 Santa Clara Project Inspire
As NVIDIA has grown, Project Inspire has branched out from Silicon Valley to other company locations around the globe. Last year, 12 offices had their own activities, up from six the previous year. While the Santa Clara event draws 1,000 volunteers, other offices are significantly smaller and work with their own limitations. Here are a few highlights of 2009's Project Inspire activities in local communities worldwide:
At NVIDIA offices in Taiwan, Beijing, Shenzhen, and Shanghai, employees reached out to local children, showing them that careers in math and science can be fun by taking them on trips to NVIDIA workplaces and science museums.
Our Moscow office benefited a local orphanage through an internal auction site with computer components that employees could purchase and then donate. Employees also built several computers so the children could gain important computer skills.
Employees at U.S. field offices in Austin, Durham, and Fort Collins raised money for local food banks.
Other offices hosted lunchtime potlucks where employees brought food and paid to dine in order to raise additional funds.
Learn more about worldwide Project Inspire activities

2009 Project Inspire in Santa Clara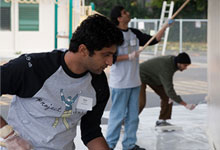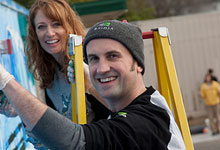 On Dec. 5, 2009, Project Inspire brought roughly 1,000 NVIDIA employees, their families, friends and local community members to the McKinley Elementary School campus in nearby San Jose to revitalize the school and neighboring community center. The McKinley Elementary project provided an opportunity for our employees to get to know our community neighbors, and enabled us to donate money to students who may one day join the technology workforce.
Our efforts were greatly helped by our ecosystem partners Fairmont Hotels and Adobe Systems.
Highlights of our efforts:
Physical improvements, such as construction, painting and landscaping, including the development of an outdoor classroom/community space, thanks to Fairmont Hotels' sponsorship
Donated educational resources such as donated books, computers and $10,000 in grants for classroom technology
Renewed our partnership with Adobe in an effort to teach youth about multimedia production and give them job skills
Highlights of what was learned that we'll use for next year:
It's simpler to donate new computers than to refurbish previously used ones
Reaching out to external stakeholders, such as school districts and neighborhood associations, is essential to making sure all parties are committed to the improvements
Read more about the 2009 Santa Clara Project Inspire on NVIDIA's blog

Strategic Programs
NVIDIA has recently started designing philanthropic programs that relate to our business strategy. With these grants, we're looking to make contributions that:
Use NVIDIA's technology to help solve challenging problems, where computational speed can have a direct impact
Steer children—particularly girls and low-income students—toward careers in science and technology, helping to create a more diverse technology workforce
These two Strategic Programs are currently in development for 2010:
Compute the Cure: Disease Research

We're working with leading cancer researchers to determine how technology can help them advance their field. We'll make our first grant in 2010.

Visualize STEM (Science, Technology, Engineering, and Math)

Our Phase I project is "Visualize Physics" and uses NVIDIA's leadership in visual computing as a means of engaging students. We are developing an open-source 3D application for classroom use and plan to test it in six schools around the U.S. in 2010.
GIVE US YOUR FEEDBACK
Tell us how we did on our first global citizenship report. Your input can help shape our future priorities. After giving feedback, you can see responses from other stakeholders.