Data Center Management Tools
Important applications. Industry-standard tools. Now accelerated.

GPU-Enabled Docker Container

Easily Deploy Applications in the GPU-Accelerated Data Center
Containers wrap applications into an isolated virtual environment to simplify data center deployment. By including all application dependencies like binaries and libraries, application containers run seamlessly in any data center environment.
Docker, the leading container platform, can now be used to containerize GPU-accelerated applications. This means you can easily containerize and isolate accelerated application without any modifications and deploy it on any supported GPU-enabled infrastructure. Managing and monitoring the accelerated data center has never been easier.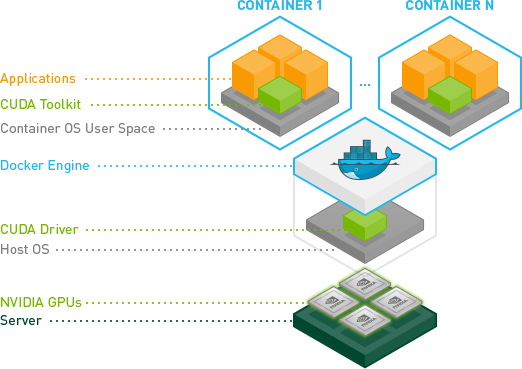 Key Benefits
Legacy accelerated compute apps can be containerized and deployed on newer systems, on premise, or in the cloud.
Specific GPU resources can be allocated to container for better isolation and performance.
You can easily share, collaborate, and test applications across different environments.
Useful Links
NVIDIA Docker Recipe & "How to" Guide