NVIDIA DualTV MCE Full Install
Windows XP Media Center Edition 2005
Version: 1.31
Release Date: May 1, 2006
WHQL and Media Center Edition Certified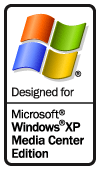 Installation Notes
This package works with Windows XP Media Center Edition 2005 (standard version or Rollup Update 2).
Select the download site. Click "Run" for automatic installation immediately after download, or "Save" to download the package to a disk location first. In the latter case, double-click the .exe file after downloading; the package will then self-extract and install itself.
This kit requires the Activation Key to install that was on the original CD sleeve that came with the NVIDIA DualTV MCE package.
Release Highlights:
First production software release.
WHQL and Windows XP Media Center Edition 2005 certified driver.
Package Component Versions:
NVIDIA DualTV Driver v5.9.5.21 (WHQL)
NVIDIA PureVideo Decoder v1.02-200
NVIDIA Media Center Extensions v87.83
NVIDIA DualTV Installer v1.31
NVIDIA DualTV User's Guide v06
NVIDIA MCE Remote Control User's Guide v01