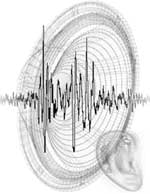 For the most powerful integrated audio solution available today, look for NVIDIA nForce(TM) and NVIDIA nForce2 systems featuring NVIDIA SoundStorm™ audio. PCs with the NVIDIA SoundStorm solution offer the most complete set of digital audio features for your desktop, delivering stunning audio and fantastic sound effects, all powered by the NVIDIA nForce APU.
NVIDIA SoundStorm offers a plethora of input and output connections, including digital S/PDIF for access to the Dolby® Digital 5.1 real-time encoder, microphone, CD, TV, line-in, headphones, front left and right speakers, rear left and right speakers, center channel, and subwoofer.

Compared to other integrated sound solutions and add-in sound cards, this APU's high-level of performance and advanced feature set clearly place it in a class all by itself.
The following table provides a rundown of major features of both the NVIDIA APU and NVIDIA SoundStorm:


Feature
NVIDIA nForce/nForce2 APU
NVIDIA SoundStorm
DSP or HW-Accelerated 2D (Stereo) Voices
256 Voices
256 Voices
DSP or HW-Accelerated 3D Voices
64 3D Voices
64 3D Voices
DX8 HW-Submixer
32 HW-Submixers
32 HW-Submixers
DLS2 Acceleration
Per Voice Parametric EQ
Occlusion and Obstruction
Near Field Effects
EAX2 and I3DL2 Reverb
Global Effects (Reverb, Chorus, etc.)
Speakers
2 Speakers
2, 4, or 6 Speakers
Microphone/Line Inputs
SPDIF Interface
No
Software and Utilities
Basic
Enhanced
H/W Dolby Digital Encode
No