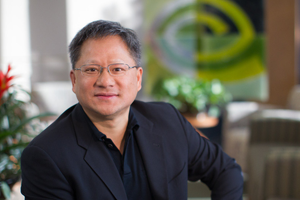 Jensen Huang, CEO, NVIDIA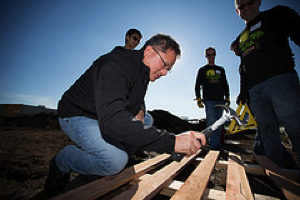 Jensen working alongside employees at a Project Inspire event.
Letter from Our CEO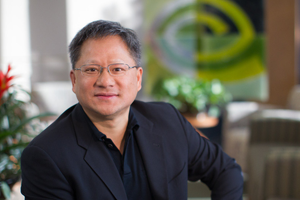 Jensen Huang, CEO, NVIDIA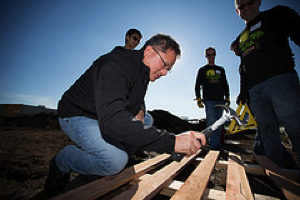 Jensen working alongside employees at a Project Inspire event.
Dear Stakeholders,
Making a contribution is one of NVIDIA's core values. It informs everything that we do.
Our annual Global Citizenship Report describes how we contribute to society — by creating technology that furthers scientific research to solve the world's toughest problems. How we contribute to sustainability — by designing energy efficient products. How we contribute to our industry — by encouraging best practices throughout our supply chain. And how we contribute to our local communities — by instilling a culture of giving among our employees.
There are few places where NVIDIA's role in furthering science — and improving lives — is more apparent than at our annual GPU Technology Conference. More than 3,000 researchers and engineers converge to discuss the transformative impact of GPUs, from accelerating drug discovery to building safer cars to improving homeland security.
Energy efficiency is an environmental imperative. But it comes naturally to us. With each new processor architecture, we look through the lens of how much performance we can achieve per unit of energy used. NVIDIA-powered supercomputers now hold the top two slots in the Green500 list of the world's most efficient high-performance computers. In gaming, more than 90 percent of China's thriving Internet cafés use energy efficient NVIDIA GPUs.
As more people turn to mobile devices to consume content, overall energy consumption stands to decrease — a smartphone consumes 20x less electricity annually than a laptop computer. Our Tegra processors power a world of new, highly efficient mobile computing devices.
Our campuses also reflect our efforts to limit waste in highly efficient data centers, and extensive recycling and composting efforts. Newsweek has noted our progress, naming NVIDIA sixth among the top 500 Greenest Companies in America. We'll double down on our commitment when we break ground later this year on a new headquarters, which will make maximum use of natural sunlight to conserve energy.
Sustainability also extends into our supply chain. We partner with suppliers to further our social and environment goals, such as our initiative to track energy and water usage in the manufacturing of our products.
Few things make me more proud than NVIDIA's commitment to our communities. Each year, our people band together to transform their local communities in an effort called Project Inspire. Fifteen hundred of us in our Santa Clara, Calif., head office came together to make over a community farm dedicated to improving the health of its low-income neighbors; offices around the world hosted similar events. And Compute the Cure, an initiative driven by our employee-led Foundation, invests in projects to improve the speed at which researchers can access genomic data to identify cancers and cures.
I encourage you to spend some time reviewing our Global Citizenship Report to learn more about NVIDIA's commitment to making a contribution.
Sincerely,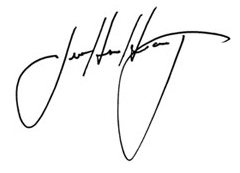 Jensen Huang
CEO, NVIDIA