Priority Issues
Each year, we conduct an analysis to increase our understanding of the issues that mean the most to our stakeholders and the company. This process helps us prioritize a list of key sustainable business practices on which to focus our efforts. Included on this page are details about our process and subsequent outcomes.
Process
The analysis entails an examination of 21 external stakeholder sources, including:
Community surveys
Competitors' reports
Customer requirements
Disclosure standards, such as the GRI G3 Sustainability Reporting Guidelines
Employee survey feedback
Industry and trade association publications
Investor queries
Ratings and rankings questionnaires
Regulatory requirements
Trade organization's code of conduct
We also evaluate various company sources, such as the risk factors identified in our annual report on Form 10-K and in enterprise risk discussions with NVIDIA executives. We provide a weighting value to all issues identified and map the results on a visual matrix to identify our most important issues from the perspective of external stakeholders and company management. The matrix includes the entire list of issues we considered for inclusion in the analysis.
For our 2011 report, we listed the broad category of Supply Chain as a priority issue, but in 2012 we used a more granular process for identifying issues. We dug deeper to determine the micro areas within this category about which our stakeholders were requesting greater detail.
Stakeholder Feedback
The table below represents the comprehensive list of priority issues reported by our stakeholders. Issues are ranked based on their prevalence across the sources. A score of five indicates issues that are raised the most, with "1" representing issues raised the least.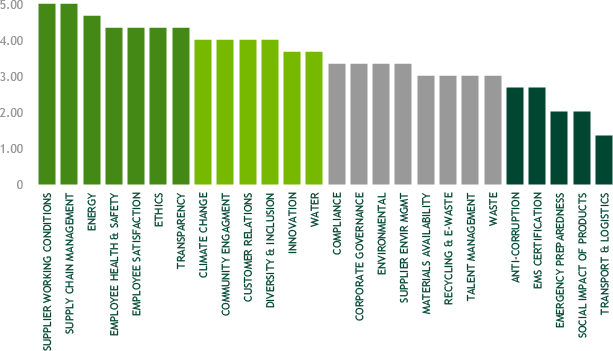 Priority Matrix
We integrated company issues with those reported by stakeholders. In the resulting Priority Matrix (see graphic below), the issues with the highest priority are shown in the top right quadrant.
Issues that increased in stakeholder importance in the past year include customer relations, compliance, employee satisfaction and supplier working conditions. Areas that decreased in priority ranking across all stakeholders include climate change, transparency, waste and environmental management.
Response to Priority Issues Analysis
After determining the issues that are the highest priority to NVIDIA and its stakeholders, we addressed them as follows (see 2012's priorities for comparison):
Customer Relations
Priority issue for: NVIDIA, customers, consumers, shareholders
Inquiries from our customers (Original Equipment Manufacturers) have increased in correlation to their and NVIDIA's focus on supplier responsibility and environmental sustainability. The most common requests for information included:
conflict minerals
,
environmental compliance
, quality,
consumer satisfaction
and
ethics
. We use quarterly business reviews with key customers to discuss these topics, and partner with them through the Electronics Industry Citizenship Coalition on various initiatives.
Employee Satisfaction
Priority issue for: NVIDIA, employees
Information regarding employee satisfaction can be found in the Workforce section of our Global Citizenship Report. We conduct surveys with all employees worldwide every 18 months and their feedback underscores a high level of engagement and pride. (Recent data demonstrates that 86 percent of employees are proud to work for NVIDIA). More than 80 percent of our employees are fully engaged and 92 percent feel motivated to help NVIDIA succeed.
Ethics and Compliance
Priority issue for: NVIDIA, shareholders, government, customers
Our Worldwide Code of Conduct applies to all of our executive officers, directors and employees, including our chief executive officer and chief financial and accounting officer. In addition, we have established a Financial Team Code of Conduct that applies to our executive officers, directors and members of our finance, accounting and treasury departments. We also employ an anonymous tip line.
Innovation
Priority issue for: NVIDIA, shareholders, customers, employees
As leaders in the field of visual computing, we have invented and marketed a steady stream of breakthrough technologies in the past 20 years. As the reach of computing encompasses smartphones, tablets, cloud computing and beyond, we are not standing still. We remain focused on visual computing and will continue to provide and enhance an environment where the world's best minds in this field can do their best work, keeping us on the leading edge of change.
Twenty-seven percent of our revenues ($1.15B in 2012) fund research and development activities, and the company currently has more than 5,000 patents issued, allowed or filed.
Our annual Letter to Stockholders outlines our achievements related to innovative product offerings in 2012.
Supply Chain Management
Priority issue for: NVIDIA, customers, non-governmental organizations
NVIDIA drives several of its supply chain initiatives through its participation in the Electronics Industry Citizenship Coalition. In the Supplier Responsibility section of this report, we cover in detail several areas that are of importance to us, including: safe working practices, auditing, water, carbon footprints, and conflict minerals. We also participate in nongovernmental organizations focused on issues relevant to Supplier Responsibility, such as the Public Private Alliance for Responsible Minerals Trade.
Supplier Working Conditions
Priority issue for: NVIDIA, customers, suppliers, non-governmental organizations
In cooperation with the EICC Validated Audit Program, we requested an independent third-party audit of our suppliers to assess their treatment of workers in their factories, plants or facilities. By Q1 2012, 90 percent of our key manufacturing suppliers for silicon operations have been audited.
Any issues found are classified as major or minor, and NVIDIA works with each supplier to correct major issues as soon as possible. We meet with each supplier to discuss the audit findings and will initiate a corrective action plan to prevent or correct any mistreatment of workers, if necessary. Any new key suppliers from acquisitions will be evaluated to determine if a validated audit program will be required.
Transparency
Priority issue for: NVIDIA, shareholders, government
Our annual Global Citizenship Report provides detailed information about the steps our company is taking toward greater sustainability and transparency in our business operations. We report using the Global Reporting Initiative and have self-declared a B level report. (In 2012, we requested a GRI Check from the Global Reporting Initiative to verify our B level status.)
To take further steps towards transparency, we have integrated this Priority Issues analysis into our report, and have also engaged Trucost to assure our global greenhouse gas data.
NVIDIA has been actively working in priority areas to address business risks and, as a result, we have increased our external positioning through ratings and rankings such as the Carbon Disclosure Project and Newsweek Green Rankings.
Yearly Analysis
We will regularly review trends in the marketplace around the issues presented on the Priority Matrix. In addition, we will continue to assess, track and communicate our performance on the issues that are the highest priority from both internal and external perspectives.