We've implemented the following at our Santa Clara headquarters
:
Posted environmental objectives for employees*
Water and energy communications*
Recycling*
Composting
Water reduction program*
Energy reducing tools*
Greening our annual GPU Technology Conference
Purchase local meats/produce for cafeteria
Conference room light management*
Delamping
Low flow water tools
Green purchasing policy*
Transportation alternatives*
Green suggestion box*
Freecycle*
* Items with an asterisk are also implemented in selected NVIDIA offices.
Environment
For a broad list of metrics we track related to the environment, visit the Performance section of this site.
Sensitivity to environmental concerns is woven into every aspect of NVIDIA's global enterprise, including our facilities operations, product design and supply chain. Our Social and Environmental Responsibility committee identifies impacts and opportunities and executes against a set of practices laid out in our Environmental Policy. At our Santa Clara, CA headquarters, we use the ISO14001 standard to guide our Environmental Management System.
See below for our reduction commitments and initiatives.
Environmental procurement
Our corporate purchasing decisions are made based on business requirements such as quality, service levels, technology, financial viability, environmental impact and cost.
We allocate 5 percent of supplier selection score to environmental considerations.
For major IT equipment and professional services, we do business with recognized industry leaders in environmental performance.
For office supplies, we work with a primary vendor that offers environmentally preferable options for office supplies, such as office paper with high recycled content.
We are targeting conformance with the LEED Gold standard for forthcoming renovations.
Our primary source of electricity purchases, Silicon Valley Power, currently exceeds 30 percent renewables among its energy sources portfolio.
Visit our
Supplier Responsibility
content for our detailed approach to incorporating environmental considerations in to our supply chain.
Evaluation of legal compliance is completed through regular inspections carried out by external regulatory authorities and periodic building inspections conducted by Environmental Health and Safety. Compliance against customer requirements is evaluated through customer audits.
We require suppliers to submit environmental impact information, and we audit key suppliers to evaluate compliance with the requirements of the European Restriction of Hazardous Substances Directive (RoHS) and other product related regulatory requirements.
Goals
Our campus operations represent an opportunity for us to decrease our greenhouse gas emissions, water usage and waste. We do this through:
Increasing energy efficiency in our buildings and data centers
Reducing waste tonnage to landfills
Encouraging water use reduction
Promoting alternative options for transportation
Since 2007, we have acknowledged the risks and opportunities related to climate change (through our participating in the Carbon Disclosure Project), and have maintained a greenhouse gas reduction plan. In 2013, these elements became customer requirements. See our 2013 Global Citizenship Report to view our performance for goals set from 2007 through 2012.
Energy use, offices and data centers
In 2014, NVIDIA set new greenhouse gas reduction goals for global office and data center energy usage. We have committed to a 15% greenhouse gas reduction, normalized per employee, by 2019 from baseline year 2013.
In 2014, we set a goal to drive a mean PUE value across our global data centers of 1.55 by 2016.
Maintain a solid waste landfill diversion rate of 80 percent or greater each year (from 2013 to 2016).
Reporting and External Assurance
NVIDIA participates each year in the Carbon Disclosure Project (CDP). Participants are scored based on their understanding of their business risks and opportunities related to climate change and on their management of greenhouse gas emissions. Since 2009, we have improved our score from 34 to 87 (out of a possible 100 points). A PDF of our latest CDP submission can be viewed here.
In 2014, we engaged Trucost to provide assurance of our 2013 greenhouse gas data using the AA1000 standard (see assurance report).
Climate Change and Greenhouse Gas Emissions
NVIDIA recognizes that a changing climate requires us to look for ways to reduce our operational footprint. We carefully track our energy usage and look for opportunities to reduce our greenhouse gas emissions. We report our progress through the Carbon Disclosure Project, as indicated above.
NVIDIA currently reports on the following greenhouse gas emissions sources:
Scope 1: Natural gas, stationary distillate fuel oil, refrigerants
Scope 2: Electricity (office facilities, laboratories, data centers)
Scope 3: Business travel (we currently do not include supply chain emissions in Scope 3)
Carbon emissions from the small amount of onsite laboratory chemicals used are immaterial and we therefore do not report them.
Our suppliers manufacture our products, so our measured greenhouse gas emissions constitute only a portion of the overall greenhouse gas and other air emissions related to our growing business. In 2013, we requested and received energy usage data from many key suppliers, and in 2014 we will make this a requirement. As of early 2014, we have collected energy consumption data across several parts of our business (operations, key suppliers, logistics, and some consumer usage statistics) as a first step toward understanding the carbon footprint for the design, manufacture and usage of our products.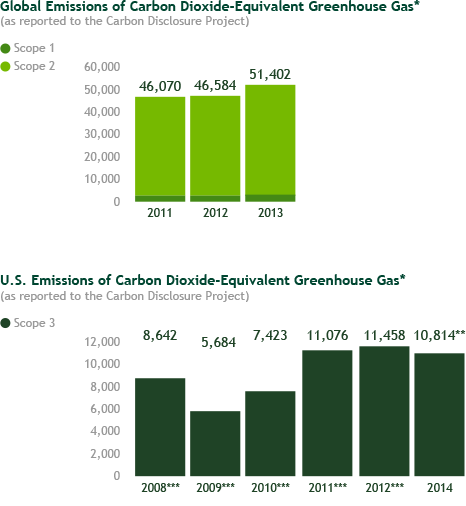 *NVIDIA's global greenhouse gas data has been assured by the following third-party organizations:
- 2011: PricewaterhouseCoopers
- 2012: Trucost
- 2013: Trucost
**In 2013, NVIDIA changed its method for calculating Scope 3 travel emissions to be in line with DEFRA factors, which include radiative forcing. In 2012, our DEFRA-adjusted number was 11,458 C02e, which indicates a 6% reduction in travel emissions for 2013.
2013 Energy Initiatives
A sampling of energy reductions Initiatives that took place in 2013:
Data Center Energy Reductions
Data center operations represent a large percentage of our energy usage, so we constantly evaluate ways to optimize and reduce this energy footprint. In 2013, we completed work that started in 2012 in collaboration with Silicon Valley Power. To upgrade one major Santa Clara data center, we modified the cooling system to use advanced electronic motor technology and sophisticated digital controls to respond immediately to cooling demand at the server rack level. The project enabled us to save 1,500 MwH of energy per year, which equates to 417 metric tons of Co2 (from the EPA eGrid database).
In 2014, we set a goal to drive all global data centers to a mean PUE of 1.55 by 2016 (from base year 2013).
In 2014, we anticipate another refresh of equipment in our compute farm, which will reduce the computing systems in our engineering data center to one-seventh of today's needs while achieving the same performance. We will also continue our virtualization efforts (towards a goal of 80 percent virtualization by the end of 2016) and cooling and storage improvements.
Energy Management at HQ Campus
Our Santa Clara, Calif., headquarters represents the largest headcount at NVIDIA. Since 2010, we have steadily reduced the annual electricity usage per employee, from 20.4 kwh per employee per year to 17.4 kwh per employee.
New Campus
In 2013, we announced the development of a new campus at our Santa Clara, Calif., headquarters. Also in 2013, we leased and occupied an office building within the boundaries of our main Santa Clara campus and it has balanced our workspace needs for our current local staff. Given that this additional space meets our present needs, we have the opportunity to refine our design for a new campus building and optimize it for functionality and cost.
Electric Vehicle Charging
Although electrical vehicle recharging is not an energy reduction initiative for our campus, we are committed to the larger issue of reducing global carbon emissions by encouraging employees to drive more energy efficient vehicles. We expanded the number of electric vehicle charging stations in Santa Clara from two to 11. We have approximately 75 employees currently using this service, and we estimate that we are offsetting 11 metric tons of carbon emissions per year. We ask a nominal fee from employees for using the service, which encourages them to be thoughtful about their energy usage while on campus and decreases wait times for using the service.
Transportation
Ongoing efforts taken on our Santa Clara campus to encourage the use of public transportation and ride sharing include:
WageWorks: Allows employees to purchase transit passes with pretax dollars
Free daily shuttle services from NVIDIA to ACE Train/Caltrans
Participation in the Rideshare 511 RideMatch service and Bike Mapper
Bicycling resources: Bike lockers/racks are available throughout the campus
Bike trail from NVIDIA to the local ACE Train station
Waste Initiatives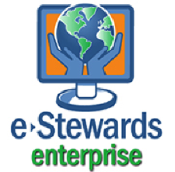 We have been composting at our Santa Clara campus since 2009. We are committed to maintaining an 80 percent solid waste landfill diversion rate per year through 2016.
NVIDIA is a participant in the e-Stewards Enterprise program, which recognizes companies, institutions and governments that commit to the most responsible electronic waste recycling practices. All our U.S. recyclers undergo auditing and performance requirements that are outlined in the e-Stewards program guides and are consistent with NVIDIA's auditing requirements for well-organized and safe facilities. In 2013, we sent more than 50 tons of electronics waste to e-Stewards-certified recyclers.
Water Initiatives
NVIDIA operations are not water intensive. Water is used primarily for food service, landscape and sanitary purposes. Our data centers are responsible for approximately 30 percent of our total water use. We have taken steps to reduce water on campus through initiatives such as drought tolerant landscaping and waterless urinals.
When we set our water reduction goals in 2007, NVIDIA was planning to build a new headquarters campus. With the onset of the economic crisis, those plans were postponed. With the announcement in 2013 of a new campus, we expect to evaluate water saving opportunities during the planning phase.
For all new construction on our Santa Clara campus, we will install dual flush toilets and waterless urinals, and low-flow aerators in sinks. In 2014, we will investigate replacing our current irrigation system with reclaimed water from the city.