>
>
>
>
Governance and Ethics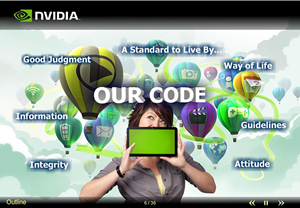 98% of employees have completed the Code of Conduct training. Our goal is 100%. As new employees join NVIDIA, they are asked to take the training within their first 30 days.
Governance and Ethics
Priority issue for: NVIDIA, governments, shareholders, customers
Board of Directors Snapshot:
CEO and chairman positions can be filled by same or different individuals. NVIDIA has an independent lead director.
Nine of 10 board members are independent.
Our board structure is declassified.
The Board's Audit, Compensation and Nominating & Corporate Governance committees are made up of independent directors.
Corporate governance policies and committee charters are publicly disclosed.
Majority vote practices have been adopted voluntarily.
All directors attended at least 75 percent of board and committee meetings in FY14.
CEO succession planning is reviewed.
Board and board committees evaluate their performance annually.
Information on our director nomination process and approach to board diversity is publicly disclosed.
Ten percent of board members are female.
Twenty percent of board members are minorities.
Governance
NVIDIA and its board of directors are committed to sound principles of corporate governance. The company has adopted charters, codes of conduct, and policies to define its corporate governance, promote the interests of our shareholders, and establish common expectations as to how our business is conducted.
We have 10 directors on our board and three board committees (Audit, Compensation, and Nominating & Corporate Governance). As of April 2014, nine of our 10 directors (90 percent) were independent, which exceeds the majority threshold required by NASDAQ. Independence is determined by compliance with NASDAQ rules on director independence. The sole non-independent director is Jensen Huang, the company's president and chief executive officer (CEO). Our bylaws and corporate governance policies permit the roles of chairman of the board and CEO to be filled by the same or different individuals. This provides the board flexibility in determining what is best for the company. At this time, NVIDIA has a lead director, William J. Miller, rather than a board chair.
The Nominating & Corporate Governance Committee reviewed the qualifications of each of the nominees for election at the 2014 annual meeting and unanimously recommended that each nominee be submitted for election to the board. The board approved the recommendation on Feb. 26, 2014.
Our corporate governance practices are rated by external organizations such as Institutional Shareholder Services (ISS). According to ISS, as of February 2014, NVIDIA Corporation's overall Governance QuickScore is 6, based on the following components: Audit (1), Board Structure (2), Compensation (5), Shareholder Rights (7). These scores indicate decile ranking relative to a particular index or region determined by ISS. A decile score of 1 indicates lower governance risk, whereas a score of 10 indicates higher governance risk.
Executive Compensation
Our compensation program is designed to attract, retain and motivate a talented, innovative and entrepreneurial team of executives. As part of our commitment to best practices, we are committed to paying for performance. To this end, a significant portion of executive compensation is based on performance, both of the individual and the business.
Our compensation program is administered under a rigorous process that includes review of peer group practices; advice of an independent third-party consultant (who reports to the Compensation Committee, not to the company); and long-standing, consistently applied practices with respect to the timing of equity grants and the pricing of stock options.
Compensation Recovery Policy
In April 2009, our board adopted a Compensation Recovery Policy where if (i) we are required to prepare an accounting restatement to correct an accounting error on an interim or annual financial statement included in a report on Form 10-Q or Form 10-K due to material noncompliance with any financial reporting requirement under the federal securities laws, and (ii) the board or a committee of independent directors concludes that our CEO or CFO had received a variable compensation payment or portion thereof that would not have been payable if the original interim or annual financial statements reflected the restatement, our CEO or CFO shall disgorge to NVIDIA the net after-tax amount of such variable compensation payment.
To learn more about our executive compensation practices, please see our proxy materials.
Internal Control
NVIDIA's SOX Compliance Group is responsible for evaluating the effectiveness of the company's disclosure controls and procedures and internal control over financial reporting. Based on their evaluation as of Jan. 26, 2014, our management has concluded that our disclosure controls and procedures were effective to provide reasonable assurance and that our internal control over financial reporting was effective.
For more information, please visit our FY2014 10-K, Item 9A.
Ethics
We believe that the integrity with which we conduct ourselves and our business is key to our ability to running a successful, innovative business and maintaining our reputation. We expect our directors, executives and employees to conduct themselves with the highest degree of integrity, ethics and honesty.
Our Worldwide Code of Conduct applies to all of our executive officers, directors and employees, including our principal executive officer, principal financial officer and principal accounting officer. In addition, we have established a Financial Team Code of Conduct that applies to our executive officers, directors and members of our finance, accounting and treasury departments.
The Worldwide Code of Conduct and the Financial Team Code of Conduct can be found in the Investor Relations section of our website under Corporate Governance. If we make any amendments to either code or grant any waiver from a provision of either code to any executive officer or director, we will promptly disclose the nature of the amendment or waiver on our website.
Our codes do not permit engaging in transactions or activities that are a conflict of interest. When entering purchase requisitions, employees must certify that they don't have a conflict of interest. To better protect the company and our shareholders, we regularly review our codes and related policies to ensure that they provide clear guidance to our directors, executives and employees.
We have established a corporate hotline (operated by a third party) to allow any employee to confidentially and anonymously lodge a complaint about any accounting, internal control, auditing or other matter of concern (unless prohibited by local privacy laws for employees located in the European Union). Employees are encouraged to report suspected conflicts of interest to their manager or human resources representative or through the hotline. An external organization operates the hotline, and this administrative choice enhances our employees' comfort level with anonymous reporting. We have a strict "no retaliation" policy regarding reports of activities that run counter to our ethical expectations.
If an employee is found to have violated either the worldwide Code of Conduct or the Financial Team Code of Conduct, we take appropriate actions up to and including termination of employment.
Ethics Training
All NVIDIA employees receive ethics and sexual harassment training. Our goal is for all employees globally to receive our Worldwide Code of Conduct training within 30 days of starting with the company, which covers environmental and social responsibility issues. As of February 2014, 98 percent of employees had completed this training (see the screenshot of our online training tool above). Ninety-eight percent of employees who have frequent contact with customers, partners and suppliers (such as those in sales, finance and procurement) have completed global anti-bribery and anti-corruption training.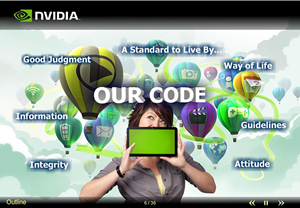 98% of employees have completed the Code of Conduct training. Our goal is 100%. As new employees join NVIDIA, they are asked to take the training within their first 30 days.