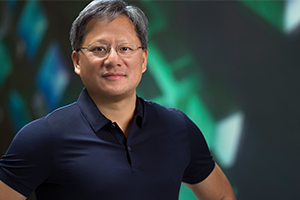 Jensen Huang, CEO, NVIDIA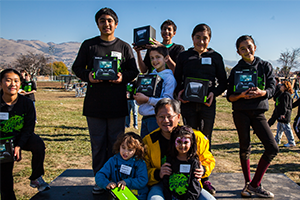 Jensen working alongside employees at a Project Inspire event.
Letter from Our CEO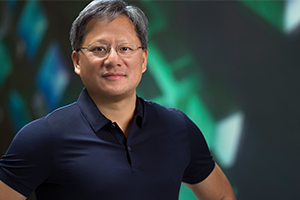 Jensen Huang, CEO, NVIDIA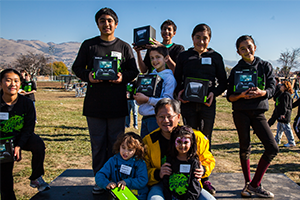 Jensen working alongside employees at a Project Inspire event.
Dear Stakeholders,
Making a contribution to society is a cornerstone of our company.
Our Global Citizenship Report highlights the many dimensions of NVIDIA's contribution. Our work in visual computing is relied on by gamers, designers, and researchers all over the world. Our energy-efficient processors contribute to a more sustainable planet. Our people embody a culture of giving that inspires their work, their communities, and our ecosystem of partners. And as we've advanced our core mission — to be the world leader in visual computing — our impact on society has grown.
Visual computing was once defined by video games and visual effects. Today, the field encompasses computer vision, machine learning and a multitude of other disciplines. It is reshaping industries as diverse as automobiles, which are increasingly promoted based on their technology, and the burgeoning 3D printing revolution that is on display at Maker Faire events and is moving into the mainstream.
We have a long history in the auto industry. NVIDIA platforms are the industry standards, from design to styling to point-of-sale solutions. In the future, our mobile processors will perform magical computer vision feats that make driving safer and more fun. With 192 CUDA processor cores, Tegra K1 is the first of many mobile supercomputers that will enable an amazing future where cars and robots will do apparently intelligent things, where buildings are smart and adapt to the people within them, and where the stuff of science fiction, like the Star Trek Tricorder, comes to life. These childhood dreams of ours need supercomputers everywhere —in devices and in the cloud. We are making this a reality.
The groundbreaking work enabled by NVIDIA's inventions was on display at the GPU Technology Conference. GTC is our annual gathering of researchers and engineers who rely on GPUs to advance the state-of-the-art and make a difference in the world. This year, we hosted 3,500 attendees and 550 talks covering a wide array of topics. In one keynote, Dr. Adam Gazzaley, a neuroscientist at the University of California, San Francisco, described his work using GPUs, closed-loop systems and video game mechanics to improve brain function — research that recently earned him the cover of Nature. University of Illinois scientists were also highlighted on Nature's cover for their breakthrough in HIV research. By using a supercomputer powered by 3,000 NVIDIA processors, they determined the precise chemical structure of the virus's protein shell, a key to its resistance.
Researchers from Facebook, Microsoft and DARPA talked about their advances in machine learning. Teaching machines to think for themselves has been the focus of research for decades. Now, using the torrent of images and videos that are uploaded daily, and the processing power of GPUs, computers can learn to instantly recognize language, speech and objects, enabling entirely new categories of applications. There are GPU-powered machine learning projects underway at the world's largest internet companies that will revolutionize how we interact with computers.
While the scope of the GPU has expanded, we've kept a laser focus on improving its energy efficiency. Supercomputers enable research in fields critical to the advance of society, such as climate modeling and alternative fuels. NVIDIA GPUs power the 10 most energy-efficient supercomputers on the latest Green500 list. And our next GPU architecture, Maxwell, which represents a breakthrough in energy efficiency, will soon roll out across our product lines.
Beyond our technologies, we've instilled a culture of giving into the core of NVIDIA. Our flagship volunteer event is called Project Inspire, where our people, along with their families and friends, come together to transform their local communities. This year, we helped transform Ocala Middle School and its surrounding community softball fields in East San Jose, Calif. Our own investment of $500,000 in labor and materials unlocked an additional $1 million in support from the city, school district and non-profit agencies.
And we're looking for ways to extend our values into our broader ecosystem. We're intensifying efforts to ensure that manufacturers in our supply chain fully understand and comply with our requirements for social and environmental responsibility.
Our Global Citizenship Report details this and other work. I hope you find it inspiring.
Sincerely,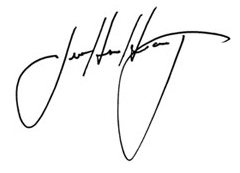 Jensen Huang
CEO, NVIDIA