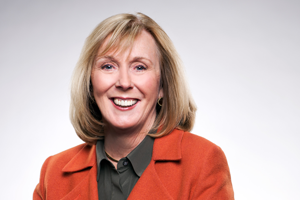 Deb Shoquist, NVIDIA's Executive Vice President, Operations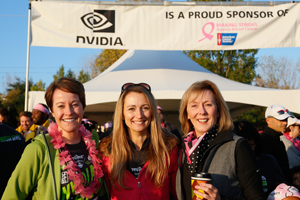 In 2013, Deb co-led NVIDIA's fundraising efforts for American Cancer Society's annual breast cancer walk.
Letter from EVP, Operations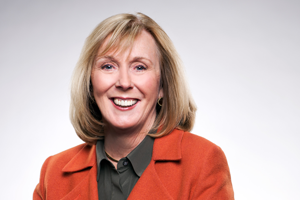 Deb Shoquist, NVIDIA's Executive Vice President, Operations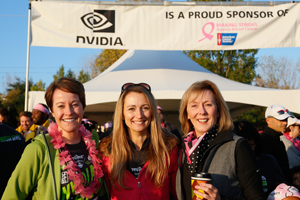 In 2013, Deb co-led NVIDIA's fundraising efforts for American Cancer Society's annual breast cancer walk.
As technology increasingly permeates our lives and sustainability increasingly becomes a social imperative, NVIDIA is well positioned.
Our inherently energy-efficient products are valued by those who care about climate change and resource conservation. We continuously drive toward innovations that will improve lives while protecting the planet. And we operate our business with an eye toward resource efficiency and respect for human rights.
Long a key concern of our company, social and environmental responsibility has become centrally important for us. Our approach is guided by a process that involves numerous individuals from across the company. We work together to identify priority issues, evaluating them against feedback from key external stakeholders.
We've used these priorities in recent months to create a blueprint for pursuing our objectives, including operational efficiency and excellence; improved employee acquisition and retention; and risk and opportunity management. Within these areas, we'll focus on such initiatives as reducing packaging waste, improving our employment brand, minimizing risk in our supply chain and enhancing our corporate reputation.
This Global Citizenship Report – our fifth and most comprehensive and transparent to date – describes these objectives, our priority issues, our strategies and our performance. In doing so, we adhere to the Global Reporting Initiative an internationally recognized standard, which enables us to increase our transparency and respond to stakeholders directly.
In this report, you'll learn how we address our corporate responsibilities by:
Designing products that maximize performance and minimize energy use.
Managing our suppliers from a social, ethical and environmental perspective.
Enabling innovation globally and supporting the developers who use our products.
Setting goals and carefully monitoring our progress toward them.
You'll learn about our achievements over the past year, which include:
Identifying objectives for our corporate responsibility efforts.
Sharpening focus on supplier responsibility and becoming more engaged with the Electronic Industry Citizenship Coalition through representation on the board of directors.
Implementing due diligence practices designed to determine whether minerals from the Democratic Republic of Congo used in our products are "conflict‐free." As of March 2014, our Silicon Operations organization is 100 percent conflict-free for tantalum.
Intensifying efforts to ensure that manufacturers in our supply chain fully understand and comply with our requirements for social and environmental responsibility and with all applicable regulations.
And you'll learn about challenges we face in corporate responsibility in an increasingly complex world. Among them:
Dramatically increased stakeholder interest in how we address key environmental, social and governance issues.
A complex supply chain, which must be monitored and managed to ensure that all partners are doing their part to achieve sustainability.
An expanding workforce, for which we want to provide safe, healthy workplaces while maintaining the smallest environmental footprint possible.
Addressing these and other challenges will enable us to continue to increase our operational efficiency, attract and retain top talent, manage our risk, and bring greater value to customers, investors and other stakeholders.
Although we've made significant headway this year, we aim to do more. We strive for continuous improvement, seeking to help shape the kind of future we envision for coming generations. Sincerely,

Debora Shoquist
EVP, Operations, NVIDIA